Douala
From Eco Friendly Travels
Eco-friendly travel guide to Douala advises how to be a responsible tourist. Learn how to explore the attractions in a sustainable way and how to respect the local people and culture. Make your trip green by supporting locally owned hotels, organic restaurants and other businesses. Read more on how to protect the environment by making conscientious choices and how to travel green in Douala, Cameroon.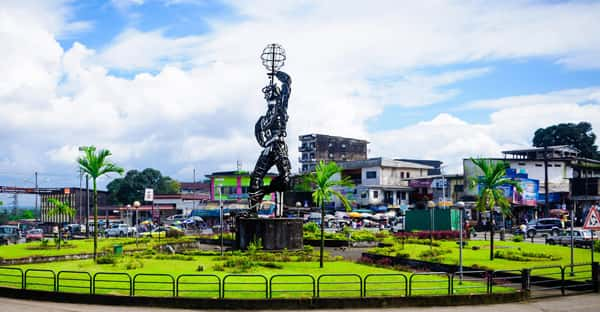 Exploring by bicycle: 3 / 5
Public transportation: 3.5 / 5
Outdoor activities: 3.5 / 5
Locals' English level: 4 / 5
Accommodation: US$20 - $100
Budget per day: US$10 - $90
Responsible Travel
Douala is the largest city in Cameroon and its economic capital. It is also the capital of Cameroon's Littoral Region. Home to Central Africa's largest port and its major international airport, Douala International Airport (DLA), it is the commercial and economic capital of Cameroon and the entire CEMAC region comprising Gabon, Congo, Chad, Equatorial Guinea, Central African Republic and Cameroon. Consequently, it handles most of the country's major exports, such as oil, cocoa and coffee, timber, metals and fruits.
To play your part as a responsible tourist,
You must have an idea about road hazards, laws and political situation in Douala.
Look for local crafts and artisan work, including beads, scarves and other textiles, hand-painted woodwork, and of course, locally produced coffee and delicious chocolate.
Help preserve natural environments. Protect wildlife and habitats and do not purchase products made from endangered plants or animals.
You can book an eco-friendly hotel or resort at a very reasonable price as there are plenty of green hotels.
Whether you are a local or a tourist to get to know the area even better while on foot or cycle with the local guides or the multiple tours conducted by the hotel you are staying in or you can book such tours on online sites, such as tripadvisor.in, www.travelocity.com etc. Not using a car or a bus will reduce your carbon footprint.
Air Quality and Pollution
Douala, one of the fastest developing cities of Cameroon, has been experiencing unprecedented growth of two-wheelers (motorbikes) and poor perceived air quality.
Respect the Culture
Douala served as the capital of the German Kamerun protectorate from 1884 to 1902. It again served as the capital of Cameroon in 1940–46. With its mixture of traditional, colonial, and modern architecture, Douala has grown rapidly since World War II and is the most populous city in the republic.
Needless to say, this place has a rich social-cultural diversity, which demonstrates the importance of language and cultural differences of local people. The city is also full of citizens from peoples from Africa, Europe, and the Americas and from all over the world. The western region is home of the Bamum people, an ethnic group that also practices the Islamic religion. You don't have to worry about the language barrier as they speak English and French both the official language with their local indigenous language is Douala, which shares its name with the city. The French-speaking people are often inhabitants of the southern and western regions and the majority of them are known to be Catholic, while English speaking citizens of the west tend to be Protestants. Food also operates as an expression of cultural identity. To understand their culture better, make sure to taste their traditional food made by the locals.
Top 10 Places to Visit
Musee Maritime de Douala - The Maritime Museum of Douala ( Littoral, Cameroon ) is located at avenue des cocotiers in Douala. The very first Maritime Museum was created in 1986, and occupied the current location of the Kenya Airways company, and its main purpose was to exhibit works that could retrace the maritime history of Cameroon. The construction of its new premises at avenue des cocotiers is a project supported by the Urban Community of Douala, initiated by the National Council of Chargers of Cameroon in 2011.
Cathédrale Saint-Pierre-et-Saint-Paul - The Cathedral of Saints Peter and Paul - situated in Douala, Cameroon - is the cathedral of the Roman Catholic Archdiocese of Douala and dedicated to St Peter and St Paul. It was built in 1936 by French Spiritans fathers and it is based on the legacy of the fathers Pallotins. Its columns and domes give it an air Byzantine. It also has neo-roman architectural elements, including his porch. Two twin towers surround the central front.
La Pagode - One of the architectural jewels of Cameroon. It is one of the buildings that witness the colonial period of Cameroon, and still shows the traces of resistance of the national hero Douala Manga Bell.
La Nouvelle Liberte - The statue is located near the port and a lot of construction with the new rail going essentially directly underneath it. Statue was created with a recycled piece of metal. The local people call it the creasy man because they do not know if he has shoes or not.
Former police station of Douala - The former police station situated in Douala is a building constructed at the beginning of the 20th century by the Germans to serve as the first police station under the German mandate. In 2006 the building is highlighted by an urban sign produced by doual'art and designed by Sandrine Dole; the sign presents a historical image of the building and a description of its history.
Temple du Centenaire - This Centennial Temple was built in 1947 to commemorate the 100th anniversary of the first Christian Bethel church built-in 1847 in Douala. It is affiliated with the Evangelical Church of Cameroon.
Monument Nachtigal - This is a monument in the memory of Gustav Nachtigal, who was an explorer of the Sahara who helped Germany obtain protectorates in western equatorial Africa.
Villa Mandessi Bell - The villa Mandessi Bell situated at Douala is a building constructed between 1904 and 1909 by David Mandessi-Bell a rich farmer and commissioner of the king Rudolf Manga Bell. This building is an architecture from the colonial period. It is a representation and legacy of the German occupation in Cameroon. The rectangular form, which is constructed with mud bricks facilitates the regulation of the temperature. Its vast rooftop protects it from storms which are common in the littoral bounded by the equatorial climate.
Ancien Hospital General de Douala - Designed by the German architect Henri Drees, this hospital was built in 1896 following Dr Albert Plehn's initiative. It was created to take care of European patients only. This building, amazingly gorgeous at that time, was extended twice its size under the French Mandate in 1930. Renamed Hôpital Général when Independence took place, this building includes today the Police department and the Littoral Delegation of Culture.
Marche Artisanal de Douala -  Located in Douala, it is mostly an outlet for mass-made supposed artisan crafts that are made in some sweatshop. If one looks at the items such as the 'locally produced wooden elephants', bowls, cups and the like one sees that they are identical in every minute detail.
Explore
Douala is a large, sprawling city with several districts. Akwa is the most important central district, where all the business, commercial, and diplomatic life concentrates. Boulevard de la Liberté is the throbbing heart of the city with many shops and restaurants.
There are numbers of museums, parks and landmarks which are must-visit places in Douala.
City Parks
Parc Bonanjo - Want to take a quick break from daily life, this park is the place to visit. Cool and windy space, ideal for relaxing breaks. Unfortunately, the layout is rather basic and the maintenance leaves much to be desired. Surprising given the neighbourhood in which it is located. However, to relax and change your mind, you will find yourself loving the setting and the basic atmosphere.
Parcorus Vita - It is a great place to go running and carry out the exercise. It has a closed-circuit path of several kilometers with several stations along the circuit. Each station has instructions on what to do.
Several courts such as basketball, handball, football can be found inside the park. A leisure park with activities for kids and boat paddling for adults as well as food and drink services.
National Parks
Douala Edéa National Park - Douala-Edéa National Park, formerly known as Douala-Edéa Wildlife Reserve, is a national park in the Littoral Region of Cameroon. The park is located on either side of the mouth of the Sanaga River along the shores of the Bight of Biafra opposite the island of Bioko. Lake Tissongo, a lagoon connected to the south bank of the Sanaga River by a 5 kilometers tidal channel, is included in the reserve. The Mouanko reserve between the Sanaga and the Wouri estuary holds about 15,000 hectares of mangrove forests. The mangroves form a buffer against coastal erosion and are a refuge for 80% of the local marine and aquatic species for at least part of their life-cycle. Fauna include forest elephants, primates, antelopes,  West African manatees, sea turtles, dolphins, crocodiles, alligator, many fish species, terrestrial and waterbird species
Beaches
Limbe - When in Douala, the closest beach to go to is Limbe. It is a big beach located in Limbe City. It is famous for black volcanic sand, a large number of palm trees and shrubs.
Kribi - Kribi Beach is the best beach of Cameroon, known as "Cameroon Riviera". It is located on the Gulf of Guinea shore, in Kribi, 150 km South-West of the capital city Douala. The spacious beach is covered with grey sand and surrounded by tropical forest. It's perfect for swimming, sunbathing, walking in a tropical forest, riding in a canoe, playing beach volleyball and football, diving, snorkelling and other kinds of water sports.  
Landmarks
Ancienne résidence du chef de circonscription - The former residence of the French District Chief in Douala, Cameroon ("Ancienne résidence du chef de circonscription" in French). This building was erected by the French in 1930 as the residence of the District Chief during their control over Cameroon during the UN Madate period. The building currently houses the Court of Appeals for the Littoral Region of Cameroon.
Le Monument aux Morts - Le Monument aux Morts honours the fallen French soldiers from World War I. The monument shows a soldier in full uniform carrying an olive branch, a symbol of peace. The surrounding park, rarely crowded, makes an ideal spot for a quiet picnic.
New Bell Mosque - One of the oldest mosques in Douala, though there aren't any tours available to know more about the mosque.
Museums
Names of some museums in Douala are -
Centre Régional de MINRESI
Eat
Douala being a port city, fresh seafood is a local speciality, with menus that range from Cameroonian, Pan-African, Mediterranean, and Middle Eastern. You will be amazed to find many authentic traditional restaurants in Douala to satisfy your taste buds.
Traditional Local Restaurants
Here are the names of some famous restaurants in Douala - 
Le Boj - It is a lounge as well as a restaurant in Douala. Locals and tourists flock to this restaurant mainly on weekends as there are live shows with talented artists. With lovely decor and tasty food, Le Boj is one of the best eating/relaxing places in Douala.
Restaurant le Paradise - This restaurant-slash-bar is famous for its preparation of beef. Reasonable price and tasty food, the calm yet classy ambience, what more do you want?
L'Ovalie - Want to have a quick lunch while touring Douala? This is the right place for you, with varieties of dishes, this French cuisine based restaurant is a must-visit.
 La Fourchette - A posh setting and lip-smacking food. This traditional restaurant has it all. One of the most highly rated restaurants for its food is crowded, don't forget to book a table beforehand.
Le C - Though a bit expensive, this restaurant's dishes compensate for its mouthwatering taste. Best place for quiet outings. 
Vegetarian and Vegan
Vegan grill - One of the best vegan restaurants in Douala, Lovely ambience with a warm reception, what more would you want? 
Bombay Masala - Though this Indian restaurant serves non-vegetarian dishes, they offer vegan as well as vegetarian options. 
Mahima - Another Indian restaurant which serves mouthwatering vegan/Vegetarian dishes including samosa, curries, salads and soups. 
Mazaj - This Lebanese restaurant offers vegan falafel, soup, eggplant dishes, salads, fattoush and tabbouleh.
Street Food
Let's take a plunge into some of the well known traditional street food in Douala, Cameroon.
Ndole - rumoured to be the un-official Cameroon National dish, Ndole is an aromatic Cameroonian spinach stew made of spinach and bitter leaves – flavoured with garlic, crayfish and fortified with shrimp and beef.
Poulet D. G - a cross between stir-fried chicken meal and fricassee – classic French stew of chicken and vegetables.
Sese plantains aka turning plantains- a popular Cameroonian and West African everyday meal that is brimming with flavours from plantains, meat and spices and seasonings. 
Accra Cassava – popular street food that is crunchy on the outside and chewy inside. Best enjoyed fresh off the pan. They are sold on every street corner imaginable.
Jollof rice - Jollof rice is a legendary one-pot dish that's famous in Cameroon. 
Kati Kati - Made traditionally, this African grill chicken is one of the most ancient and distinctive dishes. 
Koki corn - Douala is an all meat country, well here is street food for people who favour vegan/vegetarian. Koki Corn is a wonderful corn dish made primarily with fresh corn and cornmeal, spinach and palm oil wrapped in banana leaves or foil and steamed to perfection.
Groundnut Sweet( Sugar Peanuts aka Candied nuts) – highly addictive peanuts that have a crunchy sugar-coated layer. Perfect on-the-go snacks and even during movie time or while reading. You can find them at every corner of the local streets in Douala. 
Eru Soup (Spinach/Okazi leaves) – healthy satisfying Cameroonian green dish loaded with other protein and aromatics. These Eru leaves are not readily available in stores; you can only buy them at African and Online stores. 
Drink
Other than coffee, which is a regular go-to drink of the locals, Odontol is a traditional drink in Cameroon and is distilled from palm wine, or corn or sugar cane. The drink is extremely strong but quite cheap, making it popular among Cameroonians, and it is commonly known as "African gin."
Tap-water
Water quality in Douala is not safe, drinking tap water is not recommended. Carry a water bottle for your use, so that you can refill it when you stop by the eateries where they serve purified water to drink.
Organic Cafés
If you are a vegetarian or a vegan, there are multiple cafés in Douala that serve non-vegetarian as well as veg and vegan meals. Here are the names of some famous cafés where you can visit-
Breweries
If you are looking for a nice place to have a drink or two, Douala has plenty of places to offer. Here are the names of some famous breweries in Douala - 
Activities
Other than booking a walking or a bicycle tour for sightseeing, here are our favourite things to do in Douala. 
Visiting Douala-Edea Reserve
Experience Douala's nightlife
Yoga and Retreats
The biggest city in Cameroon offers one of the best yoga retreats in Central Africa. Heartfulness Cameroon, Douala, where you can learn and practice yoga and meditation. Located in a quiet part of town, this place is ideal for your meditation practice. They also offer Hindu language classes for interested individuals.
Accommodation
There are plenty of hotels, hostels, guest houses in prime locations in Douala. Nowadays, most opt for online bookings; don't forget to read the reviews on them before booking.
Green Hotels
Noubou International Hotel - Located in Douala, 2 km from Akwa Stadium, Noubou International Hotel provides accommodation with a restaurant, free private parking, a fitness centre and a bar. 
La Falaise Bonapriso - This hotel is situated in Douala, 1.5 km away from the International French school Dominique Savio. Among the facilities of this property are a 24-hour front desk and room service, along with free WiFi. Bonanjo Park is 2.8 km from the hotel.
ONOMO Hotel - Set in Douala, less than 1 km from Bonanjo Park, ONOMO Hotel Douala offers accommodation with a restaurant, free private parking, an outdoor swimming pool and a fitness center.
Ibis Douala - Located about 7 kilometers From Douala International Airport, this hotel provides guests with air-conditioned rooms with a desk, a safety deposit box, a flat-screen TV and a private bathroom with a bath with clean and quiet ambience. 
Hostels and Guest Houses
Hostels and guest houses come with a lesser budget as well as it helps the locals to earn extra. Douala offers a plethora of budget-friendly hostels and guest houses –
Apartments
If you want to stay longer and want your privacy, renting apartments can be a good option for you. You may come across many tourists with whom you can enjoy the daily lives of Douala. You can book them online sites such as www.booking.com etc. On such sites, locals advertise their apartment, location and the connectivity with the transport modes. Read the reviews on them before renting one. To name a few apartments where tourists can stay –
Couchsurfing
Couchsurfers share their homes, cities and lives in profound, meaningful ways, making travel anywhere in the world a truly social experience. You will find many hosts if you want to couch-surf in Douala. There are multiple online sites such as couchsurfing.com which help tourists to take this option of staying. Still, if you want to opt for this option, extra precaution is necessary, especially for the females. Do not hesitate to ask for the details and the references of the host. And a little tip, never interfere with their beliefs and lives.
Camping
If you want to go for camping, these are the places recommended for you -
How to Get There
Douala is one of Africa's most successful cities, with well-developed infrastructure and a stable society that has made it a busy and modern metropolis. It's an economic center not just for the country, but the region, and has the largest port in Central Africa. The easiest way to reach there is by flights.
Air
The Douala International Airport (IATA: DLA) serves as the main entry point in the country. Camair-Co (national carrier) is the main service provider to the city of Douala. It lies about six miles from the city. The airport is well connected with the city, with taxis available just outside the airport.  
Bus
There are bus connections available from Douala to Limbe and Yaoundé, and beyond to Ngaoundéré.
Train
Douala is a hub on the nation's rail system, with most passenger service operated by Camrail. Connections are available to most major cities in the country, including Ngaoundéré, Yaoundé, Nkongsamba, and stops in between.
Hitchhiking
Though a very pocket friendly way to travel the city, hitchhiking can be very tricky if you are not careful. It isn't the safest mode of transportation if you are not a local and don't know the city well. Violent crime in Douala is rare as opposed to other West African cities. Pickpocketing and bag-snatching are the only real dangers concerning one's physical safety. 
Others
Other than the modes of getting in Douala, you can always hire a car. Though not all the roads are well maintained, Douala is linked to the capital city Yaoundé by the Yaoundé-Douala Highway, and by extension to most other major centers in Cameroon.
Moving Around
If you want to divulge the originality of the city, you have to leave the usual transportation mode and look for a slower mode of transportation. So, here are some of the modes of transportation you can choose.
Walk
If you prefer to be independent and like walking, which is designed to take you to the must-sees and some lesser-known sights. You will be amazed at how these self-guided tours can help to know about Douala. If you are not confident to make it alone, you can always hire a local guide. Many tour guiding programs are held by the hotel itself. There are multiple online sites to book walking tours on, such as www.tripadvisor.in etc.
Bicycle
An eco-friendly way to experience the city life, it's healthy and helps you to explore the city faster than your foot. Many online sites offer generous discounts for bicycle tours around the city, like www.likelocalguide.com, www.tripadvisor.in. Make sure to read the reviews on them before booking. Or the hotels you are staying in, conduct cycling tours as well, do not forget to see the packages before booking the hotels.
Electronic Vehicles
There is no public transit system per se, but there are several private companies that offer a network of bus services throughout the city. The main ways of getting around Douala are shared taxis and moto-taxi, of which there are thousands; they are both cheaper than taxis (CFA100 to CFA200 per short ride). Charter taxis from central Douala to Bonabéri (30 minutes) generally charge CFA3000. A taxi to the airport costs CFA3000 (20 minutes).
Hiring a chauffeur to take you out of town is possible and is the safest way. Make sure you hire your chauffeur if he is recommended to you by a friend or a business partner whom you know well. Check-points from Douala to Buea and other cities are common. European travellers would be pulled over frequently and asked to pay a bribe (1000-2000 CFA). Always have your passport on you when you travel (the original document). Always be polite and very patient with the police. Some knowledge of French in Douala is useful for such cases. English is mostly spoken in the Southwest Region and Northwest Region.
Public Bus
There aren't any local buses running in Douala.
Tram, Train and Subway
Douala has no Tram, Train or Metro.
Sustainable Shopping
The concept of sustainable shopping is new to the world. People are trying to change their lifestyles and adopting the eco-friendly practices that support the local community. As a responsible tourist, you must buy souvenirs and antiques from the local markets of Douala.
Food Markets
Here are the names of some food markets in Douala
Flea Markets
For street shoppers who love flea markets, here are the names of some markets where you can find souvenirs as well as local things,
Complexe Santa Lucia Douala
Second Hand Stores
Some of the best second-hand stores in Douala are -
Eco-Fashion
Cameroon is slowly embracing sustainable fashion. Very few stores are in Douala that offer 'eco-fashion'. Apart from buying antiques and crafts, you can always go to these stores for eco-friendly clothes. 
Recycling
The economic growth, changing consumption and production patterns have resulted in a rapid increase in generation and use of plastics in Cameroon. In Douala alone, plastic consumption has increased much more than the other region due to rapid urbanization and economic development. 
Waste
After food waste and paper waste, plastic waste is the third major constituent at municipal and industrial waste in Cameroon. Even the rural communities in Cameroon with low economic growth have started producing more plastic waste due to increased use of plastic packaging, plastic shopping bags, PET bottles and other goods/appliances using plastic as the major component. 
Due to lack of integrated solid waste management, most of the plastic waste is neither collected properly nor disposed of in an inappropriate manner to avoid its negative impacts on the environment and public health and waste plastics are causing littering and choking of sewerage systems. Due to extremely long periods required for natural decomposition, waste plastic is often the most visible component in waste dumps and open landfills in Cameroon.
Work and Study Abroad
Although it is not as popular as many other countries, Cameroon remains an option for students wishing to study abroad. In fact, the country has many universities and other higher education institutions which welcome thousands of local and foreign students every year. you can find a State university in almost every major Cameroonian city, namely in Buea, Douala, Dschang, Ngaoundere, Maroua and Bamenda.
If you want to get a job while studying in Douala, you will have to ask the locals or you can update your resumé on online portals such as www.erasmusu.com, www.businesslist.co.cm etc.
Exchange Student
Exchange student programs are very much available in Douala. All you have to do is, contact your home university if they have collaboration with the university here.
Foreign students need to plan their budget before going to study in Cameroon in terms of university registration and course fees, accommodation, health insurance, etc. If you have not benefited from student accommodation, you will need between CFA 15,000 and CFA 500,000 per month to pay rent. To obtain student accommodation, you are advised to contact the local branch of the special student housing brigade which will put you in touch with owners.
Before moving to Douala, Cameroon, you must note, subscription to an expat health insurance before moving is compulsory. 
To register with a Cameroonian university, you will not only have to produce your academic record but also obtain a student visa at the Cameroonian embassy or consulate in your home country. Documents to be produced to apply for a student visa are the following -
● A duly filled and signed visa application formalities.
● A passport-size identity photo.
● A passport with a minimum one-year validity.
● Your university or training registration letter (approved by Cameroonian authorities)
● A medical certificate.
● Fees that apply (usually between CFA 67,600 and CFA 270,000).
Au Pair
here are many Au Pair jobs available in Douala. To have a good salary or the likeable job you have to submit your resume to online portals like www.aupair.com, www.greataupair.com, www.topaupairs.com, cm.loozap.com Etc. The jobs they provide like, child care, old age home jobs etc.
Volunteering
If you are here as a tourist, and you want to volunteer for the social causes here there are many foundations, like, Acceegt, YEL, Amis Solidaires Bilongue. Or you can log in to, www.goabroad.com, www.givingway.com etc. There are multiple jobs they offer like teaching, planting trees, etc. 
See Also