Medellín
From Eco Friendly Travels
Eco-friendly travel guide to Medellín advises how to be a responsible tourist. Learn how to explore the attractions in a sustainable way and how to respect the local people and culture. Make your trip green by supporting locally owned hotels, organic restaurants and other businesses. Read more on how to protect the environment by making conscientious choices and how to travel green in Medellín, Colombia.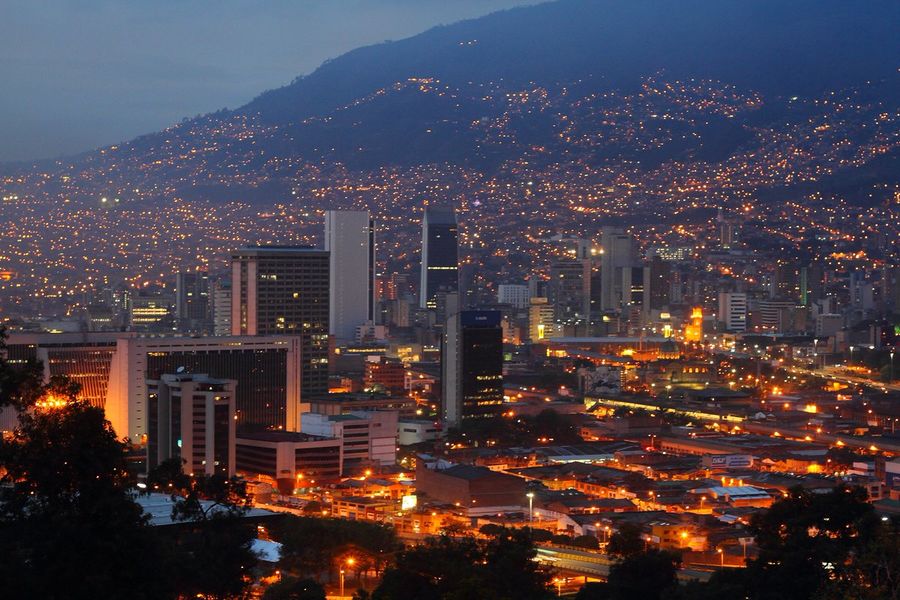 Exploring by foot: 3.5 / 5
Exploring by bicycle: 3.5 / 5
Public transportation: 4 / 5
Outdoor activities: 4 / 5
Locals' English level: 3.5 / 5
Accommodation: US$22 - $67
Budget per day: US$5 - $15
Responsible Travel
Medellín, officially the Municipality of Medellín, is the second-largest city in Colombia, after Bogotá, and the capital of the department of Antioquia. It is located in the Aburrá Valley, a central region of the Andes Mountains in South America.
To play your part as a responsible tourist,
You can book an eco-friendly hotel or resort at a very reasonable price as there are plenty of green hotels.
Buy souvenirs from the local markets rather than going to the shopping malls where they sell internationally branded things.
Learn about Medellín's history and cuisine while exploring the charming streets, and make food stops to taste local delicacies. 
Whether you are a local or a tourist to get to know the area even better while on foot or cycle with the local guides or the multiple tours conducted by the hotel you are staying in or you can book such tours on online sites, such as tripadvisor.in, www.travelocity.com. Not using a car or a bus will reduce your carbon footprint.
Air Quality and Pollution
Following the World Health Organization's guidelines, the air quality in the Medellín is considered moderately unsafe. A quick sweep over Medellín air pollution: Real-time Air Quality Index (AQI):

PM2.5AQI - 68
PM10AQI - 35
NO2AQI - 11
Respect the Culture
Many aspects of Colombian culture can be traced back to the early culture of Spain of the 16th century and its collision with Colombia's native civilizations. After independence from Spain, the criollos struggled to establish a pluralistic political system, between conservative and liberal ideals. The conservatives supported the involvement of the Catholic Church in the state, while liberals favoured the separation of these. Both parties engaged in multiple civil wars resulting in a slow development of the country and the isolation of regions until the end of the 19th century. Though only around 3.4 per cent of Colombians live and consider themselves as indigenous. Nonetheless, many elements of indigenous culture live on in Colombia's cuisine, music, folklore, and language.
Though English is widely spoken here, more than 99.5% of Colombians speak Spanish, so learning a word or two in Spanish wouldn't be a bad idea if you want to visit Medellín. Food also operates as an expression of cultural identity. To understand their culture better, make sure to taste their traditional food made by the locals.
Top 10 Places to Visit
Plaza Botero - Medellín, Antioquia -  the Plaza Botero is the best place to see the larger than lives figures made by sculpture Fernando Botero Angulo who hails from Medellín. Centrally located in the "old quarter" of the city, it can be reached via the nearby Parque Berrio metro station.
Medellín Botanical Garden Foundation - The Joaquin Antonio Uribe Botanical Garden of Medellín, more simply known as the Botanical Garden of Medellín, is a 14-hectare botanical garden in Medellín, Colombia. The botanical garden has 4,500 flowers and 139 recorded bird species.  The garden includes a butterfly house, cactus garden, exhibition spaces, a library, and a pond.
Parque Explora - Parque Explora is located in the northern area of Medellín, known as the North Zone (Zona Norte), between Parque Norte and the Botanical Garden of Medellín, is an interactive science museum in Medellín, Colombia, loosely modelled after San Francisco's Exploratorium. It houses South America's largest freshwater aquarium, Explora Aquarium. The museum contains over 300 interactive attractions, as well as a 3D auditorium, planetarium, television studio, and vivarium. Explora aquarium houses nearly 4,000 organisms and 400 of Colombia's most common species. Its 25 tanks exhibit many of the most representative species that inhabit Colombia's rivers and oceans, including piranhas, electric eels, and a panchromatic kaleidoscope of fish.
Arví Park - Arví Park is both an ecological nature preserve and Pre-Hispanic archaeological site on the eastern slopes of Aburrá Valley, in the northeast area of Medellín, Colombia. The park covers several other municipalities of Antioquia, including Envigado, Bello, and Copacabana.  It is a major tourist attraction, known for its wildflowers, butterflies and trails. Activities include hiking, nature tours, cycling, and outdoor adventure sports. An outdoor food market is located next to the gondola station. The Piedras Blancas Ecological Hotel and its private reserve are adjacent to the park.
Medellín Metro cable - This is THE only city in the World that uses cable cars as a means of public transportation. The system runs smoothly, is very efficient, and bypasses all the traffic. It is also incredibly cheap to use, and well worth the spectacular views of the Comuna and the city in the valley below.
Parque de los Pies Descalzos - Parque de los Pies Descalzos is fondly called as the barefoot park is a zen-inspired public park in Medellín, Colombia. The park includes a green area with gardens and bamboo, a sand area, and an area with water fountains. As suggested by its name, the park is playful. Children and adults are encouraged to play in the park barefoot.
Laguna De Gutape - Guatapé is a town and municipality in the Department of Antioquia, Colombia. The town is a major tourist attraction, especially for travellers from Medellín, for both El Peñón de Guatapé, a large rock that visitors can climb, and the famous zócalos (baseboards) that adorn several of the buildings. It is one of the must-visit places if you are addicted to nature.
Nutibala Hill - Named after the indigenous Chief Nutibara, this hill is a rocky hill formation located in the Colombian city of Medellín, in the geographic center of the Aburrá Valley and on the west bank of the Medellín River. It is one of the few ecosystems that is conserved in Medellín and is considered one of the city's seven "guardian" hills. The hill has a sculpture park, the open-air Carlos Vieco Auditorium, and the Pueblito Paisa, a reproduction of the traditional Colombian township, amongst other sights.
Parque Berrio - Berrío Park is an urban plaza located in the heart of Medellín, Colombia. It is popular as a meeting place for residents and as the main reference of the city for visitors, as there are several attractions nearby. The park is named after Pedro Justo Berrío, who was a conservative politician and governor of Antioquia, who's statue rests on a pedestal of Carrara marble. "The Challenge" sculpture, by Rodrigo Arenas Betancourt is located in the south-east corner of the square. This statue is made of bronze and concrete and is 18 meters high. In the south-west corner the "Female Torso", a bronze sculpture by Fernando Botero, can be seen, which the locals nicknamed La Gorda. La Gorda, gifted in 1987, was the first large bronze sculpture donated by the artist to Colombia. The statue is 3.3 meters high and 2.4 meters wide. Across the park are two murals depicting Antioquia's history, created in 1956 by Colombian Pedro Nel Gómez.
* Antioquia Museum - It was the first museum established in Antioquia department and the second in Colombia. The museum is located in the center of Medellín on the Botero Plaza near the Berrío Park metro station.  It houses a large collection of works by Medellín native Fernando Botero and Pedro Nel Gómez.

Explore
Capital of Antioquia province, a fertile region famous for its coffee plantations and its flower farms, for its orchids and butterflies, it is known as the City of Eternal Spring for its idyllic climate. There are a significant number of museums, parks, and landmarks that are must-visit places in Medellín.
City Parks
Medellín is easily one of the greenest cities in Colombia. Parks abound in the City of Eternal Spring, and there is always a new green space to explore. Here are the names of some famous city parks -
Parque El Salado - One of the lesser-known parks in Medellín. It's a little way further out of town, which perhaps explains why it isn't visited as much as some of the other parks. a beautifully landscaped park with a river – in which you can even swim – running through it and the option to go zip lining as well. With beautiful trails, stunning views, and even wild monkeys, Parque El Salado is probably the best park in Medellín in which to escape the city and get in touch with nature.
Parque de los Deseos - "Desires Park" is a large open-air public space in Medellín's Zona Norte, close to the Antioquia University, as well as important tourist attractions such as the Botanical Gardens, Parque Explora, and the Planetarium. By day, it's packed with school children visiting the nearby science museums, and by night it fills up with university students, giving the park a more chilled-out vibe.
Parque Lleras - One of the most touristy places in Medellín, where you can not only wander around but also discover a lot of small streets lined up with hostels, boutiques, restaurants and small stores. A square in the middle of the park is where you will find Artesanal Vendors. This is an excellent place to buy souvenirs.
Parque de la Luz - Situated at the heart of the city, Parque de la Luz is an idiosyncratic park whose main features are the tall columns of LED lights that cause wonderful scenes when it gets dark.  Several vendors operate within a large food court situated in the park, so grab a refreshing drink and snack to enjoy the lights by.
Parque Piedras Blancas - It is an ecological park located in Santa Elena near Medellín. Parque Ecológico Piedras Blancas is a nice location for a day-trip from Medellín or even a tranquil weekend getaway location to escape the hectic big city life in Medellín. Also, it's a kid-friendly location and a good place to go with kids. There is very little information about this park. But from time to time this park has managed to attract tourists around the world.
Sculpture park Nutibara Hill - Sculpture Park is a sculpture garden at the foot of Nutibara Hill in Medellín, Colombia and the first of its kind in the country. The park contains 10 modern and abstract sculptures by famous Colombian and international artists such as Edgar Negret, Otto Herbert Hajek, and Sergio de Camargo. Its closest metro station is Industriales. The park is free to the public and is open from 6 am to midnight.
National Parks
Though there are 60 national parks in Colombia, Medellín has none. But you can visit Alto de San Miguel, an ecological park, where you would see birds of various kinds. But, do not forget to take a guide or a bird expert with you or this trip can get very boring.
Beaches
Medellín is a fantastic city to visit as there are so many things to see and do during your stay. Although there are no beaches close to Medellín, there are many stunning beaches to which you can travel while using Medellín as your base, and each beach in Colombia has something different to offer. There are day trips to the beaches that involve taking the bus or a short flight on a plane, so a trip to the beach is something you can enjoy despite Medellín's inland location.
Playa Bianca in Isla Baru is the best beach near Medellín. Although you have to take a 45-minute boat trip from Cartagena which is almost 12 hours ride from Medellín. Another best beach to visit while staying in Medellín if you enjoy wildlife in El Valle. This beach is famous for the marine turtles that lay their eggs on the beach each year between June and October.
Landmarks
Parque de Bolívar - The Park of Bolívar or Bolívar Park, as it is popularly known, is an urban park in Medellín, Antioquia, Colombia.  This urban space, replete with historical and cultural symbolism, is considered a symbol of the city itself. It is the main meeting place used by the city's different generations.
Catedral Basílica Metropolitana de Medellín - The Metropolitan Cathedral of Medellín, officially the Metropolitan Cathedral Basilica of the Immaculate Conception is a Catholic cathedral dedicated to the Virgin Mary under the title of the Immaculate Conception. It is located in the central zone of the Medellín in the Villanueva neighbourhood on the north side of Bolívar Park. Additionally, the temple was formerly called and it is still known but to a lesser extent, as Villanueva Cathedral, especially during its construction to distinguish it from the Basilica of Our Lady of Candelaria, which was the seat for the Episcopal see at the time.
Santa Fe Zoo - This zoo is the house of 922 animals and 238 species including otters, zebras, anteaters, lions, needle alligators, Andean condors, eagle owls and anacondas. Santa Fe Zoo is one of the famous zoos where animals are kept ecologically. They are well-fed and bustling with energy that you will enjoy seeing them there.
Basilica of Our Lady of Candelaria - The Basilica of Our Lady of Candelaria or simply La Candelaria Church, as it is more popularly known, is a Roman Catholic temple dedicated to the Virgin Mary under the title of Virgin of Candelaria. It is located in the center of the city of Medellín, Colombia, on the eastern side of Berrío Park. It is famous for being the oldest church in the city. On July 31, 1998, by resolution 0795, the building was declared a National Monument of Colombia.
Palace of Culture Rafael Uribe Uribe - The palace was named after Rafael Uribe Uribe, a General for the Colombian Liberal Party. The Rafael Uribe Uribe Palace of Culture is a public building in Medellín, that houses cultural programs related to the Department of Antioquia, such as concerts, conferences, and art exhibitions. The Palace of Culture is today considered a National Monument of Colombia and is freely open to the public. It houses the Institute of Culture and Heritage of Antioquia. Visitors have access to the historical and photographic archive, music and sound archive, café, library, documentation center, permanent art gallery, and "Rafael Uribe Uribe Museum room. The large dome located in the building is also used as an auditorium and a projection room and can be used to watch movies.
Museums
Medellín is also a home to some excellent museums. Other than Museo de Antioquia and Parque Explora that are already mentioned above, there are other prime museums which have made it to our list.
Museo de Arte Moderno - Housed in an imposing and dramatic structure – itself a marvellous work of modern art, Museum of Modern Art of Medellín (MAMM) is a museum of modern art in the Colombian city of Medellín. It was founded in 1978. Many artworks by Débora Arango, who was born in Medellín, are part of the museum's collection.
Casa de la Memoria - A new museum dedicated to the victims of Colombia's long and brutal civil conflict, the Casa de la Memoria is conveniently located in El Centro neighbourhood and is the museum to visit if you have an interest in learning more about the violence that has so defined Colombia's recent history. 
Casa Gardeliana - A much less well-known museum in the Manrique neighbourhood, the Casa Gardeliana is dedicated to tango music and, more specifically, the legendary tango superstar Carlos Gardel. It's not a big museum, but it houses some interesting memorabilia and artefacts and is worth a visit if only for the uniqueness of the subject and the pretty location.
Castle Museum - El Castillo Museum and Gardens is a Colombian museum in the El Poblado district of Medellín. It offers permanent exhibitions of objects in porcelain and glass, stained glass, antiques, paintings, and sculptures, among other things. The boards are mostly written in Spanish. So if you need an English guided tour then you must book in advance.
 Interactive Museum EPM - This museum in Medellín is a part of Barefoot Park and receives about a 1,000 visitors a day, mostly students. The museum provides an educational tour of 22 rooms spread over four buildings with technology explained in an entertaining way and guests interacting with the physical principles of water, energy, gas and telecommunications. 
Eat
Traditional Colombian food, especially here in Medellín, is known to be delicious but relatively heavy - many things are fried and there is a clear lack of green vegetables. There are many restaurants where you can grab traditional dishes. Here are some of our favourites.
Traditional Local Restaurants
Mondongo's - This place is hugely famous amongst the locals and the tourists. Mondongo has two outlets in Medellín which serve authentic Colombian cuisine. Meat-eaters should sample the house speciality of sopa de mondongo, a hearty tripe soup served with avocado, fried giant plantain, lemon and arepas, a Colombian corn cake. 
El Herbario - Another restaurant that offers Tasty Colombian dishes. These include nourishing grilled legumes with goat's cheese, generous green salads and flavorful soups each scattered with a good fistful of fresh herbs. Those wanting something a little more substantial will find an extensive selection of seafood and fish dishes.
Carmen - Carmen is one of the most loved restaurants in Medellín for its variety. They serve Colombian flavours with a strong Californian influence. Diners have various eating areas to choose from: the elegant dining room overlooks an open kitchen and is full of light with floor-to-ceiling windows and a 1950s retro ambience.
In Situ - Amidst of lush greenery of Botanical Garden this eatery offers a broad array of dishes that give a modern twist to classic Colombian flavours with specialties including salmon tartare, racks of smoked pork and pesto-stuffed chicken.
Vegetarian and Vegan
If you are a vegetarian or a vegan you may have a harder time. But there are a bunch of restaurants that offer vegetarian/vegan dishes as well with their typical non-vegetarian dishes.
*  Saludpan -  Saludpan is an institution in Laureles,  everything on the menu is fresh, delicious, and filling. The prices are reasonable and you can shop before or after you eat from a wide variety of bulk spices, organic products, and imported specialities. It's a vegetarian and vegan paradise.

   Kai  - kai serves up a reasonably priced vegan fair that also appeals to meat-eaters. Try the plantain hummus, portobello burger, pappardelle with plantains, or just everything on the menu. 
 Govindas -  Located at the heart of Medellín, it is a great place to have lunch or a sweet snack in the afternoon. Even better, their menu features traditional dishes from India. 
 Espíritu Libre - If you want a creative spin on vegetarian food, this is the place. With an always changing, always different collection of delicious bites, this place has its charm.
 La villa de aburra - It is one of the favourites of the Locals in the area. If you think traditional Paisa dishes are too much and unhealthy, go for a vegan "Tamal" at Vegarden, it will be love at first bite!
 Vegetarian Restaurant - The great part about the menu del dia here is that you can choose between two options, more traditional or slightly fancier. The cheaper option is a more traditional menu del dia with soup, main dish and juice, while the second option features 4 or 5 courses of slightly more creative fare. Either way, you cannot go wrong and we think you'll leave very happy and satisfied.
Street Food
Colombian street food seems to be available everywhere in Medellín and other cities in Colombia. And there are so many options. Colombian street food can be found at busy intersections, in the parks, near metro stations and many other places in the city. To truly understand a country's culture, history and people, you must first appreciate and understand its culinary specialities. And the best place to discover such delights is on the street.
Here are our suggestions from the variety:
Arepas de Chócolo - These thick, sweet, yellow corn cakes are slathered in butter, then fried on a griddle until golden brown. Then more butter is shoved on before a quarter inch slice of Colombian fresh white cheese is placed on top.
Arepas de Queso - In addition to the arepa de chócolo, you can indulge in a very unique arepa in Medellín called the arepa de queso.  this arepa version is a mixture of cornflour with copious amounts of cheese. This is stirred together as a batter then fried on a griddle. The mushy concoction is flattened to a patty then doused with sweetened condensed milk.
Buñuelos - Buñuelos are both a traditional Christmas dish and a popular breakfast treat for Colombians. Slightly larger than golf ball size, these tasty morsels are concocted of salty flour and small curd white cheese. They are rolled into a ball then fried until golden brown. Best served piping hot. 
Tropical Fruit - You might have never heard of it, but the fact is all over Medellín you will find ladies with carts dishing up sliced fresh fruit in plastic cups. One of the most popular options is mango. Colombians like to indulge in a cup of sliced green mango doused in lime juice and salt and served with a toothpick as an afternoon snack.
Empanadas - Empanadas are the ubiquitous Colombian street food. They are widely available everywhere, particularly street vendors. These bite-sized snacks are typically stuffed with minced beef and cubed potatoes and encased in a cornmeal doughy bread that is deep fat fried. And the best part is, vegetarian and chicken versions are also available.
Churros - Colombian churros are slightly different than the Spanish variety. Here they are small and circular and generally are served sprinkled with sugar instead of a side dish of chocolate. But they still have that sweet doughnut taste.
Drink
If you are visiting Colombia don't forget to try traditional Colombian drinks. These are the names of some drinks you will find in Medellín:
Aguapanela - This is a traditional drink in Colombia that is often made in large batches to keep at home. Aguapanela (sugarcane water) is made by dissolving a large piece of panela that comes from sugarcane, which looks like a big block of hard brown sugar.
Aguardiente - In Medellín, the most popular is the Antioqueño brand of aguardiente. The drink is typically enjoyed straight or with a little water. Aguardientes are strong alcoholic beverages that are anise-flavoured liquor derived from sugar cane. 
Avena Colombiana - This drink is made of oats, milk, water, cinnamon, cloves and sugar. This traditional Colombian drink has a rich, creamy texture and it is often served at breakfast. But it can be served any time of the day.
Champús - Champús is made with a mixture of fruits including pineapple and lulos (also known as naranjilla), dried corn, cinnamon, cloves, panela and lots of ice.
Chocolate Con Queso - This popular Colombian drink is served for breakfast or a snack. This hot chocolate drink with queso (cheese) is heavy enough for some to be considered a meal.
Colombian Coffee - No list of Colombian drinks would be complete without coffee. It may not be a surprise to many that coffee is one of the largest exports in Colombia.
Fruit Juices - Due to the region's abundance of fresh tropical fruits on hand, it is no surprise juices are a cornerstone of the Colombian diet. From the local mercado (market) to specialized stands, to every restaurant menu, you don't have to go far to find jugos (fruit juice).
Limonada de Coco - Limonada de Coco is a popular and delicious beverage that is made in a blender with fresh coconut milk, fresh lime juice, ice, and sugar to taste. This drink is also made into popsicles.
Masato de Arroz - This is an ancestral drink of Colombia, especially from the Andean region, which was produced long before the arrival of the Spanish. Its preparation consists of preparing a syrup, consisting of cloves and cinnamon, to which corn and soft rice are added. It is served very cold.
Tap-water
Yes, The water in Medellín is perfectly safe to drink straight from the tap. Still, if you want to carry a bottle of your own, try to stop at the eateries where they serve filtered water to refill the bottle so that you don't increase carbon-footprint.
Organic Cafés
If you are a vegetarian or a vegan, there are multiple cafés in Medellín that serve non-vegetarian as well as veg and vegan meals. Here are the names of some famous cafés where you can visit-
DDC - Desarrolladores De Café
Breweries
 Even though Medellín is famous locally for its Festival of Flowers and rapid rate of innovation, tourists seem to love it for the stunning landscapes and thumping nightlife. You'll find the best bars in Medellín. Here are the names of the some, which have made it to our list -
Activities
Other than sightseeing and making good of marvellous eateries in Medellín, these are our recommendation as outdoor activities -
Free Walking Tour in Medellín by Real City Tours is one of the most popular walking tours in the world.
Learn all about the city's difficult past from an insightful and experienced guide.
Take the Metrocable Up to Parque Arvi
Go Salsa Dancing. Whether you're an old pro or just want to learn a few steps, this city is the place to do it.
Go Paragliding. This area of Colombia is renowned for paragliding, or parapente in Spanish, and it's easy to arrange trips from Medellín, even on short notice.
Visit Plaza Minorista Market. Get an authentic look at Medellín food culture by visiting one of the city's markets.
Go Biking or Ride ATVs Outside the City. The lush surroundings, hills, and mountains around Medellín make it a great playground for adventure-seekers.
Yoga and Retreats
Medellín adds a few more of the best yoga retreats in Colombia. Some of our recommendations are –
Sarasvati Escuela de Yoga
Accommodation
There are plenty of hotels, hostels, guest houses in prime locations in Medellín. Nowadays, most opt for online bookings; don't forget to read the reviews on them.
Green Hotels
Hotel Poblado Plaza - One of the best green hotels in Medellín has
the best location in the most exclusive area of the city, the Milla de Oro District of El Poblado, close to everything you want.
Ibis Medellín - Located between one of the most important neighbourhoods of the city and the downtown. Five minutes away from Plaza Mayor, the city's convention center. A few steps from The Museum of Modern Art of Medellín and a 7-minute walk from our nearest train station this green hotel is the favourite of many tourists. Their reasonable hotel rents and friendly staff make the visit very pleasant.
Hotel San Fernando Plaza Medellín - This Five-star luxury hotel is located in the Financial District of Medellín that combines comfort and world-class service. Its privileged location allows our guests to visit shopping centers, bookstores, coffee shops and the most exclusive restaurants in town within walking distance.
Hotel Du Parc Royal - In the most exclusive sector of the city, this green hotel offers the most luxurious rooms with the best quality standards, with exquisite and modern designs inspired by the French architecture and the best-personalized service. In the Best Area, on Calle 9 (street 9), a quiet sector, two blocks from the Parque Lleras, the Church of the Poblado and 45 minutes from the International Airport Jose Mara Cordova.
Hotel Estelar Milla de Oro - This green hotel has a very different and modern concept. Strategically located in the Poblado neighbourhood in Medellín, Estelar Milla de Oro is the ideal hotel for pleasure and business trips.
Hostels and Guest Houses
Hostels and guest houses come with a lesser budget as well as it helps the locals to earn extra. Medellín offers a plethora of budget-friendly hostels and guest houses –
Los Patios Hostal Boutique - The Best Hostel Medellín
La Playa Hostel & Rooftop
Apartments
If you want to stay longer and want your privacy, renting apartments can be a good option for you. You may come across many tourists with whom you can enjoy the daily lives of Medellín. You can book them online sites such as www.booking.com etc. On such sites, locals advertise their apartment, location, and connectivity with the transport modes. Read the reviews on them before renting one. To name a few apartments where tourists can stay –
Couchsurfing
Couchsurfers share their homes, cities, and lives in profound, meaningful ways, making travel anywhere in the world a truly social experience. You will find many hosts if you want to couch-surf in Medellín. There are multiple online sites such as couchsurfing.com which help tourists to take this option of staying. Still, if you want to opt for this option, extra precaution is necessary, especially for the females. Do not hesitate to ask for the details and the references of the host. And a little tip: never interfere with their beliefs and lives.
Camping
If you want to go camping, these are the places recommended for you –
Comfama Recreational Park
How to Get There
Medellín is a vast city built north to south in the Aburrá valley and surrounded on either side by majestic mountain ranges. As a relatively newer city, the architecture has a decidedly modernist appeal, which goes hand in hand with the progressiveness of its residents. Medellín also has the first (and only) Metro system in Colombia. Medellíen is also known for international travellers. It is also known for its perfect climate, as witnessed by its nickname 'city of the eternal spring'. The easiest way to reach Medellín is by plane.
Air
Medellín doesn't have an international airport terminal of its own and the closest international airport is at Rionegro - José María Córdova International Airport. From there you have non-stop international and domestic flights connecting to the major destinations like New York, San Salvador, Panama City, Madrid, Buenos Aires, Bogota, Cali, and Santa Marta. There is also a local domestic airport Olaya Herrera that helps in regional and domestic transports. But the airport operates only between 6 am to 6 pm.
Bus
If you want to reach the city of Medellín by bus, then you have to either get down at the north terminal or the south terminal. While the north terminal is connected to the Caribe metro station, the south terminal is located closer to the domestic airport, Olaya Herrera.
Train
Trains are scarce and unreliable in Colombia. It is not possible to arrive in Medellín by train.
Hitchhiking
Although it's not an easy country to hitchhike, it is not as bad as they say. There is a lot of paranoia about the security situation in the country. Still, it is preferable to stay safe than sorry. It will be better if you have a map with you and speak a little bit of the local language Spanish. People are friendly here and they try to help you out. Do not forget to ask the details of the driver before you board in.
Others
Medellín is well-connected by roads on all its sides and as a result, it can be reached from all the four directions with ease.
Moving Around
Medellín is great value for money. It also helps that many of the most popular tourist attractions – Parque Botero, the Botanical Gardens, the Metrocable – are either free or very cheap. If you want to divulge the originality of the city, you have to leave the usual transportation mode and look for a slower mode of transportation. So, here are some of the modes of transportation you can choose.
Walk
While Medellín's safety has dramatically improved, you still need to be mindful of being in the wrong place at the wrong time and keep track of your belongings at all times. Free walking tours offer excellent (and free) morning and afternoon city walking tours in English, which cover the city's historic attractions and neighbourhoods. If you are not confident to make it alone, you can always hire a local guide. Many tour guiding programs are held by the hotel itself. There are multiple online sites to book walking tours on, such as www.tripadvisor.in, www.viator.com, etc.
Bicycle
Another eco-friendly way of moving around in Medellín is a bicycle tour. Renting a private bike is another way to tour Medellín. Hop on a bike and choose a pace most suitable for yourself, and travel through the streets and alleys of the city.
Electronic Vehicles
If you find walking and cycling a bit stressful, worry not. Public transport is the best option for you.
Public Bus
There is a bus rapid transit system (BRT) called MetroPlus also connected to the Metro and MetroCable transportation systems. New to Medellín (inaugurated in December 2011), the MetroPlús system has two lines of transport, each with at least one stop connection to a line of the Metro, where you can transfer to the Metro or MetroCable lines. These buses have fixed stops and will not respond to pedestrians waving them down. You'll also need to purchase a ticket for these buses—these can be purchased at any MetroPlus station.
Tram, Train and Subway
The Ayacucho Tram is operated by Medellín Metro and is the only (rubber-tyred or otherwise) tram in Colombia. Medellín once had a standard steel-wheeled tramway network.
Perhaps the most innovative mode of public transportation is the Metro and MetroCable--the only metro system in all of Colombia. Medellín's Metro runs North to South and Centre to West across the city. It's composed of two lines (A & B) that, together, host 27 stations, including ones that will leave you at key touristic sites in the city such as the Plaza de Botero and the Botanical Gardens. To use the Metro, you'll need to buy UniViajes (single passes good for a one-way trip). These can be purchased at any Metro station, and are the easiest way for a tourist to use the system.
Sustainable Shopping
The concept of sustainable shopping is new to the world. People are trying to change their lifestyles and adopting eco-friendly practices that support the local community. As a responsible tourist, you must buy souvenirs and antiques from the local markets of Medellín.
Food Markets
To get a real taste of Colombian food, sample some of the lip-smacking street food available at these great street food markets in Medellín. To name a few:
●Mercado del Rio
●El Pulguero
●Minorista
●Vía Primavera
●San Fernando Plaza
●Manila Food Market
Flea Markets
For street shoppers who love flea markets, here are the names of some markets where you can find souvenirs as well as local things:
●Envigado Flea Market.
●San Fernando Plaza
Second Hand Stores
Some of the best second-hand stores in Medellín are -
●Casa Solorzano Laureles
●Special Price
●Compraventa Odeone
Eco-Fashion
Apart from buying antiques and crafts, you can always go for sustainable fashion. You will get to experience the Colombian style with reusable clothing. Some of the shops are:
●Makeno
●Biónica
●Mon & Velarde Pobaldo
●Vida Augusta
Recycling
Colombian city Medellín is drawing up a plan to implement a mass domestic waste recycling program. Studies will determine the cost of implementing the system, which will involve building new recycling facilities and buying new waste collection vehicles. The city will also carry out a census to determine the amount of informal solid waste collectors in order to draw up a plan that will include them in the waste collection, transporting and recycling process.
Waste
There are approximately 3,663 waste pickers who make their living by collecting recyclables in the city – sometimes door-to-door, most times on the streets. The environmental impact of their work is generally not recognized, yet it provides a breather for the city's landfill and raw materials for industries, improving the lives of the 2.5 million people living in the city.
Work and Study Abroad
The Colombia student visa is relatively easy to get. And a student visa is a good way to stay longer in Colombia than the six-month tourist visa permits. To be eligible for a student visa you need to be enrolled in a public or private educational establishment that is recognized by the Colombian government. Most universities in Colombia are approved. In addition, you need to be taking at least 10 hours of classes per week.
The official language of Colombia is Spanish. It is more common to find courses offered in Spanish than English in Colombia. If you wish to study in a non-native language, you will need to provide evidence of your language proficiency. If you do not meet the required standards, some universities offer language courses to help you improve.
If you are okay with part-time jobs, you can upload your resume on job sites such as www.indeed.com, www.simplyhired.com or you can ask the locals about any part-time job opening they know about.
Exchange Student
As mentioned above, foreign student programs are very much available in Medellín. All you have to do is, contact your home university if they have collaboration with the university here.
Au Pair
There are many Au Pair jobs available in Medellín. To have a good salary or a likeable job you have to submit your resume to online portals like www.aupair.com, www.greataupair.com, www.topaupairs.com. The jobs they provide like, child care, old age home jobs, etc.
Volunteering
If you are here as a tourist, and you want to volunteer for the social causes here there are many online sites, like, www.goabroad.com, www.workaway.info, etc. They will help you to choose the place where you want to volunteer according to your likes and comfort. Some of the volunteer jobs include planting trees, teaching the locals English, Educating kids, Welfare for animals, etc.
See Also