Porto
From Eco Friendly Travels
Eco-friendly travel guide to Porto advises how to be a responsible tourist. Learn how to explore the attractions in a sustainable way and how to respect the local people and culture. Make your trip green by supporting locally owned hotels, organic restaurants and other businesses. Read more on how to protect the environment by making conscientious choices and how to travel green in Porto, Portugal.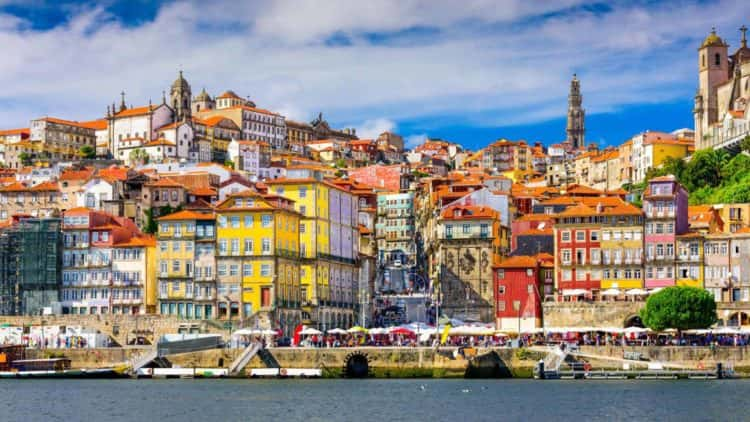 Exploring by bicycle: 4 / 5
Public transportation: 5 / 5
Outdoor activities: 4 / 5
Locals' English level: 4 / 5
Accommodation: US$30 - $250
Budget per day: US$20 - $150
Responsible Travel
Porto or Oporto is the second-largest city in Portugal and one of the Iberian Peninsula's major urban areas. It is one of the oldest European Centers, located alongside Douro River estuary in Northern Portugal. It's core was proclaimed a World Heritage Site by UNESCO in 1996, as "Historic Centre of Porto, Luiz I Bridge and Monastery of Serra do Pilar".
To play your part as a responsible tourist,
Try to experience as much of traditional Portugal as you can, show you are interested in both its past and present.
 Don't forget to buy some local produce, from food to handicrafts. Creating employment in rural areas and maintaining endangered traditions is a key element of responsible tourism in Porto.
Help preserve natural environments. Protect wildlife and habitats and do not purchase products made from endangered plants or animals.
You can book an eco-friendly hotel or resort at a very reasonable price as there are plenty of green hotels.
Whether you are a local or a tourist to get to know the area even better while on foot or cycle with the local guides or the multiple tours conducted by the hotel you are staying in or you can book such tours on online sites. Not using a car or a bus will reduce your carbon footprint.
Air Quality and Pollution
Air pollution represents a serious risk not only to the environment and human health but also to historical heritage. The most important pollution sources in Porto are the motor traffic, one oil refinery and one petrochemical complex. Strong acidity levels are generally small, but black smoke concentrations are similar to that observed in several European cities.
Respect the Culture
Porto is known as a grey city where colour comes from its buildings and culture. Porto's natives are known as Tripeiros – have their own sets of customs, traditions, and beliefs, a few of which may not be recognized or understood anywhere else in the world. As the second-largest city, Porto is also a hot spot for tourism and a landing for migrants from Europe and around the world. Many locals have adapted and can speak English well, so you don't have to worry about the language barrier. Food also operates as an expression of cultural identity. To understand their culture better, make sure to taste their traditional food made by the locals.
Top 10 Places to Visit
The Ponte Luis I bridge - The Dom Luís I Bridge, or Luís I Bridge, is a double-deck metal arch bridge that spans the River Douro between the cities of Porto and Vila Nova de Gaia in Portugal. At its construction, its 172 metres span was the longest of its type in the world. It is a multilevel bridge, the top lane of this bridge is for the metros, the bottom lane is for the cars and walking on the sides.
Igreja de São Francisco church - Igreja de São Francisco is the most prominent Gothic monument in Porto, Portugal, being also noted for its outstanding Baroque inner decoration. It is located in the historic centre of the city, declared a World Heritage Site by UNESCO.
The Serralves Contemporary art museum - The Serralves Museum is the foremost museum for contemporary art in Portugal, uniquely sited in the grounds of the Serralves Estate, which also comprises a Park and a Villa. Through its collection, temporary exhibitions, performance, education and public programmes, publishing initiatives, and national and international collaborations, the Museum fosters the understanding and appreciation of contemporary art and culture. A must-visit for you, if you are an art lover.
Torre dos Clérigos - The soaring Clérigos Tower punctuates Porto's skyline like a monumental needle. This is the city's most visible landmark, a 75-meter-tall, 18th-century granite-hewn rocket, and visiting this historic structure should be high up on the "things to do" list. If you are okay to climb the 240 steps to the top of the tower, you will be rewarded with a breathtaking panorama of the river, the coastline, and the distant Douro valley - a birds-eye-view of Portugal's second-largest city.
Porto Cathedral - The Porto Cathedral is a Roman Catholic church located in the historical centre of the city of Porto, Portugal. It is one of the city's oldest monuments and one of the most important local Romanesque monuments.
Livraria Lello - Livraria Lello also known as Livraria Lello & Irmão and Livraria Chardron, is a bookstore located in the civil parish of Cedofeita, Santo Ildefonso, Sé, Miragaia, São Nicolau e Vitória, in the northern Portuguese municipality of Porto. Along with Bertrand in Lisbon, it is one of the oldest bookstores in Portugal and frequently rated among the top bookstores in the world. Apparently, this bookstore inspired the author of the Harry Potter series.
Palácio da Bolsa - The palace was built in the 19th century by the city's Commercial Association in Neoclassical style. The Palácio da Bolsa is located beside the St Francis Church of Porto in the Infante D. Henrique Square in the historical centre of Porto, designated a World Heritage Site by UNESCO. You must book a guided tour to witness the wonderful past of Portuguese history.
Jardins do Palácio de Cristal - This elegant Victorian botanical garden is one of Porto's must-visit places. Beautiful lawns with dotted fountains, sculptures, giant magnolias, camellias, cypress and olive trees, this garden slowly open up to you as you wander through it.
Avenida dos Aliados - Avenida dos Aliados is generally regarded as Porto's city centre and is, as such, the most grandiose avenue. Flanked by ornate buildings in a range of architectural styles, from neoclassical to French Beaux-arts, this avenue was built to impress. As such it is home to some of the city's most prestigious hotels along with a number of banks.
Igreja do Carmo - Classified as a National Monument on May 3, 2013, the Igreja do Carmo or Church of the Venerable Third Order of Nossa Senhora do Carmo, is located at the intersection between Praça de Carlos Alberto and Rua do Carmo, close to the Church and Torre dos Clérigos. In recent years the Ordem do Carmo has sought to open its vast heritage to the public for a small fee. Part of the ticket supports the restoration of the Order's heritage.
Explore
The city was built along the hills overlooking the Douro river estuary, and its historical center was awarded World Heritage status by UNESCO in 1996. It has been continuously inhabited since at least the 4th Century when the Romans referred to it as Portus Calle. There are a significant number of museums, parks and landmarks which are must-visit places in Porto.
City Parks
Here are the names of some famous city parks -
Parque de Serralves - Horses, sheep and cows! Yes, you heard it right. One of the best parks in Porto has it all. With blossoming trees to lakes to enjoy quiet time out. It also has a Treetop Walkway, right next to the tree canopy, that will allow you to observe the biodiversity of Serralves Park high above the ground. Another great thing at Serralves is that, besides the beautiful park, it has a magnificent contemporary museum designed by Siza Vieira. Inside this museum, you have spacious art galleries but also a bookshop, a café, a library and a large restaurant with a view towards the park.
Porto's city park - This park is not only the largest in Porto, but it is also the most popular as well. It is a great spot to make picnics with your friends, playgroup games like football and walk the dog. It also has several restaurants (mostly at the borders) and several entrances.
São Roque Park - São Roque Park or Parque de São Roque is considered one of the most beautiful parks and gardens. Most locals don't go there because it is not in the city centre, even though it is just 10 minutes walking distance from the subway station Estádio do Dragão.  at this amazing park in Porto, you'll find not only many different types of trees and flowers but fountains, a humble chapel, some stairs covered in tiles, a haze and an artificial small cave.
Quinta do Covelo - Quinta do Covelo is very close to the highway but you don't actually hear much noise. Inside, you can find beautiful trees, large sidewalks for runners and even a BTT lane. There is also a playground for kids.
Botanic garden - This is one of the favourites and most visited parks in Porto. A quiet garden where you can find centenary trees, cactus and succulent plants, several greenhouses and lakes as well.
The crystal palace gardens - Even though the Crystal Palace gardens are not as wide as the city park, they have much more variety. Besides the beautiful trees and other plants, there is a discrete 'garden of feelings', a romantic garden of roses and a beautiful lake where you can find swans and ducks swimming all the time.
Parque das Virtudes - With a fabulous view towards Riberia, the Douro river and Gaia this beautiful garden is located at the city center. It is just 10 minutes walking distance from Taberna de Santo António and the romantic Árvores restaurants.
Jardim de João Chagas - Jardim de João Chagas or Cordoaria's garden is located at the center of Porto, among quite a few other iconic locations, such as Clérigos Tower and Portuguese Center of Photography. It is home to many exotic plants and rare sorts like sequoias and Bunya pines. Here, you can find older examples, dedicated to the famous Portuguese people,  sculptures on classical motifs, There are thirteen figures, scattered across the park, sitting on the benches and blending into the real visitors of the park. They are permanently laughing at each other and others, although not in an insulting way, which makes the walks through the garden more amusing.
Garden of Morro - It is a hilltop park with palms & a cable car. Offering one of the most panoramic views of Porto, Garden of Morro is truly magnificent and picturesque.
National Parks
Parque Nacional da Penedea-Gerês - Located in the north of Portugal, the only national park in Portugal, was created on 8 May 1971 due to its national and international scientific interest, to protect the soil, water, flora, fauna, and landscape, while preserving its value to the existent human and natural resources. Education and tourism are also goals of the park. It also shelters more than 100 granite villages that, in many ways, have changed little since Portugal's founding in the 12th century. Its rugged hills are home to deer, wolves and golden eagles. Trails include a Roman road studded with milestones. The fastest way to reach Parque Nacional da Penedea-Gerês from Porto is by taxi.
Beaches
Porto is sandwiched by plenty of gorgeous coastlines. Some of the famous beaches are :
Praia da Luz - One of the most popular beaches in Porto, close to where the Douro River meets the Atlantic Ocean, is Praia da Luz. Not only is this a nice stretch of sand, but it's also a somewhat hidden spot with a beautiful esplanade restaurant that catches the attention of hungry passersby. As the 'Beach of Light', it was named after the patron saint of a chapel that once resided there; the saint was known as 'Our Lady of the Light.
Praia do Molhe - In between Praia da Luz and Praia de Matosinhos, is Praia do Molhe, a spot that stands out in Porto because of the iconic Pérgola da Foz walkway. There is also a jetty that lines the beach on one side, partially protecting it from harsh waves and a strip of cafés and restaurants nearby that provides perfect spots to sit for lunch when the sun is at its warmest.
Praia do Carneiro - When walking away from Porto at the beginning of a beachside stroll, Praia do Carneiro is the first beach that visitors will come across. The standout features include a lighthouse and the 16th-century fortification of São João da Foz.
Praia dos Ingleses - Praia dos Ingleses is a largely sandy beach with rocky outcrops around the shoreline. Located in the upmarket Foz do Douro district of Porto this is a cafe and promenading central. This is one of the famous spots for anyone wanting to grab a drink and enjoy the sun is Praia dos Ingleses, which is known more for the cafés and terrace seating than the actual beach.
Praia Castelo do Queijo - Praia Castelo do Queijo translates to "Cheese castle beach"! The name actually comes from the Fort of São Francisco Xavier which overlooks the beach. It is said that the fort was built on a rock that resembled an enormous piece of cheese.
Matosinhos Beach - Matosinhos is Porto's main beach. A long stretch of fine sand backed by apartment blocks, an esplanade and any number of small cafes is pleasant enough. In the summer there's always some sort of activity on the beach and the lifeguard service makes for safe bathing. One major benefit of coming to the beach at Matosinhos is this area is renowned for its great restaurants, particularly seafood.
Landmarks
Some of the most beautiful landmarks in the city are as follows :
Liberdade Square - The square has its origins at the beginning of the 18th century. It was in 1718 that a project for the urbanisation of the area began, which resulted in the creation of new streets and an ample square, known as Praça Nova (New Square). The square was initially limited by the medieval walls of the city and by urban palaces, all of which are now lost. The appearance of the square was much altered after 1916 when the municipality building was demolished and the Avenida dos Aliados, a modern boulevard, was built to the north of the square. The buildings around Liberdade Square and the avenues are occupied by banks, hotels, restaurants and offices. It is an important tourist attraction in the city.
Cais da Riberia - Located on the riverbank of the Douro, Ribeira is one of the most popular neighbourhoods in Porto. It is one of the most authentic and picturesque parts of the city in the heart of the old town. The colourful buildings and their reflections on the Douro are truly mesmerizing.
Ponte da Arrábida - The Arrábida Bridge is an arch bridge of reinforced concrete which carries six lanes of traffic over the Douro River, between Porto and Vila Nova de Gaia. You can walk across the riverside to that place and explore around as well.
Igreja de Santo Ildefonso - The Igreja de Santo Ildefonso is an eighteenth-century church located near Batalha Square. constructed of granite, this church is one of the famous landmarks in Porto.
Chapel of souls - Built in the early eighteenth century, the Chapel of Souls is one of the most beautiful churches of Porto. The tiles of this monument, which is located near the Bolhão Market and metro station, were restored in 1982. Although simple, the interior is equally interesting, 'hiding' the image of Nossa Senhora das Almas, (Our Lady of the Souls), which dates back to when the chapel was first built.
Fort of São Francisco do Queijo - Fort of São Francisco do Queijo, frequently shortened to Castle of the Cheese is a fortification situated along the coast of the civil parish of Nevogilde. The granite fort is situated over a cliff which resembles an enormous piece of cheese, circled by a dry moat and areas that become inundated during high tide.
Mosteiro da Serra do Pilar - The Monastery of Serra do Pilar is a former monastery located in Vila Nova de Gaia, Portugal, on the opposite side of the Douro River from Porto. The monastery is situated on an outcrop overlooking the Dom Luís I Bridge and the historic centre of Porto. Together with these locations, the monastery was designated a UNESCO World Heritage Site in 1996. The monastery is notable for its church and cloister, both of which are circular.
Rotunda da anémona - She Changes, known locally as anémona, is a sculpture designed by artist Janet Echelman for the cities of Porto and Matosinhos, Northern Portugal. The installation consists of three steel poles, cables, a 20-ton steel ring and a net structure of varying densities and colours. The sculpture is Echelman's first permanent public art installation.
Mercado Ferreira Borges - It is an iconic market building built in the 1800s of iron and glass. The building houses a restaurant and a night club.
Sculpture Dom Pedro IV - The monument is the main attraction of the huge square of Praca da Liberdade. Surrounded by many buildings of beautiful architecture.
The Casa da Música - It is a concert hall in Porto, Portugal. It was designed by architect Rem Koolhaas and opened in 2005. Designed to mark the festive year of 2001 in which the city of Porto was designated European Capital of Culture, it was the first building in Portugal aimed from its conception to be exclusively dedicated to music, either in public performances or in the field of artistic training and creation.
Museums
National Museum Soares dos Reis -  Founded in 1833, it is the first Portuguese national museum exhibiting collections of Portuguese art, including a collection by Portuguese sculptor António Soares dos Reis, from which the museum derives its name. This museum is currently housed in the Carrancas Palace situated in the civil parish of Cedofeita, Santo Ildefonso, Sé, Miragaia, São Nicolau e Vitória, in the northern Portuguese city of Porto.
Casa do Infante - The house was originally built in the 14th century as customs and mint, although its present condition derives mostly from a remodelling carried out in the 17th century. Its name derived from an oral tradition that suggested the house was the birthplace of Prince Henry the Navigator in 1394. The Casa do Infante is located in the historical centre of Porto, designated a World Heritage Site by UNESCO. It has been transformed into a small museum that features an archaeological site and the mosaic floors that once decorated the structure since the house has been rebuilt and remodelled on numerous occasions right up until the twentieth century.
Tram Museum - The Porto Tram Museum is a museum operated by the Sociedade de Transportes Colectivos do Porto. It was inaugurated in 1992 and is installed in a former thermoelectric power station next to the River Douro in Massarelos, Porto, Portugal. It exhibits material related to the history of trams in Porto. The collection contains 16 electric cars, 5 trailers, and two maintenance vehicles as well as the former equipment of the power plant, which provided electricity for the tram lines.
World of discoveries - This theme park combines history, discovery, fantasy, sensations; it is a must if you want to walk on the footsteps of your ancestors.
FC Porto Museum - The FC Porto Museum, officially known as FC Porto Museum by BMG for sponsorship reasons, is a museum located in Porto, dedicated to the history of the Portuguese association football club FC Porto. It was inaugurated on 28 September 2013.
Portuguese center of photography - The Portuguese Centre of Photography was founded in 1997. First exhibitions were held in December of the same year on the ground floor of the building until 2000. The building was temporarily closed for renovation and reopened in 2001. It was originally a prison. Once you enter and see the large iron gates and huge locks, you will understand that it was a prison. It is amazing how this place of suffering turned into a place that celebrates arts and humanity.
Military museum of Porto - The Museu Militar do Porto is a pertaining institution to the Portuguese Army, dedicated for the preservation of military history, located in Porto, Portugal.
Eat
Portuguese food is not only Mediterranean cuisine but Atlantic, African, Asian and Brazilian cuisine. This comes from Portugal's History of which also a bit of the World's History. Portuguese cuisine was first recorded in the seventeenth century, with regional recipes establishing themselves in the nineteenth century. Porto has some authentic traditional restaurants where you will find mouthwatering food that will simply take your eating spree to another level.
Traditional Local Restaurants
Portuguese dishes include meats, seafood, vegetables and legumes and desserts. Here are the names of some restaurants which are highly recommended.
Restaurante A Cozinha do Manel - A Cozinha do Manel is one of the most traditional restaurants in Porto. It's been open since 1989 and its main goal is to put on the table the best dishes of the Portuguese traditional gastronomy. You are going to have maybe the best octopus or hake fillets, roasted veal, roasted lamb, duck rice or you must try Porto's most famous dish, tripe.
Abaida do Porto - Abadia is located at the heart of Porto's old town, right in a small street parallel to the lively Santa Catarina street. With traditional decor to the food. You will find the locals here mostly or the people who worship traditional gastronomy of Portugal.
Dama Pé de Cabra - DAMA pe de Cabra is a PETISQUEIRA restaurant where you can have an experience of exquisite Portuguese flavours, thanks to its recipes of PETISCOS, a very tasty delicacy, culinary preparation made with great care at the moment, elaborated with selected traditional Portuguese products. Most of these products may also be purchased here.
Tasquinha dos Lóios - If you want a relaxed atmosphere, great service, fabulous food and very reasonable prices, this is the best place for you.
Adega de São Nicolau - A compact, unassuming eatery preparing traditional, home-style Portuguese specialities will make your taste buds dance on its tune.
Antunes - Antunes is all about the 'pernil assado' (smokey roasted pig). This restaurant serves traditional dishes like, 'bacalhau', 'arroz de pato' with homemade natas do céu for dessert.
Vegetarian and Vegan
Vegana By Tentúgal - Vegana By Tentúgal is a vegan restaurant which prides itself on being totally cruelty-free. There is also a shop on the premises where you can buy vegan food and toiletries. The menu offers plenty of choices, from vegan tripe made from mushrooms to cakes and other sweet treats.
daTerra Baixa - daterra is the first vegetarian restaurant brand in Portugal; it is already a very experienced model, with continued positive reviews over the years. A must-go restaurant whether you are a vegetarian or not.
O Burrito -  If you are craving Mexican food and are vegan, this is the place to go. With traditional Mexican dishes to dishes of Portugal. This place is a must-visit for its calm yet trendy ambience.
Restaurante Essência - One of the most popular vegetarian restaurants in Porto with a lovely atmosphere and friendly host.
Street Food
Bifana - Bifanas are traditional Portuguese sandwiches made with thin slices of pork that are marinated and simmered in a sauce of white wine, garlic, and paprika and served on soft rolls with plenty of mustard and Piri-Piri sauce.
Francesinha - It is a Portuguese sandwich originally from Porto, made with bread, wet-cured ham, linguiça, fresh sausage like chipolata, steak or roast meat, and covered with melted cheese and a hot and thick spiced tomato and beer sauce. It is typically served with french fries.
Alheira - The alheira is a type of Portuguese sausage, made with meats (usually pork, veal, duck, chicken, quail or rabbit) and bread. In Porto, it is common to find it in supermarkets which is the most common version.
Bolinho de bacalhau - Cod is immensely popular in Portugal so it is no wonder that so many dishes are made with cod, including the small nugget-like bite, codfish cake. Known as bolinho de bacalhau in the north, these are made with a combination of potato, codfish, eggs, parsley and onion, and then lightly deep-fried to perfection.
Pastel de nata - Pastel de nata is a Portuguese egg tart pastry dusted with cinnamon. Outside Portugal, they are particularly popular in other parts of Western Europe, Asia and former Portuguese colonies, such as Brazil and Macau.
Drink
Some of the famous native drinks are -
Portugal's most famous tipple is port. Port Wine is born in the Douro Valley, but it is the city of Porto that gives the name to the wine. Because that's where the wine ages and is shipped from all over the world.
Wine is also a forte in this part of the world.
Aguardente which is a sugarcane-based drink.
água com gás which is an alcohol-free beer
Tap-water
Yes, tap water in Porto is generally considered safe to drink. Almost all eateries have options whether you want to drink bottled water or tap water. But yes, it may taste chlorinated.
Organic Cafés
If you are a vegetarian or a vegan, there are multiple cafés in Porto that serve non-vegetarian as well as veg and vegan meals.  Here are the names of some famous cafés where you can visit-
Zenith - Brunch and cocktails Bar
Do Norte Café by hungry biker
Breweries
Portugal is full of beautiful places to visit during the day, and at night is still even more captivating. With an enormous variety of nightlife places, from cafes, restaurants, bars and clubs, Portugal is a country that loves to have fun during the night. 
Portugal is famous for its Port wine. You can taste rich, yet sweet wine at any breweries. The names of some 'lit' breweries are - 
Letraria - Craft Beer Garden
Activities
Here are our favourite things to do in Porto,
Climb up Torre dos Clérigos
Experience Porto nightlife
Visit a port wine cellar in Gaia
Catch a concert at Coliseu do Porto
Yoga and Retreats
Portugal is a top destination for yoga retreats. The most romantic city in Portugal, Porto, adds a few more of the best yoga retreats in Portugal. Such as -
Accommodation
There are plenty of hotels, hostels, guest houses in prime locations in Porto. Nowadays, most opt for online bookings; don't forget to read the reviews on them.
Green Hotels
Sheraton Porto Hotel & Spa - Step into a world where fine art, design and comfort blend beautifully at the Sheraton Porto Hotel & Spa. This hotel is a modern wonder of marble, wood, steel, and glass, situated in the heart of Porto. Enjoy the convenience of being only a short walk away from fabulous shopping, art museums and nightlife.
NH Collection Porto Batalha - The NH Collection Porto Batalha is located in a newly renovated 18th-century palace overlooking the Batalha Square. Nearby are major cultural highlights such as the Bolhao Market, Ribeira District and the Clerigos Church.
InterContinental Porto - Palacio das Cardosas - Located in the heart of the Historical Centre, classified as World Heritage by UNESCO, the InterContinental Porto - Palacio das Cardosas is the result of a careful renovation of a palace dated from the end of the 18th century. The Hotel is located in Oporto's main city square, the Praça da Liberdade, within walking distance from all the major cultural highlights, trendy shops, bars and restaurants. 
ibis Porto Centro São Bento - This hotel is an ideal mix of value, comfort and convenience, it offers a budget-friendly setting with an array of amenities designed for travellers. Close to some of Porto's most popular landmarks, such as Clerigos Tower (0.6 mi) and Palácio de Cristal (1.0 mi), Ibis Porto Centro is a great destination for tourists.
Crowne Plaza Porto - Given the proximity of popular landmarks, such as Palácio de Cristal (1.3 mi) and Livraria Lello (1.6 mi), guests of Tiara Park Atlantic Porto Hotel can easily experience some of Porto's most well-known attractions, this hotel is liked by many tourists for their incredible service as well as ambience.
Hostels and Guest Houses
Hostels and guest houses come with a lesser budget as well as it helps the locals to earn extra. Porto offers a plethora of budget-friendly hostels and guest houses –
Casa dos Lóios Boutique Guesthouse
Porto Lounge Hostel & Guesthouse
Apartments
If you want to stay longer and want your privacy, renting apartments can be a good option for you. You may come across many tourists with whom you can enjoy the daily lives of Porto. You can book them online sites such as www.booking.com etc. On such sites, locals advertise their apartment, location and the connectivity with the transport modes. Read the reviews on them before renting one. To name a few apartments where tourists can stay –
Apartments Porto Historico
Feel Porto Downtown Townhouses
Couchsurfing
Couchsurfers share their homes, cities and lives in profound, meaningful ways, making travel anywhere in the world a truly social experience. You will find many hosts if you want to couch-surf in Porto. There are multiple online sites such as couchsurfing.com which help tourists to take this option of staying. Still, if you want to opt for this option, extra precaution is necessary, especially for the females. Do not hesitate to ask for the details and the references of the host. And a little tip, never interfere with their beliefs and lives.
Camping
If you want to go for camping, these are the places recommended for you -
Parque de Campismo Orbitur Canidelo
Campsite Orbitur Rio Alto
Campsite Orbitur Angeiras
Campsite Orbitur Madalena
Campsite Orbitur Canidelo
How to Get There
Porto is an international destination serviced by an international airport as well as national and international rail links, with two main train stations in the city. There are highways running into Porto from the north, south and east. The city is bordered on the west by the Atlantic Ocean. The easiest way to reach there is by flights.
Air
Francisco Sá carneiro Airport, also known as Aeroporto do Porto or Aeroporto de Pedras Rubras this is the third busiest airport in the country and is about 15km from the city centre. This airport has been awarded since 2006 as one of the best airports in Europe and one of the best in the world in its category, it offers really good conditions to all of the passengers since it has been remodelled in 2004 at the same time that the EURO 2004 was organized in Portugal. The airport is well connected with the city with taxis, buses and metros.
Bus
Just outside of the airport at Platform B is the GetBus. For €2.80 one way/€5.10 return for adults (advance purchase online, 2020) you can reach the Porto Bus terminal (Campo 24 Agosto) in the city centre in 25 minutes but operates only in the daytime. Buses are not always marked on the side of the vehicle so check its destination at the front of the bus, and arrive 15 minutes prior to departure in either direction.
Train
The city is served by two major train stations, the "São Bento" (Saint Benedict) station, and the "Campanhã" station. Trains from and to Madrid (Lusitânia Comboio Hotel) and Paris (Sud-Expresso) are regular. If you come in the Lusitânia train, you'll have to change in Coimbra to an Intercity train to Porto and the Sud-expresso starts at Hendaye/Irun, from which you'll have to change to a TGV train. Other non-domestic destinations vary according to demand and time of year.
Hitchhiking
Though a very pocket friendly way to travel the city, hitchhiking can be very tricky if you are not careful. It isn't the safest mode of transportation if you are not a local and don't know the city well. But, Hitching in Portugal is quite easy. the drivers, since speaking directly with them gives better results than standing on the exit of the highway, if you´re hitchhiking on one. The Portuguese are very friendly people if approached in the right way. Say hello, excuse for disturbing, explain where you´re going and ask if by any chance they are going the same way. Seems like very basic advice but in Portugal, it matters more than in central Europe.
Others
The city is served by five major highways. So driving a car is pocket friendly yet safe as you don't have to rely on the drivers. It will be better if you have a map with you, in case you face network disruptions Google maps won't work.
You can also get into the city by boat. There is a new very modern (2016) Cruise Terminal in Matosinhos (20 minutes by car from the city center). The light rail system (see "By Metro" below) that goes to Oporto has a stop not far from the terminal. There is also a very small recreational harbour in the river Douro. As far as a major method of getting to the city, however, sea transport is not really feasible. However, you can use tour boats based along the river (especially in Oporto) to go up the Douro River, one of the most scenic short trips you'll ever make.
Moving Around
Porto is a city where you can find history in its every nook and cranny. If you want to divulge the originality of the city, you have to leave the usual transportation mode and look for a slower mode of transportation. So, here are some of the modes of transportation you can choose.
Walk
If you prefer to be independent and like walking, which is designed to take you to the must-sees and some lesser-known sights. You will be amazed at how these self-guided tours can help to know about Porto. If you are not confident to make it alone, you can always hire a local guide. Many tour guiding programmes are held by the hotel itself. There are multiple online sites to book walking tours on, such as www.tripadvisor.in, www.freetour.com etc.
Bicycle
An eco-friendly way to experience the city life, it's healthy and helps you to explore the city faster than your foot. Porto, a medieval city, a city that is being developed for bicycle tours, the integration of urban bike pathways, along with the strong focus on the growth of bike paths, has shown feasible and satisfaction of the final consumers. Although a large city with a historic center of steep slope, its use is increasingly sought and requested.
Electronic Vehicles
If you find walking and cycling a bit stressful, worry not. Public transport is the best option for you.
Public Bus
STCP is the best way to move around if you don't want to waste money on taxis. It's the public bus operator in the region, and the only one operating inside city borders. Suburbs are served either by STCP or private companies. STCP buses are the largest eco-friendly fleet in Europe, modern, comfortable, and lines cover the entire city, as well as major suburbs.
Tram, Train and Subway
The tram system of Porto in Portugal is operated by the Sociedade de Transportes Colectivos do Porto and currently has three regular tram routes with 30-minute headways.
Domestic trains are very frequent and usually on time. Be careful on the train from Madrid. On at least one route, the computer systems will say you need to change trains at Guillarei in northern Spain.
Porto Metro is an incredibly advanced, state of the art light rail/subway system. Developed in 2001, the metro is still under construction. It has six lines that run across the centre of Porto, and out to some suburban areas. It is quick, and probably the most efficient way to get around Porto. Some major areas of the city, however, are not that well served by the metro, although new lines are planned and should start being built soon. Tickets must be purchased beforehand. They can be bought at the machines in the station.
Sustainable Shopping
The concept of sustainable shopping is new to the world. People are trying to change their lifestyles and adopting the eco-friendly practices that support the local community. As a responsible tourist, you must buy souvenirs and antiques from the local markets of Porto.
Food Markets
Here are the names of some food markets in Porto -
Flea Markets
For street shoppers who love flea markets, here are the names of some markets where you can find souvenirs as well as local things,
Mercado de Portobello Market
Second Hand Stores
Some of the best second-hand stores in Porto are -
Eco-Fashion
Apart from buying antiques and crafts, you can always go for sustainable fashion. You will get to experience a Portuguese style with reusable clothing. Some of the shops are:
Cet Objet Du Désir – Vintage Clothing & Accessories
More Porto Shopping Vintage & Sustainable Stores
Recycling
The citizens of Porto and the other seven municipalities that are part of LIPOR have recycled over 8.5 tons of materials in 2019; also, less than 2 tons of waste has been delivered in the same period. Last year, 1.9 tons of biowaste were delivered to LIPOR, which represents less than 4.24% in 2018. Over 6.6 tons of waste were routed to recycling in recycling bins, recycling yards and problem material collections, which represents an increase of 13.58% than in the same period of 2018, of plastic and glass.
Conversely, the citizens of the eight parishes that are part of LIPOR produced less than 2 tons of waste, which represents less than 0.51% than in 2018.
It should be highlighted that Porto was able to surpass, still in 2019, the goals it had set for 2020, regarding the waste recycling rate.
Waste
Intermunicipal Waste Management Service of Greater Porto (Portugal) - is the organisation in charge of the integrated management of municipal solid waste generated by 8 municipalities from the Porto region.
Work and Study Abroad
Working in Portugal while you're a student Non-EU students on Portuguese student visa and residence permits are allowed to work in Portugal subject to authorization from the SEF. You can also request permission to undertake research work, academic teaching or engage in highly qualified activities provided you have the necessary skills and qualifications. There are also permits available for unpaid trainees and volunteers. If you want to volunteer or undertake an unpaid internship or training position, your employer will need to contact the SEF to inquire about getting the necessary permit. EU students can work in Portugal without requiring a work permit.
Exchange Student
As mentioned above, exchange student programs are very much available in Porto. All you have to do is, contact your home university if they have collaboration with the university here.
Au Pair
There are many Au Pair jobs available in Porto. To have a good salary or the likeable job you have to submit your resume to online portals. The jobs they provide like, child care, old age home jobs etc.
Volunteering
Porto, the Northern Portuguese city, all love and appreciate is in urgent need of donors and volunteers in many areas including housing and healthcare. If you are here as a tourist, and you want to volunteer for the social causes here there are many foundations, like, CASA, Re-food, Banco Alimentar Contra a Fome, Liga Portuguesa Contra o Cancro, Animais de Rua etc.
See Also