Tainan
From Eco Friendly Travels
Eco-friendly travel guide to Tainan advises how to be a responsible tourist. Learn how to explore the attractions in a sustainable way and how to respect the local people and culture. Make your trip green by supporting locally owned hotels, organic restaurants and other businesses. Read more on how to protect the environment by making conscientious choices and how to travel green in Tainan, Taiwan.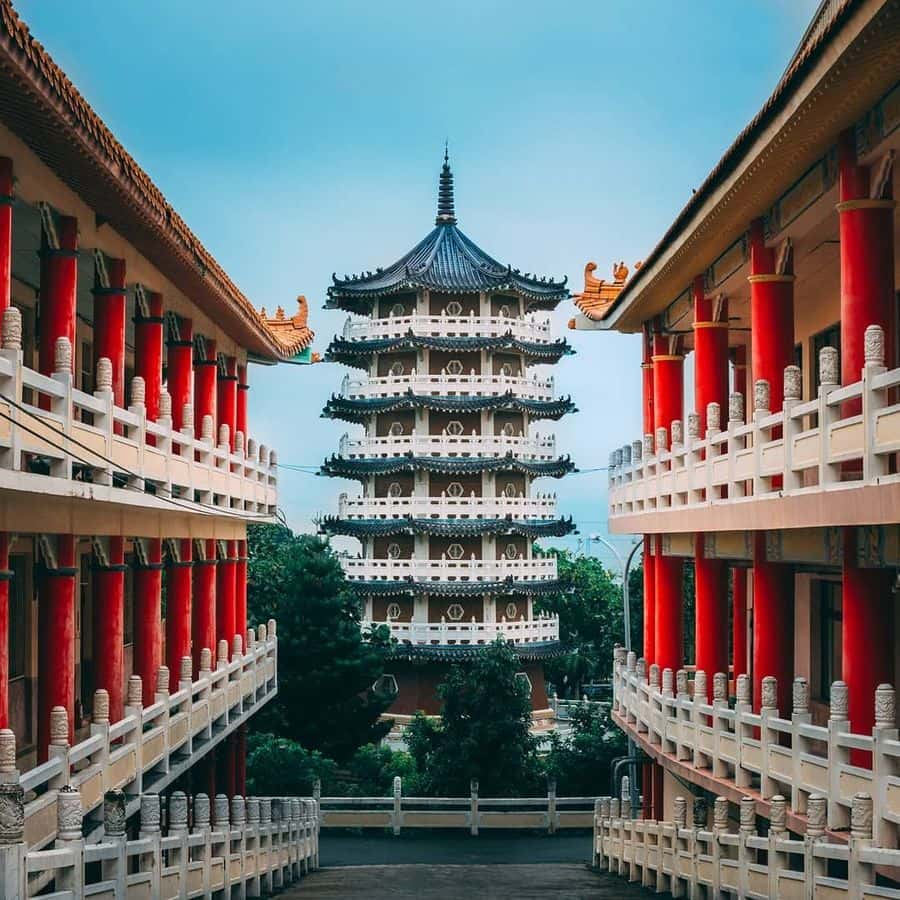 Exploring by bicycle: 4 / 5
Public transportation: 3.5 / 5
Outdoor activities: 3.5 / 5
Locals' English level: 3.5 / 5
Accommodation: US$50 - $110
Budget per day: US$30 - $100
Responsible Travel
Tainan, officially Tainan City, is a city in southern Taiwan. The city proper is a special municipality facing the Formosan Strait or Taiwan Strait in the west and south. Tainan is the oldest city on the island of Taiwan and also commonly known as the "Capital City" for its over 200 years of history as the capital of Taiwan under Koxinga and later Qing rule. Tainan's complex history of comebacks, re-definitions and renewals inspired its popular nickname "The Phoenix City". Tainan is classified as a "Sufficiency" level global city by the Globalization and World Cities Research Network.

To play your part as a responsible tourist,
●You can book an eco-friendly hotel or resort at a very reasonable price as there are plenty of green hotels.
●Buy souvenirs from the local markets rather than going to the shopping malls where they sell internationally branded things.
●Tainan is the 'food capital' of Taiwan, there are many hotels and restaurants in Tainan where you can taste their unique, tasty delicacies; to get the authentic taste of the local food, you must try the local food. It will help in their business too.
●Whether you are a local or a tourist to get to know the area even better while on foot or cycle with the local guides or the multiple tours conducted by the hotel you are staying in or you can book such tours on online sites, such as tripadvisor.in, www.travelocity.com. Not using a car or a bus will reduce your carbon footprint.
Air Quality and Pollution
Air quality in Tainan is considered satisfactory, and air pollution poses little or no risk. A quick sweep over the Tainan air pollution: Real-time Air Quality Index (AQI):

PM2.5AQI - 127
PM10AQI - 65
O3AQI - 66
NO2AQI - 19
Respect the Culture
Tainan lures thousands of tourists who visit every year in search of adventure, views, culture and activities for professional explorers, amateurs and adventurous families. The city is dotted by Taoist temples, Buddhist temples and churches. It may also be described as traditional and conservative, like most other Asian cultures but to a greater degree. It is mainly Chinese in origin and is patriarchal and patrilineal, with the family at the centre of cultural activities.
Language and culture are intertwined. You cannot understand one's culture without accessing its language directly. Though there are plenty of English speaking locals, even the road signs and announcements on trains and buses are also given in English, however, many restaurants only have menus in Chinese. But worry not, Taiwanese are very friendly and if you are having trouble communicating, a passerby will usually come and help to translate. Still, knowing basic greetings in Mandarin would be great. Tainan is also known for its deep-rooted food culture. Here, visitors will find some of the most traditional Taiwanese dishes, which can't be found anywhere else.
Top 10 Places to Visit
Anping Old Fort - Fort Zeelandia was a fortress built over ten years from 1624 to 1634 by the Dutch East India Company, in the town of Anping on the island of Formosa. The site had been renamed several times as Orange City, Anping City and Taiwan City, the current name of the site is Anping Old Fort. The red bricks of this fort were brought from Java and the mortar consisted of a mixture of sugar, sand, ground seashells and glutinous rice. The fort was designed to be surrounded by three concentric layers of walls and its four corners were built into protruding bastions for better defense. Its layout was typical of European forts of the 17th century. Inside was the military and administration center, church, garrisons, and jailhouse; outside was the downtown. Between the fort and downtown, there were a market, slaughterhouse, gallows, execution ground and city weighing station.
Chihkan Tower - Fort Provintia or Providentia, also known as Chihkan Tower, as a Dutch outpost on Formosa at a site now located in West Central District, Tainan, Taiwan. It was built in 1653 during the Dutch colonization of Taiwan. The fort's name derives from the Taiwanese aboriginal village recorded by the Dutch as Sakam, which has developed into the modern-day Tainan. After growth in size and trade, the Chinese called it Chhiah-kham, and surrounded it with high brick walls. It eventually became the capital of the whole island under the name of Taiwan-fu. Outside, you will see statues depicting the surrender of the Dutch to Koxinga, a commander of the Ming Dynasty. Inside, relics are dating back to the 18th and 19th centuries. You can also drop by the shrine dedicated to the god of examinations, Lord Kuixing. The tower's brilliant mix of Dutch and Chinese architectural styles is enough to make your visit memorable.
Tainan Confucian Temple - Also called as Quan Tai Shou Xue was built in 1665 during the Koxinga dynasty. It was constructed on the right side of a hill, whereas, on the left side of the hill was built the National Academy, both the structure facing the South. On the east side stood Ming-Lun Hall, built as a place for instructors to offer lectures and cultivate intellectuals. On the west side was the sanctuary called Ta-Cheng Hall, housing the mortuary tablet of Confucius, as well as those of his distinguished disciples. The Wen Miao and Guo Xue compound, the first of its kind in the history of Taiwan, was thus called the First Academy of Taiwan. Go for a walk around the historic site to see the pond where ancient rituals took place and the hall consisting of philosophical texts. The surrounding Banyan trees are also worth seeing. It may have gone through several renovations, but the Confucius Temple is still one of Tainan's most beloved attractions.
Chimei Museum - The Chimei Museum is a private museum established in 1992 by Shi Wen-long of Chi Mei Corporation in Rende District, Tainan, Taiwan. Divided into five categories, in this museum, you will be able to enjoy sections like Fine arts; Musical Instruments; Natural history and fossils; Arms and armour; Antiquities and Artifacts. The museum is known for housing the world's largest violin collection and its significant collections of ancient weapons and sculptures. Forbes magazine, in its February 1996 article on private collectors in Asia, called the Chimei Museum 'one of the world's most surprising art collections'.
Anping Treehouse - The Anping Tree House is a former warehouse in Anping District, Tainan, Taiwan. The "treehouse" name refers to the living banyan roots and branches that cover the building. You can explore the site on foot, and you will surely be astounded by how the tree managed to grow. There's also a skywalk, which will give you a bird's-eye view of the treehouse. It's the perfect opportunity to take photos. Behind it is an ecological pond where you can just sit back and marvel at the sight of the waterways.
Blueprint Culture & Creative Park - It is a multi-purpose park, with a beautiful and relaxing place for you to immerse yourself with creative arts and crafts and hipster buildings and decorations. If you are lucky, you can watch street performers. You can walk through the park while enjoying the shops, restaurants, and also an ice cream bar. This area is well connected, with shops, mall and museum all within walking distance so a good starting point for exploring the wider area.
Sicao Green Tunnel - Mesmerizing mangrove forest on either side extending over the water to form a tunnel. Because of its dense forest, it has been given the nickname 'Little Amazon River'. Riding a boat through this tunnel costs 200 NTD per person, which is a bit costly for this more or less 30-minute ride, but when the sounds of insects and birds surround you, fiddler crabs, mudskippers make their presence known, this picturesque place looks almost like it is made out of VFX.
Jingzijiao Wapan Salt Fields - Originally established in 1818 by salt farmers as the Laidong Salt Fields, the field is the oldest salt field in Taiwan. The site was originally a desert. It was then later procured by Taiwan Salt Company. In 1952, the field area was redesigned and the field became the only central-style tiled-paved salt field in Taiwan. Due to the declining business of the salt industry, groups had been actively advocating for the revival of the field, thus the field had then been restored for tourism purposes. If you are a photography enthusiast, this place will be heaven for you and the souvenirs shop is the must-visit for all the tourists.
City God Temple - In Chinese folk religion, the City God acts as a prosecutor in the district court of the underworld. In the world of the living, he keeps people in line through the threat of punishment in the afterlife. At the main hall, you will see the red abacuses, which are used by the City God to calculate the good and bad deeds of a person. There's also a plaque that says: 'Your Turn Finally.' Since this temple is connected with the underworld, the local people tend to avoid entering it at night.
Tainan Grand Matsu Temple - The Grand Matsu Temple, also known as the Datianhou or Great Queen of Heaven Temple, is a temple to the Chinese sea goddess Mazu, the deified form of the medieval Fujianese shamaness Lin Moniang. Apart from Matsu's beautiful golden statue, the site also houses the sculptures of Qianli Yuan and Xufong Er, two monsters who were converted by the goddess to protect the sea. Many rituals involving Chinese puppets, firecrackers, and gongs are held here as well. Don't forget the watermelon tea just outside the temple.
Explore
Tainan is the oldest city in Taiwan and was the capital during imperial times. It is famous for its temples, historic buildings and snack food. The city is currently the fifth-largest city on the island after New Taipei, Kaohsiung, Taichung and Taipei with a population of over 1.8 million. With magnificent beaches, hotels, plazas, historic sites, museums and parks, this city never runs out of tourists from all over the world.
City Parks
Some of the most famous parks in Tainan are -
Tainan Metropolitan Park - Tainan Metropolitan Park is Taiwan's third-biggest metropolitan park and the only one with a museum, Chimei Museum. It is the home of many birds and small animals and flocks of swans can often be seen paddling along. Take a walk on the wooden plank trail to enjoy the expansive views, appreciate nature, and also admire the installation artworks scattered around which add even more to the park's appeal.
Barclay Memorial Park - Located opposite the Tainan Cultural Center in the East District of Tainan the Barclay Memorial Park is Tainan's most popular park and full of artistic flavour. This park, named in memory of Rev. Dr. Thomas Barclay, won the First Annual National Landscape Award, and in 2007, won the Merit Award in the Public Construction Category of the FIABCI Prix d' Excellence Awards. The park is often full of happy picnicking crowds. If you want to have time out from busy city life, make sure to visit this park.
Lin Mo-niang Park - The most eye-catching feature of Anping Fishing Harbor is the impressively tall Lin Mo Niang statue. The open space around the park makes it an ideal spot for kite-flying whenever the wind is blowing. Other than kite-flyers, the park is frequented by families, children, and pets. A quiet place to escape from the city, nothing is better than enjoying the wonderful time with family when the sunset is shining and the wind is browsing.
Nanying Green Heart Park - Located in front of the Municipal Civic Center, this park is one of the most visited parks in Tainan. There are many great photo opportunities for tourists visiting Green Heart Park, with installations ranging from entire buildings to a small desk chair, all with a strong modern art aesthetic. If you walk through the park, you will see the statues of painted deers; various kinds of flowers adorning the lawn and a well-maintained garden. There is a large pond too, where you can see geese are wandering off. A great place for the kids to play or you can sit just to enjoy the calmness.
Yongkang Park -  Yongkang Park used to be President Chiang Ching-kuo Residence; when it became a park, the building became Chiang Ching-kuo Memorial Hall. The park is ecologically rich, with tall coconut trees surrounding the place and many small creatures can be seen walking on the ecological trail. This park is very famous among the locals. Tourists can also take a tour if you are tired of sightseeing and want someplace to relax.
Tainan Park - A hundred-year-old park, built with the funds raised by the colonial government from local gentry. With a red roof, round windows and coral stone walls that appear yellow under the setting sun, Former Tainan Park Management Office looks nothing less than a place cut out of a magazine. Small in size, it now houses Tainan Park Police Corps but retains its external appearance.
Huxingshan Park - located on Mt. Huxing, Huxingshan Park offers water and mountain scenery, it is located in a scarcely-populated Longqi District. The park environment is well-preserved, and it is ecologically rich, with wild animals regularly making an appearance. Tourists often do a circle of the park on the Circle Trail, passing over beautiful Wanglong Suspension Bridge and breathing in invigorating phytoncides in the forest.
National Parks
Taijiang National Park - Located in southwest Taiwan on the coast of Tainan City. The park's tidal landscape is one of its most distinctive features. Around 200 years ago, a large part of the park was part of the Taijiang Inland Sea. There is a rich variety of marine life, including 205 species of shellfish, 240 species of fish and 49 crab species that thrive on the marshes of southern Taiwan.
Beaches
Sunset platform - Located in Qiaotouhaitan Park, it is common to see families bring their children to play with sand and fly kites on the beach, or youngsters paddling through the waves along the shore, but sunset is when the most people come to stand on the platform.  Sunset Platform's low light source design makes it not only good for viewing the sea in the daytime, but the low light pollution also allows the glittering stars to be seen at night, making this a popular location whenever a meteor shower is a forecast.
Yuguangdao - Want to invest some time in water sport? Well, this beach is one of the most crowded beaches in Tainan. It is a popular spot for surfers, windsurfers and paddlers. The sunset tower is the attraction point if you don't want to indulge yourself in water sports. Photography lovers would definitely find this place mesmerising.
Gold Coast - Though not with the locals, this beach is definitely famous with the foreigners. It's a popular spot for sightseeing and ecological exploration. With multiple hotels and restaurants nearby this place is one of the most visited beaches near Tainan.
Landmarks
Anping Old Street - Anping Old Street was the first street in Taiwan to be given a name. More than 300 years ago this was the first street built by the Dutch in Anping Many tourists coming to Anping must visit this street. The street features all kinds of old stalls and shops, the best place if you want to buy some souvenirs.
Shennong Street - Shennong Street was the entrance to the Tainan Five Channels area important river ports from the Qing Dynasty. These outdated roads are the hub of culture creation and art distribution. The shops on both sides of the street are all packed with various handmade product designs. To preserve their original ideas, many of the shopkeepers prohibit photography, so please be mindful of the shop's rules.
Tainan Wu Garden - Built by Wu Shangxin, the garden is known as one of the Four Great Gardens of Taiwan. Just like an oasis in the desert, the culture spot has a pond surrounded by the ancient flat. Its ambience is a mix of history and culture. You'll be surprised by the souvenir shop. A quick getaway in the Tainan city.
State Temple of the Martial God - Also also called Tainan Sacrificial Rites Martial Temple, this temple is dedicated to the deity Guan Gong, who is the most widely worshipped deity in Taiwan and Mainland China. The statue of Guan-Gong in this temple was brought to Taiwan from Fujian Province, China by relatives of Prince of Ningjing during the Ming dynasty. In addition to the main God, another Guanyin Hall, Yue Laos, Tai Sui Hall; from the observation on the incense burner, except Guandiye and Guanyin Buddha, the marriage matching god is quite popular with the locals.
Madou Daitian Temple - The Madou Daitian Temple or Temple of the Heavenly Viceroys temple was originally constructed in the 17th century as the Baoning Temple. After an earthquake, the temple was relocated to another place and renamed Bao'an Temple. The temple was designed with sculptures and paintings over an area of 3 hectares. The roof is covered with tiles. It is constructed with Quanzhou architectural style. In the backyard, there is a 76 meter long and 7-meter high Chinese dragon statue which was built in 1979. The dragon mouth forms a 5-meter diameter entrance to the tunnel stretched along the dragon body. Do not forget to book a tour beforehand if you want to secure your spot.
Fire and Water Spring - Fire and water cannot coexist, right? Well, in this place, they do. The spring, also known as Fire Water Cave, constantly emits fire and water from the same hole, attracting tourists to come and observe the marvel for the last 300 years. Legends say the flame is said to be spat out by a Qilin, a mythical creature who is the owner of the mountain. With the mystery, you will find vendors selling some local handmade things. A mural is there to make your walk towards the spring memorable.
Museums
Culturally rich, Tainan has a plethora of museums to offer. To name some of the most famous museums are -
National Museum of Taiwan History - The historical museum was established here to give visitors a sense of the transformation of the sea into land over time. All parts of the museum, inside and out, are worth savouring. There are lots of public art installations. In addition, the always bright and flashing Thanksgiving Tree with its stainless steel exterior has become a place at which people love to take photos. The inside is a wealth of historical, cultural and natural exhibits. Based on a mixture of historical fact and imagination the display rooms allow visitors to explore a veritable treasure trove of Taiwanese history.
National Museum of Taiwan Literature - The National Museum of Taiwan Literature is arguably the most important landmark in Tainan city center. During World War II, it suffered damage from Allied bombing but was later restored to its original state. After the war it remained the seat of the Tainan City Government for a long time, but it has now been turned into the hub of art and literature that is the National Museum of Taiwan Literature. The museum houses the cultural heritage research center of Bureau of Cultural Heritage, which is responsible for preserving and restoring historic buildings, sites, communities, relics and cultural landscapes, as well as conserving traditional arts, folk culture and other cultural legacies of Taiwan.
The Tainan Judicial Museum - The Tainan Judicial Museum or Old Tainan District Court was originally constructed as a courthouse in 1914. In 1991 after the National Historical Monument Conference, the building was designated as a second class historical monument by the Ministry of the Interior. with its unique Baroque architecture style, this museum exhibits the history of the building, law-related writings, changes around the district, historical documents on law, uniqueness of the architect, exhibition on the restoration works, photographs etc. Do not forget to drop by the mirror room where you can see the tip of the tower upside down.
Deyang ship destroyer Exhibition - Commissioned in 1978, the Deyang Battleship was the former torpedo boat destroyer that escorted convoys across the strait. After its retirement, this warship didn't end up as a piece of industrial waste. Instead, the local government transformed it into a brilliant exhibition space, which gives a peek to a very fascinating side of this combatant ship. The whole visit can be quite short but visitors get a glimpse of the armament, inclusive of torpedo tubes for launching torpedoes, a torpedo track, a helicopter apron and a surveillance radar.
Black Bridge Sausage Museum - Yes, you heard it right. A museum for sausages. There's a whole bunch of info on various types of sausages, and how sausages get made. The whole thing was created by the Black Bridge sausage company, so, the whole third floor goes into the history of that company and how they make their sausages. And of course, after all that, you're probably going to be hungry for sausages.  There's a gift shop on the first floor, along with a restaurant serving various Black Bridge products.
Eat
Tainan is called Taiwan's food capital. When it comes to traditional Taiwanese food, Tainan is unmatched. The dishes here tend to be sweeter than their northern Taiwan equivalents, too, due to greater Tainan's 400-year history as sugar (and salt)-producing region. And because the southwest is known as the island's rice bowl, vegetable patch, oyster bed, and piggery combined, Tainan cuisine benefits from being close to the ingredient is the principal. Tainan has some authentic traditional restaurants where you will find mouthwatering food that will simply take your eating spree to another level.
Traditional Local Restaurants
There are many local traditional restaurants in Tainan, to name a few:
Corner Steak House - One of the best eateries in Southern Tainan, this restaurant along with their traditional Taiwanese dishes offers famous grilled steaks, they offer seafood and classic European dishes. 
A Xia Restaurant - This restaurant is very popular among the locals for its traditional Taiwanese food. With a reasonable price, they offer old forgotten recipes in a new presentation that will leave you satiated blissfully. Their crab rice is one of the many praised dishes. The place can get a bit crowded, so don't forget to book a table beforehand if you don't want to stand in a long queue.
Win Chang Beef Soup - This store provides Taiwanese style beef soup using meat from Taiwanese breeds. The beef is slightly boiled and cooked through without losing the tenderness and juiciness within. You can add more ginger and rice wine to elevate the soup flavour if you want. There are numerous stir-fried dishes to choose from.
Yonlin Restaurant - Another highly rated restaurant that serves traditional Taiwanese food. This place is famous for the hand-sliced local beef, which is fresh and not frozen. The hotpot had lots of miscellaneous ingredients inside, and lots more you can order more from the menu. And there are lots of sauces, ginger slices and vinegar you can mix for your own taste.
Sheng Li Breakfast - This restaurant is very popular for its soy milk and pancakes. Make sure with some drops of hot oil in it, they make it perfect, and that's the soul of Taiwanese cuisine. They serve other Taiwanese dishes but nothing beats the soy sauce. It is recommended that you visit when you have enough time to sit and eat, as at night the diner gets extremely crowded, so you might need to wait long for your dishes to arrive.
Wang Shi Fish Skin - If you love fish, this is the place for you. Their fish skin congee is one of the most praised dishes. They specialize in fish soup, which is a must-try.
Vegetarian and Vegan
Beef, pork, meat, fish, these are the most important parts of Taiwanese cuisine. But if you are a vegetarian or a vegan, then you will be wildly surprised with the number of restaurants that serve both. Here are the names of a few vegetarian/vegan restaurants you might want to peek into.
Shafarm vegetarian restaurant
Huofo Oushi Vegan Restaurant
Ci Xiang Ting Vegan Restaurant
Qing Qi Vegetarian Dim Sum
Street Food
Tainan, where the seafood is the king of all dishes, there is an abundance of roadside stalls to taste the local delicacy. To name a few - 
Danzai noodles - It features oil noodles with minced pork and fresh shrimp in a shallow broth.
Shrimp rolls - The shrimp is wrapped in caul fat and stuffed with aromatics like scallion before being deep-fried.
Wa gui - Wa gui is the local term for savoury rice pudding, It is made with rice milk and flavoured with soy sauce and sesame oil so that it comes out a faint flush of brown.
Tofu pudding - Taiwan's tofu pudding is a variation of the soft, slippery soybean concoction found around Asia. Here it's topped with a sweet sauce -- usually with brown sugar, red bean, green bean, taro and, in summer, crushed ice.
Ba wan - This mega-dumpling is a pocket of pork, shiitake and bamboo sprouts topped with sweet and sticky sauce. Some vendors like to add a sprig of cilantro for colour.
Oyster omelette - The prominent portion of this dish is sweet potato starch, oysters, egg, and lettuce. Bean sprouts are added for extra crunch, and it's blanketed in a beautiful, sweet red sauce.
Spanish mackerel - Spanish mackerel is a prized fish in Tainan and can be bought pre-butchered at any day market around town. The fish's peak season is from late summer to early autumn. The most common and best way to sample Spanish mackerel is pan-fried with a wedge of lemon.
Drink
Some of the most popular traditional drinks are preserved plum juice, bitter tea, winter melon tea, starfruit juice and hsientsao tea, all of which can be found at street-side stalls and shops throughout Taiwan. Many local food companies now package these drinks as well, but for the real thing, you'll have to visit the stalls and traditional family stores. Here are some of the famous native drinks in Tainan.
White tapioca milk tea - Bubble or boba milk tea was invented in Taiwan, though its exact birthplace is fiercely contested. Some say it originated from Chun Shui Tang Teahouse in Taichung, central Taiwan, others insist that it came from Tainan.
Winter melon tea - One of the most popular summer drinks in Tainan which is made of winter melon, that is sliced and cooked. The cooked melon is mixed with sugar and cooked further until the mixture turns golden brown. The mixture is allowed to harden into blocks. Most people use this pre-prepared mixture to make winter melon tea, which, according to Lin, makes a tastier tea than simply stewing the melon.
Tap-water
There was no general information available in WHO data about safely managed drinking water in Taiwan. But according to the locals, it is not the safest option. Tourists are recommended to carry a water bottle and refill it while stopping by the eateries.
Organic Cafés
If you are a vegetarian or a vegan, there are multiple cafés in Tainan that serve non-vegetarian as well as veg and vegan meals. 
Here are the names of some famous cafés where you can visit -
Breweries
No matter what part of the city you're in, you'll be able to experience the legendary nightlife of Tainan. From pulsating night clubs and rooftop lounges to delicious cocktails and cheap beer, Tainan really comes alive at night. The names of some famous breweries are -
Activities
Tainan is the perfect place for adventurous outdoor activities. Here are some of our favourite things to do other than sightseeing - 
Walking and bicycling tours
Take a dip into hot spring
Take a boat ride through Sicao Green tunnel
Visit a local farm in Tainan to experience the fun of feeding small animals.
Yoga and Retreats
While many activities in Tainan offer great opportunities for getting off the grid, there's nothing quite like a retreat for a truly holistic experience. Here's our pick of the best -
Ananda Suruci Eco-village
Accommodation
There are plenty of hotels, hostels, guest houses in prime locations in Tainan. Nowadays, most opt for online bookings; don't forget to read the reviews on them.
Green Hotels
Here are some of the topmost Green Hotels in Tainan -
Queena Plaza Hotel - This eco-friendly hotel is one of the most famous among the tourists. With clean and spacious rooms, there are chic seafood, Chinese and Japanese restaurants, plus a bakery, and a trendy bar and book shop.
Shangri-La's Far Eastern Plaza Hotel - Set in a sleek, cylindrical tower, this polished hotel is a minutes' walk from Tainan railway station and 2 kilometers from Fort Provintia, a 1653 Dutch outpost. It's also 3 kilometers from the Tainan Flower Night Market, this hotel is the favourite of many tourists.
Crowne Plaza Tainan - In the vibrant Anping District next to the wetlands of Taijiang National Park, this relaxed business hotel with a modern vibe is 12 kilometers from Tainan Airport. With beautiful rooms and splendid buffett, this hotel will not fail to surprise you.
ECFA Hotel - If you are a tourist then this is the place for you to stay in. Set in the West Central District, this simple hotel is a 15-minute walk from Tainan train station, a 10-minute walk from Taiwan Confucian Temple and 5 km from the 17th-century Dutch Fort Zeelandia, now a museum.
Hostels and Guest Houses
If you plan to stay longer, then staying in hotels can be a bit pricey. In that case, Tainan offers a plethora of budget-friendly hostels and guesthouses. Some of our recommendations are -
Forest Deer Black Tea Homestay
Apartments
If you want to stay longer and want your privacy, renting apartments can be a good option for you. You may come across many tourists with whom you can enjoy the daily lives of Tainan. You can book them online sites such as www.booking.com etc. On such sites, locals advertise their apartment, location and the connectivity with the transport modes. Read the reviews on them before renting one. To name a few apartments where tourists can stay –
Couchsurfing
Couchsurfers share their homes, cities and lives in profound, meaningful ways, making travel anywhere in the world a truly social experience. It is the best way to experience Tainan like a local. Reach out to over hosts in Tainan to discover unique places to stay, and locals to stay with. Use Couchsurfing to find accommodation in Tainan, meet locals and travellers, and more. You will find many hosts if you want to couch-surf in Tainan. There are multiple online sites such as www.couchsurfing.com which help tourists to take this option of staying. Still, if you want to opt for this option, extra precaution is necessary, especially for the females. Do not hesitate to ask for the details and the references of the host.
Camping
If you want to go for camping, these are the places recommended for you -
The Campsite of Zuozhen Moon World ecological Park
The Campsite of Deyuanbi Holland Village
Shuangchun Seaside Recreation Area(Vaneheim Love Manor)
How to Get There
Tainan is the oldest city in Taiwan and was the capital during imperial times. It is famous for its temples, historic buildings and snack food. The popular mode to reach there is by flight.
Air
For international flights, travellers will land at the Kaohsiung City Airport or the Taiwan Taoyuan International Airport in Taoyuan. From there you can take a train, bus, taxi, or rental car for a 45 minute to one hour journey to Tainan.
Bus
Tainan has good inter-city bus connections with other cities in Taiwan. All the bus companies have a counter near the train station. Very comfortable lines go to Taipei for between NT$300 and 600.
Train
Tainan HSR Station is a major stop on the Taipei - Kaohsiung City line. Fares cost NT$1500. You can also use the regular railway train from the Shulin station. First-class fares from Taipei cost NT$758.
Hitchhiking
Besides Japan, Taiwan is a credible safe country to hitchhike. Even if they wouldn't speak English they would definitely try to help you out if you ask. They will drive you safely or walk with you until you find your stay. Though hitchhiking isn't the safest mode of transportation if you are not a local and don't know the city well, we would recommend that this mode of transportation is one of the most pocket-friendly ways to get in Tainan.
Others
Other than the modes mentioned above you can simply hire a car to drive to Tainan. Driving from Kaohsiung to Tainan, use Freeway 1 (also called Sun Yat-sen Freeway). It's a straight drive along this route north and the journey takes around an hour.
Moving Around
Tainan is a city where you can find history in its every nook and cranny. If you want to divulge the originality of the city, you have to leave the usual transportation mode and look for a slower mode of transportation.
Walk
The best way to know Tainan is to walk in the lanes and alleys. There are two walking routes: The Classic Tour will walk with you around several historic sites such as Confucius Temple, National Museum of Taiwan Literature and Hayashi Department Store and show you the past of Tainan. The other route is the Local Life Tour that will take you to bustling streets and markets where you can see the vibrant daily life of Tainan.
Bicycle
Another eco-friendly way of moving around in Tainan is bicycle tour. Renting a public T-Bike or private bike is another way to tour Tainan. Hop on a bike and choose a pace most suitable for yourself, and travel through the streets and alleys of the ancient capital. 
Electronic Vehicles
If you find walking and cycling a bit stressful, worry not. Public transport is the best option for you.
Public Bus
All inner-city bus routes pass through Tainan Station (train). There is a tourist information booth at the Station with friendly staff (English speaking) who can show you how to use the bus system. There are two sightseeing bus routes (88 and 99) which can take you to and back from all the major historical sites. The cost to get on either of the bus lines is 18 NT$, with no on/off privileges unless you pay again.
Tram, Train and Subway
Right now, there aren't any trams, trains or metros running within the city.
Sustainable Shopping
The concept of sustainable shopping is new to the world. People are trying to change their lifestyles and adopting the eco-friendly practices that support the local community. As a responsible tourist, you must buy souvenirs and antiques from the local markets of Tainan.
Food Markets
To get a real taste of Taiwanese food, sample some of the lip-smacking street food available at these great street food markets in Tainan. To name a few:
Qingren (Lovers) Night Market
Flea Markets
For street shoppers who love flea markets, here are the names of some markets where you can find souvenirs as well as local things,
Second Hand Stores
Some of the best second-hand stores in Tainan are -
Eco-Fashion
Apart from buying antiques and crafts, you can always go for sustainable fashion. You will get to experience a Taiwanese style with reusable clothing. Some of the shops are:
Recycling
Government has taken many initiatives that will ensure the cleanliness of the Tainan city. Dustbins are allotted at mostly every corner of the lanes that are taken to recycling systems installed in the city. Government is taking steps to make sure people reduce their carbon footprints while educating them about the necessity of the recycling process, such as, 'promote recycling and source reduction education advocacy work', 'promote kitchen waste recycling work', 'promote huge waste recycling work' etc.
Waste
Taiwan is a clean country, in Tainan, there is no littering or garbaging around. The streets are very clean, everywhere you go it is clean. The whole country is highly industrialized and densely populated, so one would expect it to be decorated with litter all over the street, but you will be amazed to experience a clean city.
Work and Study Abroad
International students find it usually easy to live in Taiwan. With the diverse culture and rich history, the country welcomes international students with open arms. In terms of their higher education, the low tuition fees in universities and colleges in Taiwan are also big pull-factors for students. Due to new government policies, it is now possible to receive high-qualitative study programs in Taiwan for a more affordable price. The country also has scholarships available even to international students. If you are okay with part-time jobs, you can upload your resume on job sites such as www.indeed.com, www.simplyhired.com or you can ask the locals about any part-time job opening they know about.
Exchange Student
As mentioned above, foreign student programs are very much available in Tainan. All you have to do is, contact your home university if they have collaboration with the university here.
Au Pair
There are many Au Pair jobs available in Tainan. To have a good salary or the likeable job you have to submit your resume to online portals like www.aupair.com, www.greataupair.com, www.topaupairs.com. The jobs they provide like, child care, old age home jobs etc.
Volunteering
If you are here as a tourist, and you want to volunteer for the social causes here there are many online sites, like, www.goabroad.com, www.workaway.info etc. They will help you to choose the place where you want to volunteer according to your likes and comfort. Some of the volunteer jobs include planting trees, teaching the locals English, Educating kids, Welfare for animals etc.
See Also