Medan
From Eco Friendly Travels
Eco-friendly travel guide to Medan advises how to be a responsible tourist. Learn how to explore the attractions in a sustainable way and how to respect the local people and culture. Make your trip green by supporting locally owned hotels, organic restaurants and other businesses. Read more on how to protect the environment by making conscientious choices and how to travel green in Medan, Indonesia.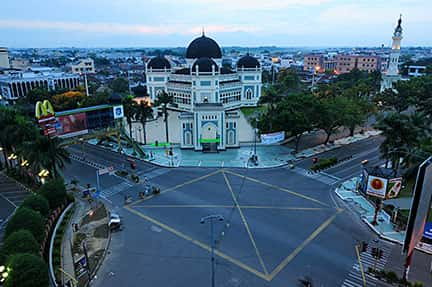 Exploring by bicycle: 4 / 5
Public transportation: 3.5 / 5
Outdoor activities: 3.5 / 5
Locals' English level: 3.5 / 5
Accommodation: US$10 - $55
Budget per day: US$5 - $20
Responsible Travel
Medan is the capital and largest city of the Indonesian province of North Sumatra. A regional hub and financial centre of Sumatra, which is one of the four main central cities of Indonesia, alongside Jakarta, Surabaya, and Makassar.
To play your part as a responsible tourist,
You can book an eco-friendly hotel or resort at a very reasonable price as there are plenty of green hotels.
Buy souvenirs from the local markets rather than going to the shopping malls where they sell internationally branded things.
Learn about Medan's history and cuisine while exploring the charming streets, and make food stops to taste local delicacies.
Whether you are a local or a tourist to get to know the area even better while on foot or cycle with the local guides or the multiple tours conducted by the hotel you are staying in or you can book such tours on online sites, such as tripadvisor.in, www.travelocity.com. Not using a car or a bus will reduce your carbon footprint.
Air Quality and Pollution
According to a recent study by the Environment and Forestry Ministry, Medan is one of the most polluted cities in Indonesia. A quick sweep over Medan air pollution: Real-time Air Quality Index (AQI):

PM2.5 - 70
PM10 - 50
NO2 - 17
O3 - 3
Respect the Culture
The majority of Medan's inhabitants are Muslim, comprising approximately two thirds. There is a significant Christian minority, with denominations including the Batak Christian Protestant Church. Around 9 per cent are Buddhists, and there are smaller numbers of Hindus and followers of Confucianism.
Malay people are the natives of the Medan area and have deep roots in Medan. They began ruling there during the Deli Sultanate until now. The empire has many lands and property of heritage in Medan, such as a palace, a mosque, and a park. The Dutch and Chinese bringing a big contributor to the city development, including during the Dutch East Indies era, many historical buildings are made by Dutch and Peranakan architecture along Jalan Kesawan and Pemuda. The arrival of Minangkabaus, Bataks, Javanese and Indian people bringing more colours to the culture of Medan, especially cuisine. Don't forget to taste their traditional food made by the locals.

Top 10 Places to Visit
Istana Maimun - Built by Sultan Ma'mun Al Rashid Perkasa Alamyah in the years 1887–1891, Maimoon Palace or Maimun Palace is an istana of the Sultanate of Deli which now serves as a museum. The Palace has become a popular tourist destination in the city, not solely because of its historical heritage status, but also because of its unique interior design of the palace, combining elements of Malay cultural heritage, Islamic and Indian architecture, with Spanish and Italian furniture and fittings. Every Saturday and Sunday, Malay musicians come and play traditional music in the afternoons, and tourists can also dress in the traditional Malay costumes.
Masjid Raya Al-Mashun - Built-in 1906, the Mesjid Raya is one of the best examples of architecture in Medan and one of the city's most imposing and recognizable sights. At the beginning of its establishment, the mosque was a part of the Maimun palace complex. Its architectural style combines Middle Eastern, Indian and Spanish elements. The mosque has an octagonal shape and has wings to the south, east, north, and west. The materials used to build the mosque were imported from around the world, and the mosque's worldly architectural style is evident for all to see.
* Tjong A Fie Mansion - A picturesque mansion, this is one of the best vestiges of history Medan has to offer. Tjong A Fie was a Chinese merchant who built this mansion for his wife and was their residence until he died in 1921. The building is constructed in Chinese-European-Art Deco style, and was completed in 1900, and said to have been modelled on the Cheong Fatt Tze Mansion. Called "a historical jewel in Medan", the Tjong A Fie Mansion is a registered historical landmark as well as a cultural heritage building and museum. The Mansion has Chinese, Malay, and Victorian influences in its architectural style.

* Rahmat International Wildlife Museum & Gallery - Founded by Dr H. Rahamat Shah this is a natural history museum in Medan, Indonesia. The museum displays various collections of wildlife from the smallest to the largest according to the habitat. After the development was completed in October 2007, the Museum & Gallery has an area of 2970 m² building. In this museum, you will find a well-stocked library on wildlife, a souvenir shop, a cafe, a photoshop, and a legend room. 

* Graha Maria Annai Velangkanni - Annai Vellangkanni which doesn't look like a typical church, can be seen from far for its sheer stature. The church's architecture has influences of Indian, Mughal, Tibetan, and Chinese and is seen. The pagoda-like structure evokes feelings of looking at a Buddhist temple and is one of the finest examples of religious fusion and exemplifies Medan's religious harmony.

* Air Terjun Sipiso Piso - The Sipiso-Piso is a plunge waterfall in the Batak highlands of Sumatra, Indonesia. It is formed by a small underground river of the Karo plateau that falls from a cave in the side of the caldera of Lake Toba, some 120 metres down to lake level. Sipiso-piso is a well-known tourist attraction and a nearby vantage point offers views of the falls and lake. Sipiso-piso waterfall is located in the Tanah Karo regency in North Sumatra, at the northernmost tip of the Lake Toba caldera, near the fishing village of Tongging. 

* Lake Toba - Lake Toba is the largest lake created within a volcanic crater. Deemed to be one of the greatest natural wonders of the world, the vast area of the lake surpasses the size of Singapore.

* Sri Mariamman Temple - It is Medan's oldest Hindu Temple. This temple was built in 1884 for the worship of Goddess Mariamman. The temple is situated in the area known as Kampung Madras or Medan's Little India. This temple is also devoted to the Hindu Gods Ganesha, and Murugan, children of Mariamman. The Gate is decorated by gopuram, namely storey tower which can usually be found at the gate of the Hindu temples in South India. The temple is a meeting point for worshippers during Thaipusam and Deevapali festivals.

* Maha Vihara Maitreya - It is a Buddhist temple located on Medan, which is claimed to be the largest non-historical Buddhist temple in Indonesia. This temple is often called Vihara Cemara Asri because it is located in the housing complex of Cemara Asri. This temple was built as a place of worship for Buddhists adherent in Medan in particular, and North Sumatra in general, given the large number of ethnic Chinese living in the city and accordance with its name, Maitreya, this temple is very thick with the teachings of Maitreya Buddha that teaches love on universe. Even though one of the largest temples in Indonesia, but the interior is graced Maha Vihara Maitreya looks simple and provides calm and silence, thus adding solemnity of worship.

* Vihara Gunung Timur - Gunung Timur Temple is a Chinese temple that is the largest in the city of Medan, possibly also on the island of Sumatra. Located at Jalan Hang Tuahon on the side of Babura River, this temple was built in 1962. This temple already served as the main temple in Medan for many years and it was also one of Medan's multicultural icon, as there are the oldest Hindu temple Sri Mariamman temple, and also a mosque named Masjid Agung nearby. This temple always is filled with worshippers on Imlek, Cap Go Meh days, and Chit Gwee Pua festival. At the top of this red and yellow coloured temple, there is a decorated of a pair of green-coloured dragons facing each other with the sun in the middle.

Explore
For travellers, Medan is famous as the entry point to North Sumatra. Aside from serving as the gateway to the region, the city also functions as a commercial and economic hub; this Indonesian city attracts not only shoppers but also business professionals and entrepreneurs. There are a significant number of museums, parks, and landmarks that are must-visit places in Medan.
City Parks
Here are the names of some famous city parks -
The Le Hu Garden - Great place if you are looking for a quiet and natural green experience. You can find lots of beautiful scenery, from lotus pond to herbs garden. There's a playground for children, duck boats for water experience.
Danau Siombak -Green lush scenery surrounding a man-made rural lake. This is a great place for you if you want to take a break from the city's hustle-bustle. You would find many local vendors, a great place to find a souvenir.
Hairos Water Park - Want to venture your time in some water sports while relaxing? Then this place might catch your interest. Whimsical Water Park featuring a lazy tubing river, serpentine slides, big pools & a splash pad, well, what more would you want!
Taman Cadika Pramuka - A hanging bridge over a pond, a trail penetrating the green fields on either side of it, a low key park that has all the amenities to give you a quiet peaceful outing with your friends and family.
Asam Kumbang Crocodile Park -crocodile farm is one of the must-visit places in Medan. They put the crocodile in their cages depend on their age. They also have a mini-lake inside. You can also see monkeys, snakes, and retriever dogs here.
National Parks
There isn't any national park in Medan, but about 160 kilometres away, situated one of the famous rainforests of this world, Gunung Leuser National Park. Depart from Medan early in the morning to Bukit Lawang Gunung Leuser National Park, one of the largest national parks in the world containing over 800,000 hectares of rainforest. The journey leads past scenic rubber and palm plantations, where you can enjoy the cool mountain air. A hike up further into the forest offers an up-close view of incredible scenery with various tropical plants including a tangle of enormous trees, twisting lianas, palms, ferns, and as well as weird and wonderful flowers, ultimately leading to a viewing of one of Sumatra's most famous inhabitants, the Sumatran Orangutan.
Beaches
Pantai olo – Pantai olo is a small beach near Belawan. Though the view is great tourists often complain about polluted sea beaches. You need to pay Rp 15.000 per car to enter this place. This place is good for fishing.
Landmarks
• Karo Batak Protestant Church - Established formally in 1941, The Gereja Batak Karo Protestan or Karo Batak Protestant Church is the largest church among the largely Christian Karo people of North Sumatra. The church has 276,000 members in 398 congregations with 196 pastors. It is a member of the World Communion of Reformed Churches.
• Wisata Sawah Pematang Johar – A beautiful rice field, with a bridge to walk over. One of the famous tourist spots in Medan, for those who want to experience nature. Make sure to visit here in the morning, afternoons tend to be hotter.
• Pajak Ikan Lama Medan – A must visit place where you can find Indonesian clothing in abundance.
• Sri Deli Park – Located in the city center, this place is easily accessed. A fountain, along with a children's park, a place with historic value, this is one of the famous landmarks in Medan.
Museums
• Museum Gedung Arca (Museum Negeri Provinsi Sumatra Utara) - The North Sumatra Museum or locally known as Gedung Arca Museum, is a state-owned museum located along Jalan H.M Jhoni, Medan, Indonesia. This museum is the largest in North Sumatra and includes a variety of cultural heritage of Indonesia, as well as art and crafts from various ethnic groups in North Sumatra. The entrance fee is insanely cheap and you pay for it at the kiosk at the entrance to the property.

• Bukit Barisan Museum – Museum Perjuangan TNI or TNI Struggle Museum, this is a war museum. It is also known formerly as Museum Bukit Barisan. Its location is very near to Sun Plaza. It has a collection of weapons, photos, books, pennants & flags, etc. It is rather small and in the process of shifting. Within its compound, there is the famous Victory Monument.
• Museum Situs Kota China – Though the name may indicate this museum belongs to Chinese heritage, this place belongs to Indian heritage. This goes back to the 11th century when Indians (Tamils) came to Medan and built this city. This museum is one of the must-visit places. Some of the relics in the museum are Buddhist and Hindu inscriptions, ancient animal's recurring bones, ancient coins used by Chinese merchants from the Sui Dynasty, and Song Dynasty, ancient wooden ships, ancient Chinese porcelain from the Ming Dynasty, ancient pivot stones, and others.

• Museum Uang Sumatera - The Sumatran Money Museum (MUS) was inaugurated on May 2, 2017, and is the first money museum in Sumatra to have the most complete collection of money. Located on Jalan Pemuda No.17, precisely on the 2nd floor of Juang Building '45 Medan, this museum is open every day, starting at 09.00-17.00 WIB. To enter the museum, visitors only provide operational funds of Rp. 10,000 and you will get souvenirs in the form of ancient coins.
Eat
Like most Indonesian food, you're guaranteed to find rich savoury spices tickling your tongue. And if you can take burning hot chilli, then look no further. But more than that, the richness of coconut milk in Medanese food lends itself a unique taste like no other. There are many restaurants where you can grab traditional dishes. Here are some of our favourites.
Traditional Local Restaurants
• Rumah Makan Tabona – Specialist in curry noodles and curry rice, this place is well-reviewed by the locals and the tourists. The place can be a bit crowded, so don't forget to book your table before you visit.
• Ji Long Chinese Restaurant - One of the finest Chinese restaurants in the city. With the various range of the delicious Dim Sum menu, it stands out of the crowd. It's crowded on weekends, specifically on Saturday nights and Sundays. So, if you have any plans here for the weekend, it's better to reserve the table in advance.
• Restaurant Wisma Benteng - This is the most consistent restaurant in Medan, last longest, the steady flux of guests every single night, and constant wedding receptions at its spacious hall. From mayo shrimp, crab soup, asparagus, steam fish, abalone, fried noodle, etc, they have a plethora of traditional food on their menu.
• Miramar Restaurant – If you don't mind spending a bit on delicious food, this place is for you. Quiet ambiance with traditional Medan food. It is recommended to book a table before you visit.
• Kalasan Fried Chicken - This is one of the most respected national franchises for Indonesian style fried chicken. With reasonable prices and tasty traditional dishes, this place has been the favourite restaurant for many years.
• Restoran Koki Sunda – A cozy décor, and friendly staff with Indonesian cuisine. This place is one of the favourites of the locals and the tourists visit frequently to taste their lip-smacking delicacies.
• Lembur Kuring – This restaurant can top any chart when comes to Indonesian cuisine. Greatly reviewed by the visitors, this place has a plethora of dishes to offer. But if you have time-crunch and willing to grab a quick bite, then this is not the place for you. Our recommendation is to book a table beforehand.
Vegetarian and Vegan
If you are a vegetarian or a vegan you may have a harder time. But there are a bunch of restaurants that offer vegetarian/vegan dishes as well with their typical non-vegetarian dishes.
• Buddha Heart Vegan Cuisine – This restaurant offers traditional Medan food, as well as vegan Medan food including Padang, Chinese, and Indian.
• Lotus Vegan Food – A self-serve vegan buffet restaurant that offers traditional Indonesian food that is 'veganised'.
• Loving Hut - Part of an international chain of vegan restaurants inspired by Supreme Master Ching Hai, an advocate for veg living. The menu of this restaurant is mouthwatering and worth every penny. To do the toppings on super delicious food this place offers vegan ice cream as a dessert.
• Socrates – Established in 2004, this restaurant's motto is "eat, read, and think.' Japanese table style with a well-stocked library this place is quite famous for its ambience and delicious vegan food.
• My Grandma – Another well-known vegetarian restaurant, but the tricky part is this place doesn't use onions. Reasonable price with tasty price, this restaurant surely has its own charm.
Street Food
Located in North Sumatra, Medan is a prime destination to source for the most unique and delicious dishes of all kinds. With a variety of mouth-watering choices influenced by different ethnicity and cultures, you can find street food with Chinese, Arab, local Malay, and Bataknese vibes that will give you a flavourful experience.
Here are our suggestions from the variety.

• Tahu Sumedang – This is actually deep-fried tofu. Best eaten with the unforgivingly-spicy cabai rawit (bird's eye chili).
• OnDo Batak Grill - For lovers of all things pork: BBQ-ed pork, pork ribs, and the iconic saksang (minced pork stewed in the blood)
• Bee Hoon Curry Tabona – Beef or chicken always engulfed with curry. This dish surely leave your tummy full yet unsatisfied for its delicious taste,
• Satays - Just any satay you can find in Medan, really. The meat here is not as tender as the satays in Jakarta, but the rich mixture of sauces… doubly sinful.
• Nasi Padang (Padang-Styled Rice) - This unique West Sumatran-based food is only for those who can handle true spicy food.
• Soto Kesawan - This one has been around for generations ago. Its classic coconut milk-broth goodness clearly satisfies the tongue of the olds and the young alike.
• Mie Pangsit (Wonton Noodle) – One of the Medanese all-time favorite breakfasts! Laden heavily with noodles.
• Bolu Gulung Meranti (Meranti Cake Rolls) – This creamy and butter-cheese goodness is one of the best street/local foods in Medan. Its soft and sweet texture leaves you mesmerized.
Drink
• Air Tebu (Sugar cane) - Tegu or in English Sugar Cane is a plant that grows in tropical or subtropical regions. It is often sold by street vendors, stalls, or restaurants in Medan or other parts of Indonesia.

• Marta is Juice - Marta is Juice is speciality drinks and only can be found in Medan, North Sumatra, Indonesia. Almost all restaurants, cafes, wrung or food stalls in Medan have this juice on their menu. Just like the name, juice Marta be was made from marquise (passion fruit) and throng Belinda (Dutch Eggplant/Tomatillo). It is all blended and then served cold. It had a sour and fresh taste
• Marisa Syrup /Marisa Juice - Syrup Marisa or English Passion fruit syrup is a popular speciality drink from Medan, North Sumatra. Even, it was often brought as a souvenir if visiting Medan although nowadays it has been sold in some supermarket in Indonesia
• Barak - Barak is a beverage drink brand with sarsaparilla (root) flavour. Barak originally from the Premating Sinatra area of North Sumatra. Nowadays, beak beverage drinks are sold in many food stalls, restaurants, and street vendors in Medan.
• The Susa Teller (TST) - The suns teller (tea, milk, egg) or also known as TST is one popular speciality drink from Medan, North Sumatra.
• Terong Belanda Juice - Terong Belanda juice or English is known as Dutch Eggplant/Tamaillo juice is very good for health. In Medan, many restaurants, cafes, food stalls served terong belanda juice on their menu.
• Es Jagung Medan - Es Jagung Medan (cornice) is made of corn (usually hawai corn), coconut milk, sugar, condensed milk, corn starch, salt, and water. It is one of the popular drinks in Medan and usually served cold with adding jelly in it. Es jagung is mostly sold by street vendors or food stalls. It is one of my favorite drinks, sweet, tasty, and fresh.
• Roco Timun - Roco Timun is a traditional speciality drink from North Sumatra, Indonesia. Roco Timun was made of young coconut water and meat, cucumber, salt, water, pandanus (pandan leaf), brown sugar, or brown sugar syrup. It has a sweet, unique taste and is usually served cold.

• Kopi Medan (Sidikalang Arabika coffee) - Indonesia is famous for its coffee and one of them is Sumatra coffee. Sumatra Coffee is known in the world for its good taste, texture, and quality.
• Tuak - Tuak is a speciality Batak alcoholic beverage from North Sumatra, Indonesia. Tuak is made from fermentation (brew) of aren or enau tree. Tuak was often served in Batak customary ceremonies or traditional events. Besides that, tuak is also sold in Batak warung (lapo) and restaurant speciality Batak food in Toba, Samosir, and other areas in North Sumatra.
Tap-water
When in Indonesia, it's best to stick to bottled or gallon water. Tap water is safe for general use, like showering and cooking, and you can also drink it after boiling.
Organic Cafés
If you are a vegetarian or a vegan, there are multiple cafés in Medan that serve non-vegetarian as well as veg and vegan meals. Here are the names of some famous cafés where you can visit-
• VOI Vegan Restaurant and Pastry shop
• Coffeenatics
• Aniang Vegetarian
• GOLDEN BELLS – Vegetarian cafe and Resto
• Green Bean Vegetarian
• Macehat Coffee
• Ai Moka Bakery, Cafe & Catering
• The Thirty-Six
• Sosmed Cafe Abdullah Lubis
Breweries
From jazzy clubs to shining bars, we've got you a range of options to pick from.
• Medan Club
• Entrance Music Temple
• Retrospective Entertainment
• Tobasa Club, Medan
• Prime Bar
• Marin Lounge & Resto
• Tavern Pub
• Cava Lounge
Activities
Other than sightseeing and making good of marvellous eateries in Medan, these are our recommendation as outdoor activities -
• Bukit Lawang Full day jungle trip
• Tour to Karo Highlands and Lake Toba
• Hiking Mount Sibayak
Yoga and Retreats
Indonesia is a top destination for yoga retreats. Medan adds a few more of the best yoga retreats in Indonesia. Some of our recommendations are –
• Kamalini Yoga Studio
• Devdan Yoga Center
• Drishti Yoga Studio
• Zucveda
• Yogalife
• One Homy
• Yoga grounded mini studio
Accommodation
There are plenty of hotels, hostels, guest houses in prime locations in Medan. Nowadays, most opt for online bookings; don't forget to read the reviews on them.
Green Hotels
• Aryadata Medan - In the heart of the vibrant business and entertainment district of Medan, Aryaduta Medan boasts exceptional comfort in its 195 guest rooms and suites, a multitude of spacious facilities, a breathtaking 35 meters Courtyard Pool, and spectacular city views. The hotel is ideally located adjacent to The Mayor's office, 45 minutes drive to Kuala Namu International Airport, walking distance from Merdeka Walk and the train station that runs non-stop to the airport is a few minutes' drives from the hotel.
• Cambridge hotel - Cambridge Hotel Medan is the first multi-facility complex of our kind to grace Medan, the capital city of North Sumatra. As the first 5-star international business hotel here, we are conveniently located right next to the Cambridge Condominiums and Shopping Mall.
• Adimulia Hotel - the new first-class masterpiece of elegancy touch in the heart of Medan city. Conveniently accessible for leisure or business, walking distance to business and shopping district, explore local culinary food. Feel the classic touch of guest rooms and infinity pool, taste the several of Local, Western to Chinese cuisine.
• Grand Cityhall Hotel & Serviced Residences - Ideally located in the heart of Medan, exactly 0(zero) km of Medan City and just 60 minutes from International airport by car and 5 minutes away from the train station to International Airport. Free shuttle service to drop off or pick up from and to train station Medan. The hotel offers rooms and suites with dramatic views of the city skyline and within easy walking distance across from the hotel, you could experience the most convenient place to hang out as well as dining & shopping. It provides a wide selection of dining options. Guests can sample Chinese and Western cuisines.
• JW Marriott Hotel Medan - Ideally situated in Medan, Indonesia's Central Business District, JW Marriott Hotel Medan has the proud distinction of being Medan's first and only 5-star International hotel, providing a memorable setting for business and leisure.

• Radisson Medan - Radisson Medan Bussines Description Well-placed in the shopping area of Medan city, provides a most conducive spot for you to take a break from your busy days. The hotel lies in the heart of the city center and provides accessibility to important town facilities. With its convenient location, the hotel offers easy access to the city's must-see destinations
Hostels and Guest Houses
Hostels and guest houses come with a lesser budget as well as it helps the locals to earn extra. Medan offers a plethora of budget-friendly hostels and guest houses –
• RedDoorz near Millennium ICT Center
• Semalam at Sun Yet Sen
• Papakoel Pembangunan
• Daily guest house
• Bua guesthouse
Apartments
If you want to stay longer and want your privacy, renting apartments can be a good option for you. You may come across many tourists with whom you can enjoy the daily lives of Medan. You can book them online sites such as www.booking.com etc. On such sites, locals advertise their apartment, location, and connectivity with the transport modes. Read the reviews on them before renting one. To name a few apartments where tourists can stay –
• MB apartments
• The Wahid Private Residences
• Apartments Hubber
• Royal Residence Apartment
• Cambridge Condominium Swimming Pool
Couchsurfing
Couchsurfers share their homes, cities, and lives in profound, meaningful ways, making travel anywhere in the world a truly social experience. You will find many hosts if you want to couch-surf in Medan. There are multiple online sites such as couchsurfing.com which help tourists to take this option of staying. Still, if you want to opt for this option, extra precaution is necessary, especially for the females. Do not hesitate to ask for the details and the references of the host. And a little tip: never interfere with their beliefs and lives.
Camping
If you want to go camping, these are the places recommended for you –
• Medan Camp (SEWA ALAT CAMPING MEDAN KOTA)
• Sohib Camp
• Kos Adventure / jual dan Sewa Alat Camping Kota Medan
• Camping Medan
• Taman Edukasi Avros
• MDPL CAMP (Jual & Sewa Alat Camping)
How to Get There
The fourth-largest city in Indonesia, and comfortably the largest in Sumatra, Medan is an exciting place to spend time. Bursting with energy, it's a city that offers historical sights, great food, nightlife, and access to the famous rainforests of the island. The easiest way to reach here is by flight.
Air
The new Kuala Namu International Airport is served directly by a train service between the new airport and Medan (almost 40 kilometers) with a ticket fare of Rp100, 000. New toll roads and new arterial roads are still under construction, although two old roads are connecting the airport. There are direct international flights to/from Penang (sometimes for less than US$60 return), Kuala Lumpur, and Ipoh in Malaysia, Singapore, Jeddah, Hat Yai, and Bangkok. There are a few international flights that serve Medan: Silkair, Malaysia Airlines, AirAsia, Firefly, Valuair (Jetstar). The first two are regular airlines, while the rest are budget airlines. Silkair, Valuair, AirAsia flies the Singapore-Medan route. Kuala Lumpur-Medan route is served by Malaysia Airlines, AirAsia, and Firefly. AirAsia and Firefly also connect Medan to many other cities in Malaysia, including the popular Medan-Penang route.
Bus
The central station for all larger buses in Medan is Amplas Station Central (not located in the center of the city though). This is where a lot of the smaller minivans go as well, and where travellers need to go to make connecting buses to further cities. Many of the large air-conditioned buses perform overnight routes. Larger, non-air-conditioned buses and large luxury buses (often Mercedes) that are air-conditioned (some have toilets on board, though they are squatting toilets that are difficult to use when the buses are moving, given driving habits and road conditions throughout Sumatra).
Train
Medan is connected by rail to other conurbations on the eastern coast of Sumatra, such as Tanjungbalai, Rantauprapat, Siantar, and Binjai. Executive, business and economy class trains are available, but if your budget allows, take the better class trains, which are faster and more comfortable. Tickets cost between Rp 9,000 (US$ 0.9) (economy) to Rp 70,000 (US$ 7) (executive).
Hitchhiking
It can be easy to hitch around in Sumatra, provided you bring a lot of time and nerves. It's important to look for the right car - that would be a truck or pick-up truck. Chances to get a ride in a private car are pretty low since there are not so many private cars driving around. However, it's very easy to hitch a pick-up truck, they will most likely stop, if you wave at them (wave with the right hand as the left hand is considered as dirty) and they don't expect you to pay. If you want to hitch a big truck, better ask the drivers directly, if you see a truck stopping somewhere (they usually stop at gas stations or roadside restaurants for breaks).
Others
Other than the modes mentioned up here, you can reach Medan by boat. Medan is not located by the sea but nearby Belawan is a major port with domestic and international boat and ferry services. Belawan is listed as a visa-free and visa-on-arrival entry point.
Moving Around
Medan city is interesting to contrast the old, Dutch-style green areas, with parks, lawns, and huge old Dutch houses (now turned into government offices or commercial business) and the hundreds and hundreds of newer, shoddy shophouses sprawled together by the hundreds in the commercial areas along with a few modern style malls. If you want to divulge the originality of the city, you have to leave the usual transportation mode and look for a slower mode of transportation. So, here are some of the modes of transportation you can choose.
Walk
If you prefer to be independent and like walking, which is designed to take you to the must-sees and some lesser-known sights. You will be amazed at how these self-guided tours can help to know about Medan. If you are not confident to make it alone, you can always hire a local guide. Many tour guiding programs are held by the hotel itself. There are multiple online sites to book walking tours on, such as www.tripadvisor.in, www.viator.com, etc.
Bicycle
Another eco-friendly way of moving around in Medan is a bicycle tour. Renting a private bike is another way to tour Medan. Hop on a bike and choose a pace most suitable for yourself, and travel through the streets and alleys of the city.
Electronic Vehicles
If you find walking and cycling a bit stressful, worry not. Public transport is the best option for you.
Public Bus
Small minivans (called sudako or angkot by locals) have painted numbers in Medan that signify their routes, which even locals don't have memorized. If you speak Indonesian, just ask where people are standing by the roadsides which "bus" number corresponds to your location, and what the price is in advance. When a van with the appropriate number approaches, flag them down as they don't make scheduled stops. If you are a westerner, be sure to confirm the price before getting in. This type of transportation should only be braved by those with a point-to-point knowledge of Medan and a working knowledge of Indonesian so they know where to tell the driver to stop unless you have a local friend who can take you around.
Tram, Train and Subway
The largest train station in Medan is Medan Station. There are also smaller stations in Medan, such as Medan Pasar, Pulu Brayan, Titi Papan, and Labuhan, and Belawan. If you are well aware of the places in Medan, then you can take the commuter rail to wander around.
There aren't any trams and metros running in the city.
Sustainable Shopping
The concept of sustainable shopping is new to the world. People are trying to change their lifestyles and adopting eco-friendly practices that support the local community. As a responsible tourist, you must buy souvenirs and antiques from the local markets of Medan.
Food Markets
To get a real taste of Sumatran food, sample some of the lip-smacking street food available at these great street food markets in Medan. To name a few:
• Fun Taste Street (Medan night market)
• Central Market Medan
• Brastagi Fruit Market
Flea Markets
For street shoppers who love flea markets, here are the names of some markets where you can find souvenirs as well as local things,
• PASAR BUNDAR GRIYA
• Pasar Sei Sikambing Kota Medan
• Pasar Inpres Titi Kuning
• Pajak Sore Pancing
• Pajak Ikan Lama Medan
Second Hand Stores
Some of the best second-hand stores in Medan are -
• Horas Secondstore Medan
• K2V Boutique
• Toko Kita
• Mixed Thrift
• Bobs Ori Seken
• Yuni Collection Monza
• GANTUNGAN MONZA
• Activesia Online Shop
Eco-Fashion
Apart from buying antiques and crafts, you can always go for sustainable fashion. You will get to experience a Medanese style with reusable clothing. Some of the shops are:
• ZARA
• Timberland
Recycling
The government has taken many initiatives that will ensure the cleanliness of the Medan city. The Work Plan suggests focusing on six specific areas, and detailed activities were proposed under each strategic goal. The Work Plan also shows strategies and a path toward achieving the targets as well as providing key performance indicators to monitor and evaluate the progress of implementation. They were made consistent with the national target set force by the Presidential Regulation No. 97/2017 on National Policy and Strategy on Management of Household Waste and Waste Similar to Household Waste to achieve 30% waste reduction and 70% of waste treatment by 2025.
Waste
Medan is the capital city of North Sumatra province, with more than 2.3 million inhabitants. Medan generates household wastes (HWs) at an average of 0.222 kg/person/day. This amount contributes to one-third of the amount of waste disposed to the landfill every day. Most of them are compostable wastes, as much as 61.35%, followed by 28.70% recyclable waste (Khair et al., 2019).
Work and Study Abroad
The higher education system of Indonesia is represented by 302 universities. There are 11 universities located in Medan, which offer 144 study programs. Also 112 Bachelor programs at 11 universities, 23 Master programs at 5 universities, and 9 Ph.D. programs at 2 universities. Tuition fees in Indonesia will vary depending on the institution and level of study. International students should on average expect to pay between £2,300/$3,000 and £4,600/$6,100 per year.
If you are going to study in Indonesia, you will need to apply for a student visa (KITAS). This can be done at the Indonesian embassy in your home country. You should first apply for a social visit visa, and apply for a student visa when you arrive in the country. The student visa is valid for one year and can be renewed each year up to four times.
Whilst English is spoken in the bigger cities and is used as a teaching language at institutions, you will not find an advanced level of English outside of these major cities. Before you move to Indonesia, it is worth learning some basic phrases so that you can get around in your first few weeks. Whether you choose to study a course in English, Indonesian, or any other offered languages, you will probably have to prove your language proficiency.
If you are okay with part-time jobs, you can upload your resume on job sites such as www.indeed.com, www.simplyhired.com or you can ask the locals about any part-time job opening they know about.
Exchange Student
As mentioned above, foreign student programs are very much available in Medan. All you have to do is, contact your home university if they have collaboration with the university here.
Au Pair
There are many Au Pair jobs available in Medan. To have a good salary or a likeable job you have to submit your resume to online portals like www.aupair.com, www.greataupair.com, www.topaupairs.com. The jobs they provide like, child care, old age home jobs, etc.
Volunteering
If you are here as a tourist, and you want to volunteer for the social causes here there are many online sites, like, www.goabroad.com, www.workaway.info, etc. They will help you to choose the place where you want to volunteer according to your likes and comfort. Some of the volunteer jobs include planting trees, teaching the locals English, Educating kids, Welfare for animals, etc.
See Also