San Juan (Puerto Rico)
From Eco Friendly Travels
Eco-friendly travel guide to San Juan (Puerto Rico) advises how to be a responsible tourist. Learn how to explore the attractions in a sustainable way and how to respect the local people and culture. Make your trip green by supporting locally owned hotels, organic restaurants and other businesses. Read more on how to protect the environment by making conscientious choices and how to travel green in San Juan, Puerto Rico.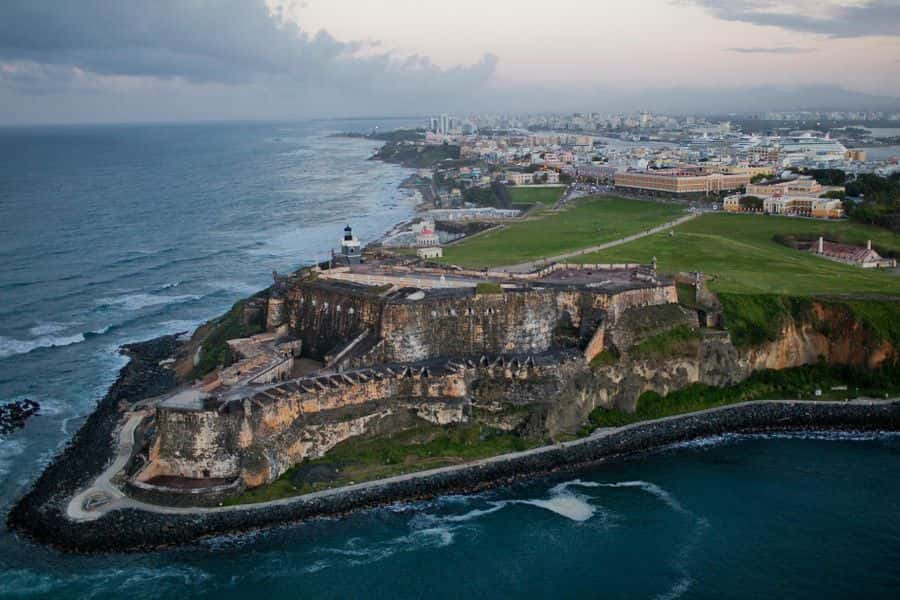 Exploring by bicycle: 4 / 5
Public transportation: 4 / 5
Outdoor activities: 4 / 5
Locals' English level: 4 / 5
Accommodation: US$50 - $200
Budget per day: US$30 - $153
Responsible Travel
San Juan is the capital of and largest city in Puerto Rico, with a population of about 395,000. It has one of the best harbours in the Caribbean.  San Juan was founded by Spanish colonists in 1521, who called it Ciudad de Puerto Rico. Several historical buildings are located in San Juan; among the most notable are the city's former defensive forts, Fort San Felipe del Morro and Fort San Cristóbal, and La Fortaleza, the oldest executive mansion in continuous use in the Americas.
To play your part as a responsible tourist,
You can book an eco-friendly hotel or resort at a very reasonable price as there are plenty of green hotels.
Buy souvenirs from the local markets rather than going to the shopping malls where they sell internationally branded things.
There are many hotels and restaurants in San Juan where you can taste their unique, tasty delicacies; to get the authentic taste of the local food, you must try the local food. It will help in their business too.
Whether you are a local or a tourist to get to know the area even better while on foot or cycle with the local guides or the multiple tours conducted by the hotel you are staying in or you can book such tours on online sites, such as tripadvisor.in, www.travelocity.com. Not using a car or a bus will reduce your carbon footprint.
Air Quality and Pollution
The air quality in San Juan is generally acceptable for most individuals. However, sensitive groups may experience minor to moderate symptoms from long-term exposure. The air has reached a high level of pollution and is unhealthy for sensitive groups. A quick sweep over the San Juan air pollution: Real-time Air Quality Index (AQI):

PM2.5AQI - 70
O3 AQI - 7
NO2 AQI - 11
CO AQI - 3
Respect the Culture
As with all cities in Puerto Rico, San Juan is a culture of diversity. A Spanish colonial city from 1521 to 1898, San Juan absorbed many traits of Spanish culture but also indigenous Caribbean culture. When Puerto Rico became a U.S. territory, American culture was added to the mix. As with all cities in Puerto Rico, San Juan is a culture of diversity.
A Spanish colonial city from 1521 to 1898, San Juan absorbed many traits of Spanish culture but also indigenous Caribbean culture. When Puerto Rico became a U.S. territory, American culture was added to the mix. Spanish is largely spoken there and it will be helpful for you if you learn a few words of Spanish. It will not only simplify your trip to San Juan, but it will also serve as a sign of respect to the local people.
Food operates as an expression of cultural identity. If you truly want to understand their culture, then do not forget to taste their local food from the stalls and vendors, known as 'kiosks'. These are the best places to get the most local and most affordable food.
Top 10 Places to Visit
Castillo San Felipe del Morro - Located on the northwesternmost point of the islet of Old San Juan, Castillo San Felipe del Morro is named in honour of King Philip II of Spain. In 1983, the citadel was declared a World Heritage Site by the United Nations in conjunction with the San Juan National Historic Site. Over two million visitors a year explore the Castillo, making it one of Puerto Rico's leading tourist attractions. It was designed to guard the entrance to the San Juan Bay and defend the Spanish colonial port city of San Juan from seaborne enemies.
Castillo San Cristóbal - Another fort built by the Spanish to protect against land-based attacks on the city of San Juan. It is part of San Juan National Historic Site. It is the largest fortification built by the Spanish in the New World, covering 27 acres of land and partly encircled the city of San Juan. Entry to the city was sealed by San Cristóbal's double gates. After close to a hundred years of relative peace in the area, part of the fortification (about a third) was demolished in 1897 to help ease the flow of traffic in and out of the walled city.
La Fortaleza - Also known as Palacio de Santa Catalina, this fortress was built between 1533 and 1540 to defend the harbour of San Juan, it is the official residence of the Governor of Puerto Rico. It was the first defensive fortification built for the city of San Juan and the first of a series of military structures built to protect the city which included the Fort San Felipe del Morro and the Fort San Cristóbal. In 2011, Puerto Rican author Giannina Braschi wrote the dramatic novel the United States of Banana, featuring climactic scenes of revolution at La Fortaleza.
Catedral Basílica Metropolitana de San Juan Bautista - This impressive cathedral is one of the oldest buildings in San Juan, located in Old San Juan, the oldest cathedral in the United States, and is the second oldest cathedral in the Americas. The cathedral contains the tomb of the Spanish explorer and settlement founder Juan Ponce de León. It also has a shrine to the Blessed Carlos Manuel Rodríguez Santiago, the first Puerto Rican, the first Caribbean-born layperson in history to be beatified.
Sitio Histórico Nacional de San Juan - San Juan National Historic Site, in the Old San Juan section of San Juan, Puerto Rico, is a National Park Service-managed historic site which protects and interprets colonial-era forts such as Castillo San Felipe del Morro, bastions, powder houses, and three-fourths of the old city wall. This park and La Fortaleza have together designated a World Heritage Site on 6th December 1983.
San Juan Cemetery (Santa Maria Magdalena de Pazzis Cemetery) - Set along the coast, adjacent to El Morro, and high above the ocean, is the beautiful San Juan Cemetery. Elaborate tombstones, statues, and a circular red-domed Neoclassical chapel dedicated to Mary Magdalene are some of what makes this cemetery outstanding.
Iglesia de San José -  located in Old San Juan within the historic colonial section of the capital of Puerto Rico, San José Church is one of the first significant works of architecture on the island, it is one of the earliest surviving examples of 16th-century Spanish Gothic architecture in the Western hemisphere. In 2013 it was added to The National Trust for Historic Preservation's list of 11 Most Endangered Historic Places of 2013.
Museo de Arte de Puerto Rico - The Museum of Art of Puerto Rico is an art museum in Santurce, a barrio of San Juan, Puerto Rico, with 18 exhibition halls. It is one of the highlights of San Juan, this museum is the place to see the work of Puerto Rico's finest modern-day artists. Changing exhibits showcase the museum's collection of modern island-made prints, paintings, posters, and sculptures.
Condado Beach - Are you a sun-worshipper? Well, this is the place for you. This beach is extended for several miles east of  Old San Juan in Condado district. The district was originally developed as San Juan's first tourist zone in the 1950s, creating a mini Miami Beach on the doorsteps of the city. Lined with high-rises resorts, this beach is one of the must-visit places in San Juan.
Puerta de San Juan - The entrance to Old San Juan is known as Puerta de Aguas or Puerta de San Juan (San Juan Gate). It is one of the most colourful and known of all the entrances to the walled city. The inscription above it reads "Benedictus Oui Venit In Nomine Domini" which translates to "Welcome those who come in the name of God," a testament to the island's Catholic roots.  
Explore
Being the oldest city under the jurisdiction of the United States San Juan features distinctly century-old architecture, such as Spanish military forts built from the 1540s to 1800s, an active harbour, and a very active economic area in the Hato Rey district. With magnificent beaches, hotels, plazas, historic sites, museums and parks, this city never runs out of tourists from all over the world.
City Parks
This city has an abundance of parks, to name a few -
Parque Las Palomas - Paloma means 'pigeon' and you'll encounter hundreds in this tree-shaded cobblestone courtyard.  These pigeons fly in and out of holes in the wall.  Some folks come to the park just to feed them; small children come to chase them. Buy bird seed from a vendor by the gate.
Parque Central de San Juan - Greenery with walking paths where you can stroll or jog, this place also has an indoor swimming pool, tennis courts, several playgrounds, a maze and teepees.
Luis Muñoz Rivera Park - Sprawling over massive 27.2 acres, this recreational park is the largest passive park in this metropolitan area of Puerto Rico.  The park was named in honour of Puerto Rican statesman Luis Muñoz Rivera, a statue of him is located at the middle of the park.
La Ventana al Mar - 'La Ventana' (the window) lives up to its name, providing a very pleasant, mostly green gap in the concrete barrier that usually prevents one from seeing the Atlantic Ocean. The park is always full of young skateboarders and people just hanging out. It's pretty crowded at night when it's a bit cooler out. Walk to the pier for some beautiful views of the coast. This small park contains a cafe and ice cream shop, trees, grassy areas and even an attractive sculpture.
Plaza Dársena - Plaza de la Marina - Historic location right off the docks of the heart of Puerto Rico in El Viejo San Juan you can find anything you are looking for here as a tourist or a local, there's beautiful scenery, street vendors of all sorts, like candy, food, toys, drinks and a lively nightlife sure to entertain those looking for a thrill.
Plaza Antonia Quiñones - This is a great place with a statue and a fountain. A perfect place to come out with family, friends, kids or if you just want to be by yourself and meet new friends or just chill out this is a fun place to come. They have a bar and lounge nearby and also other local food stands if you want to satiate your hunger or quench your thirst.
Parque de las Ciencias Luis A. Ferré - Parque de las Ciencias Luis A. Ferré is located in Bayamón. An excellent science park with real space rockets, the closest you can get in PR to a theme park. Great exhibits and a nice day for a family visit. Don't miss the planetarium.
National Parks
Parque Jaime Benítez - Sitting alongside the calm waters of Laguna del Condado, this park is a popular launching spot for kayakers and paddle boarders. Great place for a walk, sunset and sunrise watching. A great place for walking, bicycling, kayak riding, roller skating and for family picnics.
Isla De Cabras - Isla de Cabras is an islet located at the entrance of the San Juan bay in Puerto Rico. It is part of the Palo Seco barrio of the municipality of Toa Baja. This land-connected small island has some of the best views of the Bay of San Juan and the Old San Juan area. On the island, you'll find recreational facilities and on-site parking. The park is a great spot for walking and fishing.
Beaches
El Escambron - Balneario El Escambron or Escambron Beach, located between Old San Juan and Condado. In addition to sunbathing and swimming, this place is great for snorkelling and scuba diving. Named after a small fortification called Bateria del Escambron, this is a lovely beach to bring the family, with plenty to do.
Playa Último Trolley - Playa Último Trolley or Ocean Park Beach, commonly referred to as 'Ocean', is a great place for water sports, working out, and sunbathing. It has vast sands and plays host to beach volleyball, football and paddle tennis.
Isla Verde - This beach resort area has the long stretch of sun-kissed sand beach that has a relatively calm blue sea, and you can swim here. If you're not staying at one of the resorts, you can rent beach chairs on the sand. There are also several water sports on offer, from jet skiing to parasailing. The beach has some decent surfing as well, and if you don't know what you are doing, a local surf school offers lessons.
Landmarks
Paseo de la Princesa - El Paseo de La Princesa, the most beloved promenade in Puerto Rico, dates back to 1853. As you enter, you'll notice the walls that once served to protect this marvellous city which is part of the San Juan National Historic Site. Paseo La Princesa offers great sightseeing, food, culture, history, and beautiful sculptures along the way. 
La Muralla - The most enduring symbol of Puerto Rico is La Muralla. Nearly 400 years old, the city wall is composed of rock, rubble, and mortar that wraps around Old San Juan from the cruise-ship piers on San Juan Harbor to the capitol on the Atlantic Ocean. Its iconic sentry boxes serve as a symbol of the island's Spanish heritage and resilience in an ever-changing world. Begun by Spanish colonists in the 1600s, the wall took 200 years to complete and has withstood multiple attacks by the English, the Dutch, and the Americans.
The Capitol of Puerto Rico - Commonly referred to as the Palace of the Laws, this place is located on the Islet of San Juan just outside the walls of Old San Juan. The building is home to the bicameral Legislative Assembly, composed of the House of Representatives and Senate. The building is located in the Puerta de Tierra sector of San Juan. The building was inaugurated on February 11, 1929, with the first meeting of the Legislative Assembly taking place three days later. It was listed on the U.S. National Register of Historic Places in 1977 as El Capitolio de Puerto Rico.
Calle del Cristo - Calle del Cristo is a steep cobblestone street in Old San Juan that is best known for being the Shopping District of Old San Juan, as it houses all kinds of spaces and establishments with a variety of offers for those who visit it. Be its abundance of food, or shopping or limitless entertainment, this street offers all.
La Rogativa - La Rogativa is a famous bronze statue located in the Plazuela de la Rogativa on Caleta de las Monjas near La Puerta de San Juan. Rogativa is a Spanish word derived from the verb "rogar" meaning to plea. A Rogativa is a large procession of people making a plea to God for help. It is said, when British troops took control over the city in 1779, A women, led by a bishop, marched through the streets that night. They started at the Cathedral. They sang hymns, carried torches and bells, and prayed for their city's deliverance. The British mistook the sounds as evidence of the arrival of reinforcements. Considering themselves to be outnumbered, as a result, they flee the city. Four bronze statues are commemorating this event in Plazuela de la Rogativa. This group of statues pays tribute to the efforts of the townspeople and their Bishop.
Capilla de Cristo - Capilla del Cristo, also called Capilla del Santo Cristo de la Salud is a small chapel/museum located in the Old San Juan Historic District of Puerto Rico. Built-in the 18th century, the structure has become a cultural icon of Puerto Rico and was saved from demolition in the 20th century. Most of the articles located at its altar are from 1753. Capilla del Cristo is listed in travel guides as one of the must-see places of Old San Juan. It is a one-story-high, brick and stone structure with a curved belfry atop. Structurally, it is a stone building. Its gate was added in the 1940s for the protection of its interior.  The building is located at the end of Cristo Street, a cobblestone street, in the Historic District of Old San Juan not far from La Fortaleza, the residence of the governor of Puerto Rico.
Plaza de Armas - The Plaza de Armas of San Juan is one of the main squares in San Juan, the capital of Puerto Rico. It is located on San José Street in Old San Juan and was designed to serve as the original main square for the city. San Juan City Hall is located to the north of the square, while the Puerto Rico Department of State lies at the west. The square's main feature is a round fountain with four marble statues representing "The Four Seasons", originally placed in the four corners of the square, which had been commissioned in 1856 to the "motherland", to be placed in Paseo La Princesa esplanade in Old San Juan.
Juan Ponce de Leon Statue - The Conqueror and first Governor of Puerto Rico, Juan Ponce de León, has a monument in his honour, which is an ancient statue that watches the streets from 'la plaza de San José' (San Jose Square) and is located in Old San Juan. From this location, there are a lot of other things within easy walking distance to see, including Catedral de San Juan Batista where de Leon is entombed. 
Museums
Casa Blanca - Casa Blanca is a house museum located in Old San Juan within the historic colonial section of the capital of Puerto Rico. It served as the first fortification of the San Juan islet. It was the first governor's residence in PR when the capital was moved to the Islet of San Juan in 1521. In 1967, the complex was transferred to the government of Puerto Rico and declared a historical monument. In 1981, it was recorded in the Historic American Buildings Survey. Today, the house is a museum of 16th and 17th-century artifacts managed by the Institute of Puerto Rican Culture.
 Cuartel de Ballajá and Museo de las Américas - Ballajá Barracks (or Cuartel de Ballajá in Spanish) is a military barracks located in San Juan, Puerto Rico. It was built from 1854 to 1864 for the Spanish troops established on the island and their families. These barracks were heavily used during the Spanish - American War and World War II. Today, the Ballajá Barracks houses several educational and cultural organizations, namely the Museo de Las Américas on the second floor of the building since 1992. On the first floor, there are music and dance schools and a library, among other things.
The Museo de Las Américas has three permanent collections: African Heritage, the Indian in America, and Popular Arts in America.
Museum of Contemporary Art of Puerto Rico - The Puerto Rico Museum of Contemporary Art, often abbreviated to MAC, was founded by artists and sponsors of the civil society and was officially instituted on October 8. Today, the museum's collection consists of art from the mid-20th century to today from artists in Puerto Rico, the Caribbean, and Latin America, such as Myrna Báez, Daniel Lind-Ramos, and Noemí Ruiz.
Carolina Children's Museum Museo - One of the most impressive yet entertaining museums in the Americas, is Carolina Children's Museum Museo. It has over 100 hands-on interactive exhibitions ranging from music and art to transportation and physics. You will find a go-kart track, a plane donated by American Airlines, a mini zoo, and a small ferry. The exhibitions are meant for the children to explore topics which are already taught at the school.
Museo del Mar - It is a fascinating little museum dedicated to marine life. You'll find numerous ship models including, Christopher Columbus' caravels and the cruise ship Carnival Victory. You'll also find an informative mock-up of the Battle of San Juan.
Casa Museo Felisa Rincón de Gautier - This historic landmark used to be the house of  Doña Fela,  the first female mayor, of San Juan,   Her former Old San Juan residence has been turned into a house museum where you can find her original furniture, major awards she won during her lifetime, her photograph collection, and a unique collection of over 70 hand fans.
Eat
The vibrancy of Puerto Rican culture comes alive in its dishes, a celebration of flavours that visitors have the opportunity to indulge in. Some of the favourites are mofongo, tostones, pasteles, arroz con gandules, tembleque, and coquito.
Traditional Local Restaurants
There are many local traditional restaurants in San Juan, to name a few:
El Jibarito - This place serves affordable traditional meals every night. For a casual night out with friends, come here to enjoy the delicious churrasco (skirt steak) and mofongo (a dish made with plantains).
Raíces - Definitely one of the best restaurants, where they serve authentic Puerto Rican food. With lovely decor and tasty delicacy, this place will force you to come back again and again. 
Barrachina - Charming ambience with tasty authentic traditional Caribbean food (pork, fish, rice, beans, plantains), the best place to dine out with your family. 
Orozco's Restaurant - This place is a must-go-to for those who love Mofongo. Mofongo is a traditional Puerto Rican dish served with plantains.  If you came to Puerto Rico to have true cultural cuisine, this is the only place along Ashford Avenue that will do it right.
Serafina San Juan Restaurant - Beautiful surroundings and lip-smacking dishes. One of the best places if you want to have a good time alone or with your friends and family. 
Casita Miramar - A busy restaurant says it all. Yes, you may need to reserve your table beforehand, but every single dish on their menu is praiseworthy. 
Vegetarian and Vegan
Bori Vegan - If you aren't afraid to pay a little higher for good food, this place is the best choice for vegan/vegetarian delicacies.  This place is always packed because of the great food, it is worth going out of your way to try this place. Don't forget to check the vegan bakery downstairs.
Peace n loaf - The first fully vegetarian pizzeria in Puerto Rico, now with another branch in Cayey. The kitchen makes the bread and pizza dough in-house without oil or sugar. Offers vegan cheese options as well as other menu items like pasta, salads, and sandwiches in addition to pizza. A signature dish is a magic salad, which features greens, mushroom, toasted hemp seeds, and the Caribbean flavoured dressing. 
Cafe Berlin - Incorporated with local Flavours, this place has a lot to offer when it comes to vegan/vegetarian dishes. Their Mofongo is one of the main dishes that people come for. Don't forget to order it.
St. Germain - A neat and little spot in Old San Juan begs for attention. They have plenty to offer for the vegans and the vegetarians. They literally follow the rule, "From farm to table." And they maintain this.  
Cocobana - Delicious vegetarian food with a warm atmosphere. When you first walk in there is a community bookshelf and a fun variety to select from. If you are in for a quick bite, then this isn't the place for you. Don't forget to book your table before you go. Their stir fry veggies, burgers are the popular go-to meal. 
Street Food
Puerto Rico's cuisine landscape is a blend of recipes, cultures, and ingredients. Even most of the local dishes, as well as the food you will find being sold on the streets, feature various types of meats, olive oil, rice, and garlic as some of the predominant spices. Here are some of the top street food you must try in San Juan.
Alcapurrias - Alcapurrias is one of the most common street foods you will find throughout the island. This beach staple is made with grated yucca or a batter of green bananas, which are then stuffed with lobster, crab, or shrimp.  Not only you will find treats on the beaches, hotels and restaurants offer them too. 
Empanadilla - Another hugely popular Puerto Rican street food, empanadilla is a snack which you will find everywhere, from street food joints to bars to hotels and restaurants. The snack features dough stuffed with various kinds of meats, including shrimp, chicken, and ground beef. It is then deep-fried.
Sorullitos - Sorullitos are made from cornmeal, and they are mostly used as a side dish or starter. Some might be stuffed with cheese or bananas before being deep-fried to have a crispy outer shell. A must-try when visiting San Juan.
Pinchos - Meat skewers are a street staple in most countries, and the Puerto Rican version is the pinchos. This street favourite is made with chicken and then doused in a generous amount of thick, sticky marinade before being grilled on a smoky barbeque, making it different from other meat skewers. 
Relleno de papa - Relleno de papa is made from fried mashed potatoes, stuffed with ground beef, and then rolled into the size and shape of a baseball. It is then deep-fried to achieve a mouthwatering golden colour that makes you want to have a taste immediately.
Tostones - one of the most popular street food dishes, this dish consists primarily of double-fried slices of plantains. 
They are a favourite fritura or snack by the locals, and this is mainly because they are delicious and easy to prepare. 
Chicharrones - Chicharrones is another street food you have to try in Puerto Rico, especially if you love pork. It is a common roadside snack made from fried pork rinds or fried pork belly. This bite-sized treat is usually served with a slice of lemon and a special dipping sauce to add extra flavours.
Drink
Piña colada - The national drink of Puerto Rico, mixologists strain (colada) juicy local pineapple (piña). Coconut water or cream of coconut is added along with crushed ice, and then blended with your choice of rum; perhaps Don Q or Bacardi, just a couple of the famous rums of Puerto Rico. Most often topped with a dab of whipped cream and garnished with a slice of pineapple and a maraschino cherry, it is a wonderful, anytime drink.
Pitorro - Thanksgiving or new year, without this drink, the celebration would be incomplete. Often infused with fruit or coffee, or blended with chocolate or hazelnut, you can find various flavours of pitorro at your local grocery store, to have the true pitorro experience you must try that which is produced by the locals. 
Coquito - the main ingredients of this drink include evaporated milk, condensed milk, coconut milk, cream of coconut, white rum, and spices like vanilla, nutmeg, and cinnamon. Lovely holiday bottles are sold at just about every store this time of year, and coquito is made in batches and shared with friends and family.
Coco Frio - Driving down the roads of San Juan, you will find many stands selling coco frio, or cold coconut water. Whole coconuts are kept in a cooler and then topped with a machete when purchased. 
Frappe - A blended drink much like the piña colada, frappes are a frozen drink made with fresh fruit and ice cream. Frappes can be found at roadside stands, kiosks, grocery stores, shopping malls, and just about everywhere in between.
Mavi - Mavi is made with the bark of the Mavi tree that is boiled, sometimes with spices like ginger and cinnamon, or fruit is added for different flavours. 
Malta - Malta is an unfermented, lightly-carbonated malt beverage that is very popular with Puerto Ricans. Sold in cans and small bottles, it is a taste special to the Caribbean and may take some getting used to.
Tap-water
Tap water is treated and is officially safe to drink, though it tastes rather chlorinated; many opt for bottled water instead. Tap water may be unsafe to drink in San Juan as many visitors experience diarrhoea, even if they follow the usual precautions. Carry a bottle and refill it from the eateries when you stop by. 
Organic Cafés
If you are a vegetarian or a vegan, there are multiple cafés in San Juan that serve non-vegetarian as well as veg and vegan meals. 
Here are the names of some famous cafés where you can visit -
Obrigado Organic Cafe & Açai Bar
Lana's Healthy Bistro & Juice
Breweries
No matter what part of the city you're in, you'll be able to experience the legendary nightlife of Puerto Rico. From pulsating night clubs and rooftop lounges to delicious cocktails and cheap beer, San Juan really comes alive at night. The names of some famous breweries are -
Activities
San Juan is the perfect place for adventurous outdoor activities. Here are some of our favourite things to do other than sightseeing - 
Isla Verde, Puerto Rico: Jet Ski Tours
2-Hour ATV Adventure at Campo Rico Ranch
Horse Riding at a Private Ranch
El Yunque National Rainforest: Nature Walk Adventure
Indulge in water sports, such as snorkelling, scuba diving, paddleboarding. 
Yoga and Retreats
If you want to experience the magic of yoga while visiting, San Juan has many retreats to offer. Here are some of our favourite places where you can relax - 
Ashtanga Yoga Puerto Rico
El Estudio, Yoga I Love You
Accommodation
There are plenty of hotels, hostels, guest houses in prime locations in San Juan. Nowadays, most opt for online bookings; don't forget to read the reviews on them.
Green Hotels
Here are some of the topmost Green Hotels in San Juan - 
San Juan Marriott Resort and Stellaris Casino - Located in San Juan's Condado neighbourhood, this hotel is near the airport and on the beach. Pan American Pier and Port of San Juan are worth checking out if an activity is on the agenda, while those wishing to experience the area's natural beauty can explore Condado Beach and Carolina Beach. 
Caribe Hilton - Located in San Juan's Puerta de Tierra neighbourhood, Caribe Hilton is in the historical district and on a private beach. Fort San Jeronimo and Castillo de San Cristobal are notable landmarks, and the area's natural beauty can be seen at Third Millennium Park and Luis Muñoz Rivera Park.
Dream's Hotel Puerto Rico - Located in San Juan, Dream's Hotel Puerto Rico is connected to a shopping center. Pan American Pier and San Juan Gate are notable landmarks, and the area's natural beauty can be seen at Carolina Beach and Balneario de Carolina.
La Concha Renaissance San Juan Resort - La Concha Renaissance San Juan Resort, a stunning renovation of one of San Juan's most elegant properties. With lovely decor and calm ambience with a beachfront, this hotel is the first preference of many. 
Sheraton Puerto Rico Hotel & Casino - Identified as San Juan's modern urban resort, Sheraton Puerto Rico Hotel & Casino is located just minutes away from historic Old San Juan, cruise terminals, easy access to the business district and 12 minutes from the international airport. 
Hostels and Guest Houses
Hostels and guest houses come with a lesser budget as well as it helps the locals to earn extra. San Juan offers a plethora of budget-friendly hostels and guest houses –
Nomada Urban Beach Hostel
Navona Studios Guesthouse
Apartments
If you want to stay longer and want your privacy, renting apartments can be a good option for you. You may come across many tourists with whom you can enjoy the daily lives of San Juan. You can book them online sites such as www.booking.com etc. On such sites, locals advertise their apartment, location and the connectivity with the transport modes. Read the reviews on them before renting one. To name a few apartments where tourists can stay –
Marbella del Caribe Isla Verde Beachfront
Fortaleza Suites Old San Juan
Couchsurfing
Couchsurfers share their homes, cities and lives in profound, meaningful ways, making travel anywhere in the world a truly social experience. It is the best way to experience San Juan like a local. Reach out to over hosts in San Juan to discover unique places to stay, and locals to stay with. Use Couchsurfing to find accommodation in San Juan, meet locals and travellers, and more. You will find many hosts if you want to couch-surf in San Juan. There are multiple online sites such as www.couchsurfing.com which help tourists to take this option of staying. Still, if you want to opt for this option, extra precaution is necessary, especially for the females. Do not hesitate to ask for the details and the references of the host.
Camping
If you want to go for camping, these are the places recommended for you -
Sitio Histórico de San Juan
Jaime Benítez (Condado Lagoon) National Park
Jardín Botánico de Río Piedras Para la Naturaleza
Aventuras Tierra Adentro, Inc.
MON CROSS BOOTCAMP FITNESS PROGRAM
How to Get There
San Juan is the capital and most populous city in Puerto Rico. Founded in 1521 by Juan Ponce de León, who named it City of Puerto Rico (Rich Port). You can reach there by flights, ferry.
Air
Visitors from overseas arrive at Luis Muñoz Marín International Airport, the major transportation center of the Caribbean. The airport is on the easternmost side of the city, conveniently located near the Isla Verde, Condado, and Old San Juan tourist districts. From the airport, you can hire a car, or get on a bus to enter the city.
Bus
You can also take a public bus for 75 cents. Bus stops are located at the upper (departures) level. Only three routes serve the airport: E40 express route to Piñero train station; D53 to Isla Verde, Condado, and Old San Juan Covadonga Terminal; and T5 to Isla Verde and Old San Juan, or Iturregui bus terminal (be sure to ask the bus driver). Carry-on sized luggage and large backpacks are allowed on the bus, but larger luggage may be refused. Correct change is necessary. Only coins are accepted.
Train
There aren't any non-domestic trains running in San Juan.
Hitchhiking
Though hitchhiking isn't the safest mode of transportation if you are not a local and don't know the city well, still, when in Puerto Rico, it is one of the best transport modes that people consider. In San Juan, locals say "pedir pon" in Spanish, which means hitchhiker. So they are quite used to this mode of transport. They are mostly friendly people, who would tell a million things about the island if you asked. Always learn a word or two of Spanish, this comes handy when situations like this. But again, when hitchhiking, make sure that you are being careful about the surroundings so that you wouldn't be tricked.
Others
Other than the modes mentioned above, you can reach there by ferry. Ferries del Caribe operates an international passenger and vehicle service from Santo Domingo, Dominican Republic. The overnight journey requires WHTI-compliant documentation and there are strict rules regarding vehicle transportation. Fares payable in USD.
Moving Around
San Juan is a city where you can find history in its every nook and cranny. If you want to divulge the originality of the city, you have to leave the usual transportation mode and look for a slower mode of transportation.
So, here are some of the modes of transportation you can choose.
Walk
Colourful buildings, beautiful streets with breathtaking history, if you prefer to be independent and like walking, which is designed to take you to the must-sees and some lesser-known sights. You will be amazed at how these self-guided tours can help to know about San Juan. If you are not confident to make it alone, you can always hire a local guide. Many tour guiding programs are held by the hotel itself. There are multiple online sites to book walking tours on, such as www.gpsmycity.com, www.civitatis.com etc.
Bicycle
An eco-friendly way to experience the city life, it's healthy and helps you to explore the city faster than your foot. You can book bicycle tours online too, www.sanjuanouertorico.com, www.bikerentpuertorico.com
Electronic Vehicles
If you find walking and cycling a bit stressful, worry not. Public transport is the best option for you.
Public Bus
The public bus system in San Juan is inexpensive at only 75 cents a ride. The bus stops are marked "PARADA", and the system is currently being reworked to fit in with a new train line. If you're planning on staying in and around a general area of San Juan, you may be able to get by on public transportation. When you see your bus coming, be sure to wave/flag it down otherwise it may just pass you by.
Tram, Train and Subway
The two San Juan steam lines ran along wagon roads and were called tranvías (tramways), but could just as well have been called suburban railways. Unfortunately, right now there aren't any trams running in the city. But if you want to get the feel of trams then you can hop into a trolley if you are visiting Old San Juan.  One of the benefits of getting on the trolley is that it offers a nice way to get acquainted with the layout of the city, then you can get off and begin your walking tour.
San Juan is served by a rapid transit rail line which is actually the subway connectivity, called "Tren Urbano" (Urban Train).  The line connects San Juan to the towns of Guaynabo and Bayamón, but it avoids points of interest like Old San Juan, Condado, and Isla Verdre.
Sustainable Shopping
The concept of sustainable shopping is new to the world. People are trying to change their lifestyles and adopting the eco-friendly practices that support the local community. As a responsible tourist, you must buy souvenirs and antiques from the local markets of San Juan.
Food Markets
To get a real taste of Caribbean food, sample some of the lip-smacking street food available at these great street food markets in San Juan. To name a few:
Old San Juan's Farmer's market
Flea Markets
For street shoppers who love flea markets, here are the names of some markets where you can find souvenirs as well as local things,
Second Hand Stores
Some of the best second-hand stores in San Juan are -
Eco-Fashion
Apart from buying antiques and crafts, you can always go for sustainable fashion. You will get to experience a Puerto Rican style with reusable clothing. Some of the shops are:
Recycling
The San Juan Bay Estuary Program supports the reduction, reuse and recycling of materials. The goal is to reduce, reuse and recycle the materials that are buried daily in landfills and sanitary landfill systems in Puerto Rico. It also seeks to minimize the impact they have on reaching estuarine waters and their ecosystem. They encourage the estuarine population to begin to reduce excessive materials, reuse materials that have expired their usefulness and recycle the materials generated in their home, work area and community.
Waste
Since 1966, San Juan Sanitation has offered convenient, affordable curbside pickup of their garbage and recycling. They offer a variety of service levels to fit the needs of any household as they serve almost all roads and private drives in the county, providing them with curbside service for the same price OR LESS than self-haul, so the people in San Juan can save the time, money, and bother of hauling their own garbage.
Work and Study Abroad
If you have a USA student visa, then it won't be a problem if you want to study and work in San Juan. Puerto Rico is home to 152 accredited universities and colleges (21 of which are based in the capital city of San Juan), according to the Institute of Education Sciences. Puerto Rican universities follow the US system, awarding four-year bachelor's degrees, as well as Master of Arts (MA) and Master of Science (MSc) degrees, and – more rarely – PhDs. Most courses are taught in English and Spanish. While most universities in Puerto Rico are recognized by the US, you should make sure to check the university you are considering has some kind of international and professional accreditation, and that your qualification will be valid in your home country and elsewhere.
If you are okay with part-time jobs, you can upload your resume on job sites such as www.indeed.com, www.simplyhired.com or you can ask the locals about any part-time job opening they know about.
Exchange Student
As mentioned above, foreign student programs are very much available in San Juan. All you have to do is, contact your home university if they have collaboration with the university here.
Au Pair
There are many Au Pair jobs available in San Juan. To have a good salary or the likeable job you have to submit your resume to online portals like www.aupair.com, www.greataupair.com, www.topaupairs.com. The jobs they provide like, child care, old age home jobs etc.
Volunteering
As a volunteer in San Juan, you can do a lot to help communities rebound from Hurricane Maria and the 2020 earthquakes. Most volunteer programs focus their work on uplifting those communities and environments most affected by these natural disasters. As a volunteer in San Juan, Puerto Rico, you can lend a helping hand to coffee farms, fishermen, displaced people, and others.
See Also