Brno
From Eco Friendly Travels
Eco-friendly travel guide to Brno advises how to be a responsible tourist. Learn how to explore the attractions in a sustainable way and how to respect the local people and culture. Make your trip green by supporting locally owned hotels, organic restaurants and other businesses. Read more on how to protect the environment by making conscientious choices and how to travel green in Brno, Czech Republic.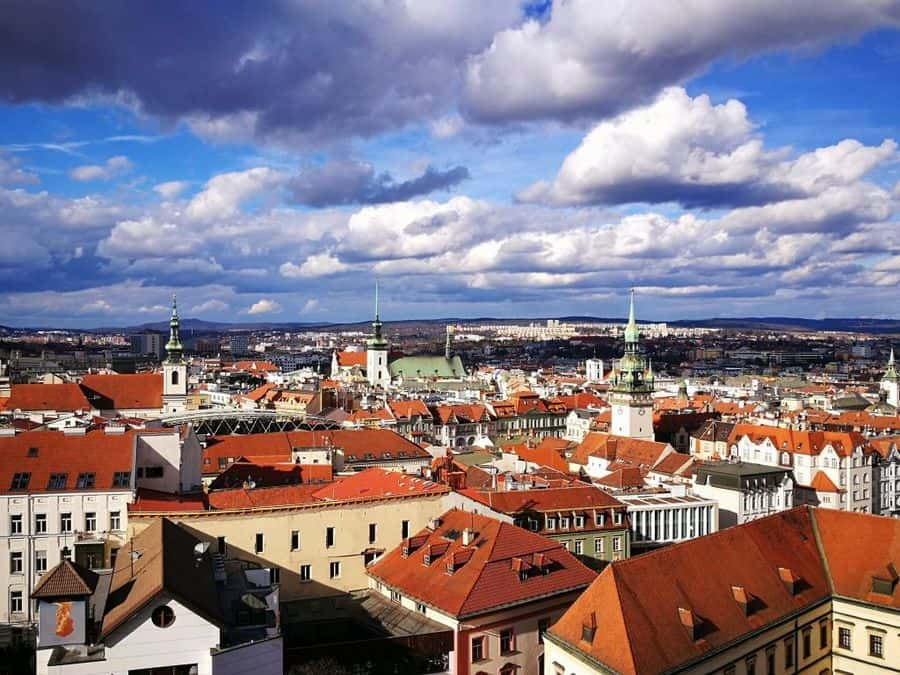 Exploring by bicycle: 4 / 5
Public transportation: 4 / 5
Outdoor activities: 4 / 5
Locals' English level: 3 / 5
Accommodation: US$$50 - $129
Budget per day: US$54 - $117
Responsible Travel
Brno is a city in the South Moravian Region of the Czech Republic. Located at the confluence of the Svitava and Svratka rivers, Brno has about 380,000 inhabitants, making it the second-largest city in the Czech Republic after the main capital, Prague, and one of the 100 largest cities of the EU.
Brno is a city offering a friendly, cosmopolitan atmosphere, colourful festivities; it is a city twined by grapevine and shaped up by ancient wine-growing traditions. The Czech saying "small things are nice" holds true here.
Brno is a starting point for tourists who wish to explore the natural and cultural sights of the South Moravian Region.
To play your part as a responsible tourist,
You can book an eco-friendly hotel or resort at a very reasonable price as there are plenty of green hotels.
Buy souvenirs from the local markets rather than going to the shopping malls where they sell internationally branded things.
Learn about Brno's history and cuisine while exploring the charming streets, and make food stops to taste local delicacies.
Whether you are a local or a tourist to get to know the area even better while on foot or cycle with the local guides or the multiple tours conducted by the hotel you are staying in or you can book such tours online. Not using a car or a bus will reduce your carbon footprint.
Air Quality and Pollution
According to the air pollution data from the World Health Organization, the pollution level in Brno is low to moderate. This means you can enjoy the clean air while you are in Brno.
A quick sweep over Brno air pollution: Real-time Air Quality Index (AQI):
Respect the Culture
Since the 1990s Brno has experienced a great cultural "rebirth": façades of historical monuments are being repaired and various exhibitions, shows, etc., are being established or extended.
Despite its urban character, some of the city districts still preserve traditional Moravian folklore, including folk festivals with traditional Moravian costumes, Moravian wines, folk music, and dances. Show enough enthusiasm to know about their struggle and history.
The Slavonic language of Czech is the primary language, which belongs to the same language group as Slovak, Polish, Russian and Croatian. Before the Velvet Revolution in 1989, Russian was compulsory in schools and is still spoken by the older generation, although given its association with the Soviet invasion of 1968, many prefer not to use it. So it will be better to know a few words of greetings in the Slavonic language.
Czech domestic culture revolves around the family and this takes precedence over social life. Universities and colleges close their dormitories at weekends so students can return to their families rather than stay on campus. Try to respect this aspect of their culture. And show inquisitiveness to know more about it.
Roles are clearly defined, with men typically taking on the traditional role of breadwinner and practical tasks, while women are expected to prioritise childcare overwork. This is surreptitiously supported by the state with generous maternity benefits (up to four years maternity leave per child). The downside to this is the struggle for equality in the workplace, which is reflected by a gender pay gap that lags at 6% behind other EU countries. Try not to impose your thoughts upon them.
vCzechs are polite and non-confrontational and sometimes what may appear as hesitancy is a form of politeness or an indirect way of saying no.
Food operates as an expression of cultural identity. Traditional cuisine is extremely rich and diverse, and it's worth trying local specialities.
Top 10 Places to Visit
Referred to as 'Little Vienna' and the 'Hidden Heart of Europe', Brno is the second-largest city of the Czech Republic. With its beautiful architecture, long history, many green recreational areas, and an international atmosphere, it is one of the most interesting cities in the country too.
Here are some of the most visited places in Brno.
* The Cathedral of St. Peter and Paul - The Cathedral of Saints Peter and Paul is located on Petrov hill in the centre of the city of Brno in the Czech Republic. Considered one of the most important Czech cultural monuments, this imposing Catholic cathedral remains one of the city's most important attractions due to its splendid architecture. The interior is mostly Baroque in style, while the impressive 84-meter-high towers were constructed to the Gothic Revival designs.
* Špilberk Castle and the Brno City Museum - Špilberk Castle is a castle on the hilltop in Brno, Southern Moravia. Its construction began as early as the first half of the 13th century by the Přemyslid kings and was completed by King Ottokar II of Bohemia. From a major royal castle established around the mid-13th century, and the seat of the Moravian margraves in the mid-14th century, it was gradually turned into a huge baroque citadel considered the harshest prison in the Austrian Empire, and then into barracks. Today, the castle is home to the Brno City Museum, established in 1904 and home to many excellent permanent (and frequent temporary) exhibitions. Permanent exhibits focus on the architectural history of the castle and its role as a prison, as well as the history of Brno.
* Moravian Karst and Caves - The Moravian Karst is a karst landscape and protected nature reserve to the north of Brno in the eastern part of the Czech Republic, located near the town of Blansko. Famous for its cool air and stunning caverns, the Moravian Karst and Caves contain more than 1,000 known caves and gorges, five of which are open to the public for self-guided tours. This region is also home to one of the most important single geological features in the Czech Republic, the Macocha Abyss, a gorge 138 m deep, which was formed when the ceiling of a cave chamber collapsed. The caves are always popular with tourists, so be sure to book your visit in advance.
* Veverí Castle - Veveří Castle is an originally ducal and royal castle some 12 kilometres (7 mi) northwest of Brno city centre, Moravia, Czech Republic, on the River Svratka. Founded in the 11th century, this stunning structure's present appearance features numerous additions and changes made up until the medieval period. The castle is also accessible by a number of excellent and well-marked hiking trails that take in the beautiful surrounding scenery. For a great view of the castle and another fun way to explore the area, hop aboard one of the regular ferries that travel the River Svratka.
* The Old Town Hall - Dates back to the early 13th century, The Old Town Hall is one of Brno's most important historic buildings. The building was home to the city's administrative offices until 1935, and one of its oldest highlights is a Late Gothic gate, an elaborately decorated masterpiece created by Antonín Pilgram in 1510. A great way to see the Old Town Hall is by joining a guided two-hour historical walking tour of the old city center. Other highlights of these popular tours include the cathedral and the Capuchin Church. During your tour, if possible be sure to make the climb up the 63-meter-high tower with its panoramic views over Brno.
* The Church of St. James and the Brno Ossuary - After the Cathedral of St. Peter and Paul, Brno's other most important religious structure is the Church of St. James. A late Gothic three-nave church, it was categorized as a national monument in 1995. One of the most startling features is the Brno Ossuary. Revealed during an archaeological survey of St. James Square (Jakubské námestí) in 2001, this vast collection of human bones is as chilling in scale as it is in the unusual way the collection is displayed, including collections heaped in archways and used as decorative displays and ornamentation. Estimates suggest the remains of around 50,000 people were found, making it the second-largest after the famous Catacombs of Paris. Equally interesting is the cause of death for most of those interred here, including plague, warfare, and starvation due to city sieges.
* The Moravian Gallery in Brno -"' One of the most important art galleries in the Czech Republic (it's also the second-largest), the Moravian Gallery in Brno (Moravská Galerie v Brne) was founded in 1961 and is spread among a number of the city's most important historical buildings, including Pražák Palace, the Museum of Decorative Arts, and the Governor's Palace. The museum houses an eclectic mix of visual arts including paintings, drawings, and sculptures. Other highlights include a large display of photography and applied arts, as well as graphic design.
* Brno Zoo - A must-see tourist attraction for families, Brno Zoo was established in 1953 and is home to some 1,800-plus animals from nearly 400 different species. The zoo is involved in captive breeding of endangered species coordinated by the European Endangered Species Programme like the Sumatran tiger, giant Hispaniolan Galliwasp, Przewalski's horse, as well as locally threatened species like the Czech owl called the little owl, barn owl, or rare rodent species the European ground squirrel and Eurasian beaver.
* Dietrichstein Palace and the Moravian Museum - The Dietrichstein Palace (Dietrichstinsky Palac), built in the early 17th century for Cardinal Dietrichstein, is typical of Brno's splendid Baroque architectural style. Today, the palace houses the excellent Moravian Museum (Moravské zemské Muzeum), the country's oldest museum — and one of the largest — and home to more than six million historical artifacts. The museum's permanent exhibits cover a wide range of topics and periods, including a Moravian village in the Middle Ages, and minerals and mining, including fascinating displays relating to WWI and WWII. The Moravian Museum also administers a number of interesting smaller museums, too, including the historic Bishop's Courtyard, near the cathedral, and the Palace of Noble Ladies, which houses a fun children's museum.
* Liberty Square - Historic town square surrounded by iconic buildings, with sculptures dating to 1689 & event space. According to the legend, originally there was a church of St. Nicholas there but it was knocked down and now you can mention its contours just around the tramways. By the way, trams are one more unusual thing for the main square. But the most surprising one is a big black monument resembling a spaceship. Actually, this is an astronomical clock, that shows only one time 11 am. The reason for this is the history of saving Brno during the Swedish siege in 1645. Only at this time you can take a chance and try to catch a small glass ball, falling out of one of the holes. There are also several monuments and interesting buildings including the Plague Column, the House of Lords of Lipá, and the House of Four Giants. Tourists all over the world love this place, which is not only the house of lovely surroundings but also many restaurants. If you want to enjoy your evening and dive into the traditional cuisine, then this place is surely heaven for you. Though the food is a bit pricey as the tourists claim, it's worth every bit of your penny.
Explore
The Czech Republic's second-largest city after Prague and the capital of the state of Moravia, Brno has a long and rich history that dates back as far as prehistoric times. With magnificent hotels, plazas, historic sites, museums, and parks, this city never runs out of tourists from all over the world.
City Parks
This city has an abundance of parks, to name a few -
Brno Dam - The Brno Reservoir, previously known as the Kníničky Reservoir is a reservoir on the Svratka River at the northwest edge of the city of Brno. It is now considered a park as well as a popular recreational area with both locals and visitors. There are vast forests on both sides of the reservoir and thus there are opportunities not only for swimming and water sports but also hiking and cycling. The Veveří Castle, overlooking the water close to Veverská Bítýška, is a popular destination for tourists. There is a bridge for cyclists and hikers over the reservoir close to the castle.
Obora Holedna - It is a purpose-built hunting facility on the territory of the statutory city of Brno. It is used for breeding mouflons and fallow deer, it includes several lakes, a small game park with wild pigs, and several resting gazebos, as well as a marked nature trail. The park is exceptional for its location inside a large city, located between the housing estates of Jundrov, Kohoutovice, and Bystrica. With peaceful surroundings, visitors can see not only mouflons, fallow deer, and deer, but also various species of birds. The woodpecker, the oriole, and the spotted woodpecker live here. Ducks, fish, and amphibians also settled in the reservoirs.
Park Lužánky - Lužánky (originally Augarten) is the largest city park in Brno. Not only that, this park is one of the first municipal parks in Central Europe. Now a national monument, this place contains many fountains, sculptures, and statues. The most significant present monument commemorates the founder of Lužánky, Emperor Joseph II. At the southeastern corner of the park are tennis and volleyball courts available for visitors.
Botanicka Zahrada - This botanical garden in the middle of Brno is part of the Masaryk University complex. It was established in 1922 as a temporary botanical garden of Masaryk University in the garden of the former town pour house, whose buildings were made available to the new faculty. The garden is intended for educational and collection purposes, there are about 2500 taxa in greenhouses and 2500 taxa in the outdoor area. Virtually all collections are presented to the public, the plants are provided with name tags. There are educational panels in the garden and the greenhouses, and in the greenhouses, there is also a spoken audio guide in Czech and English. The garden provides expert-guided tours of greenhouses for schools and other groups on request. It also holds several exhibitions each year such as carnivorous plants in May, succulents in September, tropical and subtropical plants in October and ornamental birds and other pets in November, the Garden Festival on the first Thursday in August and participates in the Night of Scientists first Friday in October.
National Parks
One of the most prized possessions of the Central European region, the Czech Republic is home to four national parks i.e. Krkonoše National Park, Šumava National Park, Podyjí National Park, and Prague National Park. Each one of them deserves a visit for their own unique reasons.
But Podyjí National Park is the most convenient national park to visit if you are in Brno. It takes hardly around an hour to reach there by car. Podyji National Park is located in the South Moravian Region. It was built to provide security to the Dyje River valley's forested areas and is spread over an area of 63 square km with an elevation ranging from 534 to 214 m. There is a wide variety of habitats here including grasslands, forests, shrubland, wetlands, arable land, etc. There are trails towards the ruins of many ancient castles which can be equally fun. There are more than 70 species of plants that one can find here, 152 species of birds. 65 species of mammals and 7 species of reptiles. Of all the things that this park is known for, a particularly interesting one is the presence of unique species of reptiles and amphibians such as the fire salamander, great crested newt, tree snake, and emerald lizard.
Beaches
In Brno, there is just a minor problem, Brno being a land-locked city does not have any sea beaches, but this glitch can be easily remedied by visiting the river beaches, artificial beaches, and lakes.
The Brno Reservoir, one of the best areas for summer fun near the city center, is clean and safe. It can be a great option not only for swimming but also for many aqua sports and fun activities on the shores.
If you travel just half an hour away from the city center, the beautiful natural swimming pool of Kovalovice will definitely please you. The water quality is perfect and the facilities provide everything that you need for carefree summer days. A beach volley court and the playground keep everyone entertained.
Landmarks
Tugendhat Villa - Built by architect Ludwig Mies van der Rohe, Tugendhat Villa is considered one of the most extraordinary examples of modern architecture from the early 20th century. The first masterpiece of modern architecture to be built on Czech soil — is famous for its unique open-plan structure and use of materials such as onyx, chrome, travertine, and ebony. English language guided tours are available but due to the Villa's popularity, tickets should be booked well in advance.
10-z Bunker Brno - 10-Z Bunker is a nuclear fallout shelter from the Cold War era located in the very centre of Brno. Great for history lovers. The code name of the most highly classified nuclear fallout shelter in Brno to protect the city's and region's political representatives. It had been built as a civil defense (Luftschutz) shelter.
Capuchin Crypt - The Capuchin Crypt in Brno is a funeral room mainly for Capuchin friars. The crypt was founded in the mid 17th century in the basement of the Capuchin Monastery in the historical centre of Brno. The bodies of people buried there turned into mummies because of the geological composition of the ground and the system of airing.
The Labyrinth - Another popular underground attraction worth visiting is the fascinating Labyrinth under Zelný trh square, which includes a tour of the many old medieval tunnels and underground corridors that meander under the heart of the city's old vegetable market. These old cellars, in use since the 13th century to store food, now contain fascinating displays relating to their current use, as well as about their use as a prison.
Mintmaster's cellar - One of the top free things to do in Brno, the old cellars under Dominican Square (Dominikánské námestí) and the New Town Hall (Nová radnice) house exhibits relating to the city's history, as well as the work of the mint, which was once housed here.
Museums
Brno Technical Museum - The largest technical museum in Moravia, Brno Technical Museum houses a collection that includes everything from motor vehicles and electronic microscopes, to music machines. A play area on the top floor provides a great diversion for children, with plenty of hands-on experiences.
Mendel Museum - Mendel Museum has been an institution of Masaryk University since 2007. It aims to promote the legacy of Augustinian abbot G. J. Mendel, who is known primarily for his studies conducted on plants, peas in particular. The interconnection of the practical requirements of a museum institution with several fields of study makes the Mendel Museum a significant place that links science with practice. It facilitates an encounter of academics with the wider public. There is also a place for the world of art within the museum's exhibition plans. The museum frequently stages short-term art exhibitions.
Museum of Romani Culture - The Museum of Romani Culture (Muzeum romské kultury in Czech) is an institution dedicated to the history and culture of the Romani people (Gypsies). The permanent exhibition is dedicated to the life, culture, and important events of the Romanis during their migration from India until the present day, with emphasis on the situation in Czech lands during the period 1945–1989. Some temporary exhibitions are held from time to time. With a public library, students and other interested people have a chance to select from more than 3,000 publications, the museum is also a place of Romani research in Central Europe.
Anthropos Pavilon - Anthropos is a museum located in the city of Brno. Though the museum is a part of the Moravské zemské muzeum (Moravian Museum), it's worth the separate mention. It focuses on exhibitions presenting the oldest history of Europe and mankind. It consists of a permanent, three-part exhibition presenting the oldest history of human settlement in Moravia and Europe and of temporary exhibitions. The permanent exhibition includes a life-size model of a mammoth.
Eat
Brno has a lot to offer also foodwise, and not only on the subject of exotic cuisines, such as Indian and Vietnamese (which still deserve a post of their own). Traditional cuisine is extremely rich and diverse, and it's worth trying local specialities.
Traditional Local Restaurants
There are many traditional restaurants in Brno, to name a few:
Borgo Agnese - Considered as a landmark of the city this restaurant stands where once stood a 13th century church. Borgo Agnese has become one of the more popular spots for fine-dining, with many dishes of Mediterranean influence, from their fregoli with chicken, curry, and raisins to their rabbit dish with tomatoes, pine nuts, and olives.
Stopkova Plzenska Pivnice - One of the pleasures of visiting a new country is discovering the local cuisine, enriching yourself with new aromas and flavours: Stopkova Plzenska Pivnice is the place to visit not only for Czech food but also for local beers.
Pavillon - This sophisticated, spacious restaurant is characterised by modern interior design and a bright environment, due to the glass wall dividing the indoor and outdoor rooms. For a business meeting or any other special occasion, they always impress with their elegantly presented creations, such as the Caesar salad with marinated salmon.
Simplé Restaurant - Many of the dishes here are inspired by traditional Czech recipes, then the chefs put their own unique twist on things. They pair different wines with each dish to create complementary tastes that one can't find anywhere else.
Potrefená Husa - A modern restaurant with traditional Czech dishes. This place has grabbed the interests of many. With lovely terrace settings, their menu is completed by the beer and classic wine selection.
Špaliček - Špaliček is one of the best spots when searching for a truly authentic Czech meal. The menu has plenty of traditional dishes with a collection of duck, rabbit, pork schnitzel, and plenty of other meats.
Vegetarian and Vegan
Forky's - Forky's is a vegan restaurant whose menu features countless meat-free options such as Vietnamese rice noodles, fried tofu, and fresh veggies in every shape. Furthermore, this spot is nicely decorated and set in a pretty spacious and bright venue.
Vegalite - This local restaurant offers a plethora of vegan delicacies. With a lovely atmosphere and quick service, Vegalite is the favourite of the locals as well as the tourists.
Annapurna - Located in the city center right near the main train station, Annapurna brings big tastes and bold flavors to a quaint restaurant setting. Everyone knows to head to Annapurna when craving delicious and satisfying Indian food.
Street Food
The Czech Republic has a very traditional meat-and-potatoes cuisine, with dishes heavy on gravies and root vegetables. These are the traditional dishes you will find at the food stalls in Brno.
Svíčková na smetaně (marinated sirloin) - This popular dish consists of braised beef covered with a thick, creamy sauce of parsley root and carrots.
Pohořelický kapr - Pohořelický kapr is a fish with an excellent growth capacity, high back, and a small head, produced in the Břeclav and Znojmo districts in the South Moravian Region in the Czech Republic. The carp is characterized by its outstanding resistance and health and has firm, consistent muscle meat.
Sekaná pečeně (baked mincemeat) - The Czech version of meatloaf is made by combining half pork and half beef mince and then adding slices of bacon, onions, and garlic, with herbs such as marjoram and parsley, which are also sometimes added.
Česnečka (garlic soup) - A garlic-heavy soup with croutons, česnečka also contains a raw egg, which is added near the end of the cooking process and left alone to cook in the heat of the soup.
Uzené (smoked meat) - Uzené technically means just smoked but the dish is always made with meat, usually pork. Juniper berries and peppers are often used as an aside.
Guláš (goulash) - A pork stew with lots of onions, guláš is usually served with bread dumplings or slices of dark bread.
Moravský vrabec (Moravian sparrow) - Though the name is scary this is actually a popular pork dish. Served with sides of sauerkraut and dumplings, Moravský vrabec is rich and heavy and best enjoyed with a glass of cold beer.
Drink
Slivovice - This strong plum brandy is perhaps the most traditional drink in the Czech Republic – consumed by the shot to commemorate, well, just about anything.
Černá Hora - Černá Hora is produced in the namesake municipality and in the oldest brewery in Moravia that dates from 1530. The beer comes in several varieties, which are all produced with traditional techniques and methods that have been present in the area since the 13th century.
Brněnské pivo - Brněnské pivo, also known as Starobrněnské pivo, is a beer produced in the Czech Brno district. It comes as a non-alcoholic beer, light tap beer (světlé výčepní), dark beer (tmavé výčepní), and a lager.
Pálava - Pálava is a Czech grape variety that was created as a cross between Müller Thurgau and Gewürztraminer. It is mainly cultivated in Moravia, on the foothills of the eponymous mountain, where it was first created.
Cabernet Moravia - Cabernet Moravia is a hybrid grape from the Czech Republic that was created by crossing Zweigelt (Zweigeltrebe) and Cabernet Franc varieties.
Moravian muscat - Moravian muscat is a Czech grape variety that was created by crossing Muscat Ottonel and the rare Prachtraube grape. Although the grape is also suitable for the production of sweet and sparkling wines, it is mostly used as a blending grape and in the production of dry varietal wines.
Tap-water
Though tap water is safe to drink, many prefer to drink bottled water or from the purifier, complaining about the taste.
Organic Cafés
If you are a vegetarian or a vegan, there are multiple cafés in Brno that serve non-vegetarian as well as veg and vegan meals.
Here are the names of some famous cafés where you can visit -
Vegan Food And Sweet Bar
Cafe Atlas
Vitalité
Veg8cafe
Café Placzek
Kafec
Café Podnebí
SKØG Urban Hub
Breweries
No matter what part of the city you're in, you'll be able to experience the legendary nightlife of Brno. From pulsating nightclubs and rooftop lounges to delicious cocktails and cheap beer, Brno really comes alive at night. The names of some famous breweries are -
The Vibe
Pivni Burza
Stopkova Plzenska Pivnice
Vycep Na Stojaka
Starobrno Brewery
Pivnice U Potníka
Activities
Here are some of our favourite things to do when in Brno -
South Moravia Wine Day Trip from Brno
Discover hidden stories in Brno old town
Caves and adventures near Brno
The cafes and restaurants scene in Brno
Bars and nightlife in Brno
Yoga and Retreats
If you want to experience the magic of yoga while visiting, Brno has many retreats to offer. Here are some of our favourite places where you can relax -
Accommodation
There are plenty of hotels, hostels, guest houses in prime locations in Brno. Nowadays, most opt for online bookings; don't forget to read the reviews on them.
Green Hotels
When it comes to Green Hotels, Barcelo Brno Palace is the only option available. Everyone needs a place to lay their weary head. For travellers visiting Brno, the luxury five-star hotel Barceló Brno Palace is an excellent choice for rest and rejuvenation. Well-known for its romantic environment and proximity to great restaurants and attractions, Barceló Brno Palace makes it easy to enjoy the best of Brno. Its Nearby landmarks such as Old Town Hall (0.2 mi) and Capuchin Monastery and Vault (0.2 mi) make Barceló Brno Palace Hotel a great place to stay when visiting Brno. If you're looking for something to do, Villa Tugendhat (1.1 mi), Spilberk Castle (0.3 mi), and Ossuary at the Church of St James (0.3 mi) are a nice way to spend some time, and they are all within walking distance of Barceló Brno Palace Hotel.
Other hotels are not green hotels but reasonable in price, and located in prime locations. Here are some of the names that we suggest -
BEST WESTERN PREMIER Hotel International Brno
Hostels and Guest Houses
Hostels and guest houses come with a lesser budget as well as it helps the locals to earn extra. Brno offers a plethora of budget-friendly hostels and guest houses –
Penzion a Ubytovna Express Atack Brno
Apartments
If you want to stay longer and want your privacy, renting apartments can be a good option for you. You may come across many tourists with whom you can enjoy the daily lives of Brno. You can book them online sites such as www.booking.com etc. On such sites, locals advertise their apartment, location, and connectivity with the transport modes. Read the reviews on them before renting one. To name a few apartments where tourists can stay –
Masarykova N°30 - Brno Apartments
Couchsurfing
Couchsurfers share their homes, cities, and lives in profound, meaningful ways, making travel anywhere in the world a truly social experience. It is the best way to experience Brno like a local. Reach out to over hosts in Brno to discover unique places to stay, and locals to stay with. Use Couchsurfing to find accommodation in Brno, meet locals and travellers, and more. You will find many hosts if you want to couch-surf in Brno. There are multiple online sites such as www.couchsurfing.com which help tourists to take this option of staying. Still, if you want to opt for this option, extra precaution is necessary, especially for the females. Do not hesitate to ask for the details and the references of the host.
Camping
If you want to go camping, these are the places recommended for you -
How to Get There
Brno is a really convenient spot for those travelling through Central Europe as it is situated roughly between two of the region's finest in Vienna and Prague. This means that it is definitely viable as a day trip from Vienna or Prague, but also as a stop in between. If you want to get to Brno, the easiest way is by flight.
Air
The nearest airport to Brno is Brno (BRQ). However, there are better options for getting to Brno. RegioJet operates a bus from Vienna, Letiště Schwechat, před příletovou halou to Brno, AN u hotelu Grand every 2 hours.
Bus
There are coach services from various European destinations including Prague where frequent buses run touting assorted amenities and stops (such as Prague Airport). You can find the timetable for all buses including international ones online. The page is in Czech, English, and German. Brno's main bus terminal is called Zvonařka (corner of Zvonařka x Plotní street).
Train
Brno is an important stop on the Prague–Vienna, and Prague–Bratislava–Budapest railway line; all EC and RJ (railjet) trains stop here. For some trains originating in Prague, it is a terminal stop. There are generally three railway companies operating in the Czech Republic – Czech Railways (České Dráhy), the national railway company – and two private companies (RegioJet (www.RegioJet.eu) and LeoExpress). Brno is operated by České Dráhy and RegioJet.
Hitchhiking
Though a very pocket-friendly way to travel the city, hitchhiking can be very tricky if you are not being careful. It isn't the safest mode of transportation if you are not local and don't know the city well. Still, this is a rough description if you want to hitchhike in Brno.
From Prague: If your driver is not going to the city but continues on this motorway, you can ask him to leave the motorway at the Vienna exit, and turn right onto a smaller road after 150 m. This road leads under the large street Vídeňská, where there is a tram stop. The driver can drive on to a roundabout and easily get back onto the D1. At the Bratislava exit, there is a shopping centre Avion with a free bus to the city centre. The driver can easily get back onto the D1 too by driving about 2 km. If the driver is going toward Vienna or Bratislava it's quite clear where to get off.
From Vienna: If your driver is not going into Brno, ask him/her to drop you off at the "Futurum" shopping centre on the motorway. There you will find a free bus to central Brno.
From Bratislava: If your driver is not going into Brno, you can jump off either at the "Olympia" or "Avion" shopping centre on the motorway. From both, you will find a free bus to central Brno.
From Olomouc, Kroměříž: If the driver continues to Prague, jump off at OMV petrol station at the end of Brno (Starý Lískovec). They don't go through the appletree plantation - it is too complicated. An easier way is more hidden - go back next to the highway for about 300 m and then there is a path going under the motorway. Go left and you'll get to the town (and public transport) in 5 minutes. If the driver continues to Bratislava jump off at IKEA. If the driver continues to Vienna, jump off at Futurum Shopping centre or a petrol station in Modřice. At both places, there is a tram route.
Others
By car: If you travel by car, you will most probably use highways: D1 from Prague, Olomouc or Ostrava; D2 from Bratislava or D52 from the south (it runs towards Vienna, but ends about 25 km ahead of borders). Don't forget to buy a toll sticker for highways. Or use any of the national roads.
Moving Around
Brno is a city where you can find history in its every nook and cranny. If you want to divulge the originality of the city, you have to leave the usual transportation mode and look for a slower mode of transportation.
So, here are some of the modes of transportation you can choose.
Walk
Colourful buildings, beautiful streets with breathtaking history, if you prefer to be independent and like walking, which is designed to take you to the must-sees and some lesser-known sights. You will be amazed at how these self-guided tours can help you to know about Brno. Stroll the cobbled streets with your guide as you learn the secrets and stories of the landmarks. Admire the 12th-century St. Peter and Paul Cathedral and art nouveau architecture, visit the Vegetable Market to make a wish at the Parnassus Fountain, discover the monuments of Freedom Square, etc. If you are not confident to make it alone, you can always hire a local guide. Many tour guiding programs are held by the hotel itself. There are multiple online sites to book walking tours on, such as viator.com, civitatis.com, etc.
Bicycle
An eco-friendly way to experience city life, it's healthy and helps you to explore the city faster than your foot. You can book bicycle tours online too such as tripadvisor.in, lonelyplanet.com, etc.
Electronic Vehicles
If you find walking and cycling a bit stressful, worry not. Public transport is the best option for you.
Public Bus
Buses operate 24 hours a day. At night there are special night buses. Night buses leave every 30–60 minutes depending on the line. The main railway station ("Hlavní nádraží") is the central interchange point of all-night trams and buses.
The interval between most buses is 7–15 min from Monday to Friday during rush hours. Weekend intervals are 10–30 minutes. The average interval between most trams is approximately 8 minutes during rush hour on working days; otherwise every 10–15 minutes.
Tram, Train and Subway
The Brno tramway network was the first network of its kind to be put into operation in what is now known as the Czech Republic, with its horse tram lines dating back to 1869. Today, Brno is the second-largest city in the Czech Republic, after Prague, and its šalina' (tram) network is also the second-largest in the country. Currently, the Brno tram system comprises 11 lines, with a total operational track length of 139 kilometres (86 mi) and a total route length of 70.4 kilometres (43.7 mi). The lines not only service the urban area but also lead to the neighboring city of Modřice located south of Brno.
Czech Railways or České dráhy or (CD or ČD) is the main railway operator of the Czech Republic. The train is a common means of transportation in the Czech Republic. Most Czech cities, towns, and many villages have train stations. They are interconnected well enough to make train travel a convenient way of getting from one place to another. International train services to the Czech Republic run from most points in Europe, with direct connections from Slovakia, Poland, Germany, Switzerland, Austria, and Hungary.

There aren't any subway trains running in BRNO. Prague has the only city that has its metro.
Sustainable Shopping
The concept of sustainable shopping is new to the world. People are trying to change their lifestyles and adopting eco-friendly practices that support the local community. As a responsible tourist, you must buy souvenirs and antiques from the local markets of Brno
Food Markets
The main vegetable market in Zelný Trh is a bit of a sad remnant of what it was, say, 15 years ago. If you want to get a bit of local flavour, then sit in a cafe on the main square, Náměstí Svobody, which is always bustling and there is pretty much always something going on on the stage throughout the summer. As the city is also very theatre-orientated, you could get a bit of local flavour outside the HaDivadlo in the Alfa Pasaz) which you can reach if you through the passageway in the building with the four huge statues of men holding up the building on the main square.
Flea Markets
For street shoppers who love flea markets, here is the name of the flea market where you will get all the antiques as well as souvenirs, Zelný Trh, as well some local stalls around Náměstí Svobody.
Second Hand Stores
Some of the best second-hand stores in Brno are -
Botárna – Oblékárna
Genesis
Adenel
Textile House Vintage Shop
Eco-Fashion
Apart from buying antiques and crafts, you can always go for sustainable fashion. You will get to experience a Czech style with reusable clothing. Some of the shops are:
PFB Concept Store Brno
H&M
Object store
Recycling
As of now, recycling is not compulsory in Brno but it's very much encouraged by the local authorities.
All foreign citizens who intend to stay in Brno for longer than 3 months have the responsibility to pay the waste collection fee in the same amount as Czech citizens.
The responsibility to pay the fee is placed on individual residents, not landlords or property owners. If utilities are included in your rent, ask your landlord if he or she has also paid the waste collection fee (it is unusual, though).
Waste
Glass, paper, and plastic, probably the easiest thing to recycle in Brno. You must have noticed the green and white bins (for coloured and clear glass), blue (for paper), and yellow / wire (for plastic) at the end of nearly every road. Clothes, less frequently you will find white bins marked textil. Alternatively, you can donate clothes, toys, and other useful things you no longer need to charity shops. Batteries/lightbulbs/electronics, at some supermarkets, you can recycle all of these and more.
Work and Study Abroad
The second-largest city in the Czech Republic, Brno is the historical capital and cultural hub of the Margraviate of Moravia. It's is also an important center of higher education, with 13 universities located in the city. Some of the highest-ranked Czech universities are in Brno, including Masaryk University and Brno University of Technology, both of which feature in the QS World University Rankings® 2021.
Students looking to start their career in Brno after graduation will be happy to learn that salaries for entry-level roles are incredibly competitive, particularly in contrast to the low cost of living in the city.
Large branches of well-known accountancy and finance firms are located throughout Brno, offering plenty of jobs available for fresh graduates looking for work in the city.
Speaking English plus a second language such as French, Italian or German will give you an advantage over other graduates, as many of Brno's firms are international
Exchange Student
As mentioned above, foreign student programs are very much available in Brno. All you have to do is, contact your home university if they have collaboration with the university here.
Au Pair
There are many Au Pair jobs available in Brno. To have a good salary or a likeable job you have to submit your resume to online portals like www.aupair.com, www.greataupair.com, www.topaupairs.com. The jobs they provide like, child care, old age home jobs, etc.
Volunteering
If you are here as a tourist, and you want to volunteer for the social causes here there are many online sites, like, www.goabroad.com, www.workaway.info, etc. They will help you to choose the place where you want to volunteer according to your likes and comfort. Some of the volunteer jobs include planting trees, teaching the locals English, Educating kids, Welfare for animals, etc.
See Also