Harbin
From Eco Friendly Travels
Eco-friendly travel guide to Harbin advises how to be a responsible tourist. Learn how to explore the attractions in a sustainable way and how to respect the local people and culture. Make your trip green by supporting locally owned hotels, organic restaurants and other businesses. Read more on how to protect the environment by making conscientious choices and how to travel green in Harbin, China.
Exploring by foot: 3.6 / 5
Exploring by bicycle: 3.9 / 5
Public transportation: 4.2 / 5
Outdoor activities: 4.2 / 5
Locals' English level: 2.9 / 5
Accommodation: US$18 - $820
Budget per day: US$49 - $350
Responsible Travel
If you're someone who likes tours and adventures Harbin is somewhere you probably should visit at least once but as a responsible traveler there are some responsibilities that you have while visiting the country, you should remember that you don't cause harm to the environment there.
Public transport:Try to use public transport and electric vehicles like buses, metro trains, trams, taxis, etc. These won't cause any harm to the environment.
Eco Friendly Accommodation: Instead of staying at a luxurious hotel and guesthouse try staying somewhere the authorities follow eco-friendly measures like solar electricity, renewable resources
Buy local: Appreciate the local brands if you actually are interested in experiencing a happy tourism, try to buy the local items and brands so that you get to know their culture, traditions, crafts, and the people.
Do not throw waste: As an eco-friendly traveler, you need to promote sustainable living as much as possible in the city to motivate not only fellow tourists but local people. When you visit any tourists attractions especially city parks, make sure you do not throw any food wrapper and do not just stop at that but if you see any trash, pick it up and throw it in the dustbin. It might look like a very small thing to do but has a huge impact on people watching especially the children present in the park since they learn and mimic the behaviour of other people around them.
Air Quality and Pollution
The city of Harbin had a pretty bad smog problem in 2013 and it was highlighted by the international media as well. Things have improved since and the Air quality of Harbin is not alarmingly bad anymore. It ranks moderately on the Air Quality Index. However, if you are extremely sensitive and have asthma related problems, it's best to carry masks with you and an inhaler as well. In the post corona world the use of masks will be normalised to a great degree so it will not be a hassle. Harbin experiences long and warm summers and stays cloudy throughout the whole year. The temperature usually stays between -11 degrees to 82 degrees in Fahrenheit throughout the year, the city experiences long and cold winters too.
Respect the Culture
If you visit a place you need to keep something in mind which is trying to connect with their culture and how they get things done there. Harbin's culture is based on the Han culture, it's a mixture of Manchu and Russian culture. The mixture has greatly influenced the architecture style, food items, and the customs. The city of Harbin was appointed by UNESCO on 22 June 2010 as it was a part of the Creative Cities Network. The city was once ruled by the Russians and now the city is been at level with them in trade. Harbin is well known for fishing as it was previously known as the fishing village. Soon Harbin became largest commercial center of North-Eastern Asia. There were Russian settlers along with Jews Harbin is famous for its bakery of bread da-lie-ba which was derived by the Russian word khleb meaning "bread". The Jews took shelter in Harbin during World War-II. You can ask them questions about their unique and enriching culture but do not be disrespectful and do not look down upon their traditions and beliefs. If you do not engage in any harmful activity, you will not have any issue with the locals. All they ask from foreigners is mutual respect.
Top 10 Places to Visit
Harbin has great potential when it comes to attracting tourists. This place is a combination of tradition, nature, culture, historical life, and the city's daily life. Here are the top 10 places to visit in Harbin.
Harbin Ice and Snow World -The Main Venue of Harbin Ice and Snow Festival. Every year from early December to late February it's time for the biggest ice and snow festival in the world which officially starts from January and stays for the whole month. Entering the arena where the festival takes place feels like a mesmerizing experience as there are many ice sculptures, castles, and towers, all made of ice.
Sun Island - Relaxing Park and Snow Sculpture Exposition Site. About 2.6 km east of Ice and Snow is the Sun Island located. This island is the perfect place for biking and picnic in the spring, summer, and autumn while in winter it's a perfect place for a snow carving exhibition which is known as the Harbin International Snow Sculpture Art Expo the sculptures are perfectly placed for an exhibition where many artists from around the world gather to admire its beauty. The amazing part about Sun Island is that its large-sized sculptures are all made up of snow instead of ice. There are plenty of amazing work of art present on Sun Island. The most convenient route to the place is through a taxi. The island is across the Songhua River from Stalin Park you can also get to the island through a boat from Stalin Park during the months of May-September. There are even cable cars between the park and the island which stay quite busy all year round.
China Snow Town -The China Snow Town is actually the no.1 Snow Town in China and is famous for being the most preferable location site for Chinese Shows and Movies. Its located in Mudanjiang City, about 280 km southeast of Harbin City. The snow starts from October here and wouldn't go away until April of the following year. One should visit this place if they are a big fan of beautiful scenery. Snows appear the most attractive to tourists in this place. Here, you will be able to see many wooden houses like the villages in Northeastern China. And once you happen to visit the town during the Chinese Spring Festival, then you can experience the celebrative ambiance with the local people.
Zhongyang Pedestrian Street - The place gives a feel of Russia in China as the place is filled with beautiful cobble-stoned streets and some of the most amazing old European-style buildings, some of which are of the Renaissance style. The architecture is a masterpiece that appears interesting as they are of Russian style, the restaurants, shops, and souvenir stores that sell Russian goods in stores lined up at both sides of the street. Here you will find that you are in a mixture of China and Russia.
St. Sophia Church - Another great place to visit which is also represents Russian architecture. Located near Zhong yang Street, the St. Sophia Church is the most famous landmark. It is distinctive looks like a dome-like structure and made up of red bricks makes it appear more beautiful. Inside you will find the Harbin Architectural Art Gallery, for if you would like to know about the old Harbin and what it was like in the earlier days you can always visit the St. Sophia Church.
Heilongjiang Provincial Museum -The museum has a very big structure and is the most authoritative in the whole Heilongjiang Province, settled in the center of Harbin and about 4.5 km away from Zhong yang Street. It was built in 1906, this museum in classic European Baroque style has 4 exhibit halls, which display thousands of ancient artifacts, specimens, ancient literature, which goes back 40,000 years ago. There you can also find fossils of dinosaurs, mammoths, etc. There are 900 cultural relics like cultural paintings, jade pendants, etc. Therefore, we can successfully say that Heilongjiang Provincial Museum is well suited for people who love history and are enthusiasts who would like to know more about the history that resided in Harbin.
Stalin Park - Another soviet era park with Russian style gardens. It is very popular amongst locals. It is located across the river from Sun Island. It also has an annual snow and ice festival. It is the perfect place to visit for some quiet and peaceful time. The local people skate and sled in the frozen waters during the cold months and in the warmer months, they would like to walk along the river banks. If you visit Harbin and have some spare time you should always pay a visit to this beautiful place.
Harbin Polar Land -It was the first polar land-themed park in China The place is a treat for children. Here you will be able to find seals, penguins, dolphins, polar bears, etc. If you are someone who loves animal performance you are invited, you can enjoy a white whale live performance here, sea lions and walrus perform there as well.
Siberian Tiger Parks - The Siberian Tigers in Harbin are amongst the world's 10 most endangered animals. The Harbin Siberian Tiger Park is a large sanctuary to protect and breed these tigers in a safe environment in order to protect their species. In the tiger park, visitors can buy raw meat and/or live animals to feed the tigers, take photos with tigers and appreciate closely them with protected cage cars or jeeps to get an exciting adventure with fierce animals. Perhaps, the most thrilling park lends your Harbin ice fesitval winter tour an epical experience in your lifetime.
Explore
The city of Harbin is a vast city that reeks of beauty and ancient glorious history. Harbin also is a natural beauty. It offers a great deal in terms of tourism and adventure.
City Parks
The Harbin Amusement Park - Its is better known as the 'Cultural Park', it's has a gorgeous view of the Jile Temple from the park. The park is believed to be built on an old Russian Orthodox Cemetery. The entrance fees aren't much here, it's cheap. Many of the rides are only for children but more than 6 are for adults too. The world wheel is a pretty great ride as it allows you to have a great view of the whole city. If you're an amusement park enthusiast it will be a great experience to visit the place.
Harbin Stalin Park - This soviet era park that has been mentioned previously as well is one of the most popular city parks. It is characterized by Russian style flower beds and sixteen groups of art sculptures and is abundantly vegetated with trees and colorful flowers, making Stalin Park a famous summer resort at home and abroad. The place is very popular with local people on weekends.
Harbin Music Park - Harbin Music Park is an absolutely stunning theme park in the city with European style buildings. It is so grand and beautiful. Visiting this park will be an experience of a lifetime.
National Parks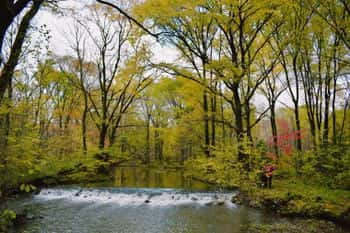 Jinlong Mountain National Forest Park -Only a two hour drive from Harbin, this national park is a must visit. The view of Mount Cang, the greenery and the red leaves everywhere during the autumn season give a magical touch to this national park.
Harbin National Forest Zoo -The scenery is very good here with mountains and waters, it's quiet and provides a free barbecue area. It is the main zoological garden in Harbin. It occupies an area of 558 hectares and is the largest zoo in China. The zoo protects several endangered species like the Siberian tigers, white lions, and crowned cranes.
Beaches
Poseidon Beach Water Park -It's a very famous beach in Harbin with beautiful scenery, the beach is a perfect place for tourists to visit and relax. The kids love this place it's also a good value for money. People who visit there often talk about the Bubble hot spring, that the place is pleasant and one should visit to enjoy with their families. It's a great place where you can spend the whole day with your family. It comprises very big beaches, parks, pools, and rides and restaurants available both inside and as well as in outside. The Poseidon Beach water park is an international level tourist resort invested and built by the Malaysia Jianrong group. It is located n the summer resort city of Song Bei New District, covering an area of 1600 mu. It is been named after Poseidon the Greek God of the sea in Greek mythology.
Landmarks
Volga Manor - It has been named after the Volga River, it's a theme park in Harbin. The aim of the park is to "reproduce Harbin's beauty of Russian classical architecture". It was opened in the year 2012, located at the Hacheng Road 16km, Xiangfang District, Harbin, China.
Sophia Square - The Cathedral of Holy Wisdom of or St. Sophia Cathedral in Harbin is a former Russian Orthodox church located in the central district of Daoli, Harbin City, China. It was built in 1907nafter the completion of the Trans-Siberian Railway in 1903 which connected Vladivostok to northeast China. Its located on the corner of Toulon Street and Zhaolin Street. It's 175ft. tall monument and occupies almost 0.18 acres of land. There is a small fair market around that area that you would want to go to, it's a good place for kids too.
Harbin Grand Theatre - The place is just astonishing, you can watch a ballet show there. It's a wonderful theatre inside out. The building completed in the year 2013 and is a very beautiful place and is worth visiting. It's a truly stunning building. This one is my personal favorite. It's a big giant theatre that will make you feel like you are walking in a spaceship. There are stairs at the sides that allow you to see a very beautiful landscape. It's such a brilliant place that you won't be able to resist taking photos at its every corner. It's a visual feast, you will be given a tour of the place where you will discover its massive lobby, the theatre, the rehearsal rooms, hallways, etc. The Harbin Grand Theatre stands out with the simple, eye-catching curved lines. The curved façade and spiral stairs make it challenging for the architects and builders.
Museums
Unit 731-Museum - Here you could learn about the private history of Unit 731 and can visit the biological site and chemical warfare testing and see indoor exhibits, maps, and photographs. Hear the stories of the prisoner's that died at the hands of the researchers. You probably might have heard about the incident that took place in the place, besides there being researches on humans the scientists developed a warfare weapon that could have been a very efficient way to win a war. It shows the horrors that were faced by the Chinese population at the hands of the Japanese invaders during the 2nd World War.
Heilongjiang Museum - The building is very old and small too, has only two floors but is a well-organized museum it allows you to know about the Russian impact in Heilongjiang. There isn't much written in English as most of it is either in Chinese or in Russian. The artifacts are well preserved. The exhibits are quite extraordinary, it's worth visiting. Its free and ID is must, there are interesting relics from Liao, Jing dynasties; where the Jing's where annihilated by the Great Genghis Khan. The dinosaurs' section of the exhibit is limited and with two complete duckbill skeletons and other fossils discovered in the area. Unless you are crazy about history this place might not interest you to that extend.
The Northeast Martyrs Memorial - History should never be forgotten neither the heroes this memorial is dedicated to the people who tragically died in the Japanese invasion from 1931-1937. It may make your blood go cold because of the vengeful and cruel brutality of war on innocent people's lives. The Northeast Martyrs Memorial is open only on Sundays from 9:00 A.M-4:30 P.M.
Eat
Harbin's cuisine is also a very significant part of its culture and should be a significant part of your trip as well. It can be categorised as an amalgamation of both Russian and traditional Chinese cuisine. The people give so much important to the taste of the food and want to bring out all the right flavours of a dish. The dishes served in this city help you to stay warm through the cold and freezing seasons. And in the summer season, Harbin's Beer helps people get through the day. One should always try some of the most famous and delicious dishes of the region which are, the Harbin dumplings, Harbin sausage, Guobaorou, etc.
Traditional Local Restaurants
Fan Jong Dumplings - Founded in 1912, this is the oldest restaurant in Harbin that serves sam sun. The restaurant has a very unique and antique decor style. It is famous for it's pastry shells which are soft and fresh with sufficiently stuffed. The address is 222, Changchun Street, Daowai.
Huamei Western Restaurant - Huamei Restaurant was started in the year 1925, and was the earliest western restaurant to exist in this region. The restaurant serves all the elite Russian dishes and mainly deals in Russian dishes. However, British cuisine, Italian cuisine, and Fresh cuisine can also be found here. There are many dishes available here such as pork fillet with milk, chicken stewed in a pot, shrimp, beef, mutton, fish roasted with milk, baked mutton. The address is 112, Central Avenue
Zhangbaopu - Zhangbaopu was founded in the year 1902, it is the most famous snack shops of Harbin and they serve different flavors of steamed buns like the sam sun buns, fresh shrimp buns and tofu buns, the ribs buns are a must if you visit the place but be careful with the ribs as they can easily choke you. They also serve Northeastern dishes. The address is intersection of Nanxun Street and Erdao Street, Daowai District.
Vegetarian and Vegan
Huaiye Sushi - The staff here is very friendly and the food here is also delicious and also is very cheap. The place is very cozy and isn't very big, and if you're into vegan food or like vegan dishes you should actually visit the place and try some of their best dishes which are tofu, faux, meat, eggplant, and potatoes and also the vegetables taste good. Although, you may find the food oily but that's China.
Zhi Yuan Zhai - This place is very easy to locate as its near Jile temple towards the Cultural Park. The place serves all the Chinese dishes, and the staff doesn't even speak English. This place is not intended for solo eaters so bring people that are actually very hungry cause let me warn you the dishes are pretty big so don't get stunned after your order arrives. The food is very tasty although the place is just straightforward, if you're in the area and are looking for a cheap and good quality vegan food this is the best choice you will have around and remember if you alone find some other place but avoid this one.
Street Food
Sweet Potatoes - Yams/sweet potatoes are usually a holiday food in the states. But the Chinese like to eat them as snacks and they eat the whole of it and is considered to be a healthy snack option. You will be able to smell them before spotting them on the street. The street vendors serve them hot.
Harbin's Street Food Square - The good thing about the place is that it's centrally located and has a huge variety of food items. You will be able to find between two shopping malls at the intersection of Central Street and Youyi Street, if you have WeChat or Alipay the vendors accept them too. They sell skewers which are two pieces of meat on a stick. If you use Alipay they have places QR codes and they also offer discounts for going cashless.
Other famous street food items include:
Harbin Dumplings
Dalieba (Big bread)
Disanxian
Guobaorou
Drink
The purchasing age for alcoholic beverages is 18+. Some of Harbin's most exciting and happening places are their pubs, clubs, teahouses, KTVs, coffee joints and bars, etc. which provide great entertainment to the visitors. The nightlife in Harbin is the most entertaining and provides exhilaration to the tourists.
Tap-water
Tap water is generally safe in Harbin for hygiene in hotels. Packages of water can also be purchased anywhere throughout the city. It's advised that if you're traveling somewhere you should be cautious of the ice in beverages and ice-creams and also avoid drinking the tap water for health purposes.
Organic Cafés
Houdeju Vegetarian Restaurant: This place is located at 339, Huaihe Road, Nan gang, Harbin, Heilongjiang, China 150090. And opens at 9 A.M. It's a good restaurant and has a great atmosphere, decorated with white lights, wood and green colors. The restaurant is very nice but the menu isn't in English and their staff also don't speak English but they have menus that have pictures in there that will help a great deal.
Luyu Coffee: It's set in a former Jewish hospital that brews excellent coffee and has a bar menu too. The address is 43, Hongzhuan St, Zhong yang Street, Daoli District, Harbin, Heilongjiang, China. They have a very good collection of coffee. Whiskey latte is good there, similar to baileys. You can also try the tangerine americano if you plan to visit Harbin you need to visit this café. The place is warm and quiet which gives you a break from the busy life of the city.
Breweries
Decent Craft Beer - Harbin is one of those places where the brewery is excellent and well known for its quality. The drinks in Decent Craft Beer are pretty good and the arrangements are too, you will find Russian pole dancers here which helps in catering for the entertainment of the westerners and the tourists, people contract great experiences from the place. The atmosphere here is very pleasant and the staffs are also very friendly, the beer is of good quality and the mushrooms are excellent but try avoiding the sausages. The architecture is also brilliant. Keeping all of that in mind do visit the place.
Harbin Beer Museum - It was the first brewery in all of China, at first the people had no interest in the consumption of beer but now by the records we are able to comprehend are that they consume more or less 100 bottles of beer per capita every year. The place is usually not very crowded as not many people visit here cause they mostly stay reserved.
Activities
There are so many activities that you can take part in Harbin especially snow related ones. Some of the top activities include:
Sledding
Skiing
Snowboarding
Ice fishing
Hiking
Rock Climbing
Feeding animals at sanctuaries
Visiting Parks and Museums
Shopping
Trying different food
Yoga and Retreats
The act of practicing yoga helps an individual in keeping a stress-free mind and a healthy heart, it improves the blood flow and helps you in being of sound body and posture. It is also a great means of increasing flexibility, muscle strength, and body tone. It helps you in giving you a better understanding of yoga you will have a great achievement on the grounds of self-awareness. With the help of which you can explore your mind, heart, and body and feel confident. Yoga revives one's mind and thus, here are some of the well-known places that should help you if you are looking forward to it:
Harbin Hot Springs Retreat Centre
Harbin Yoga Studio
Accommodation
With access to a range of quality and affordable options, the place is having perfect options for a person to live here. The vast majority of hotels, guesthouses, hostels, and homestays include breakfast, and most of the time you will be able to get a place that has a great view.
Green Hotels
Crown Plaza
Shangri La
Mercure Harbin Sofia Church
Hostels and Guest Houses
People often find hotels to be the place for the rich and classy sections of people but that's not the case here. It's all about traveling green. Some of the most famous hotels and guest houses of Harbin are:
Harbin Hash International Youth Hostel Harbin West Station
Kazy International Youth Hostel
Sweet Postoffice Hostel
Apartments
For people who love their own space and don't want to be disturbed. An apartment or a personal space can be something they would like well-furnished rooms and kitchens to help the families in spending some quality time with their loved ones. Some of the famous apartments that you will find in Harbin are:
Harbin Mango Holiday Apartment
Harbin Rongyao Baoyu Fashion Apartment
Harbin Mykal Xinwang Apartment
Couchsurfing
Couch surfing is a travel community with many members present all around the globe and it is also a very smart way to explore Harbin, without being a local you can still enjoy like a local with the help of couch surfing you will be able to find accommodations for yourself
Camping
A lot of people like going camping in the summers, in case of the weather preference the people want more or less the same thing, for the weather to be dry, sunny and warm with mostly a little amount of wind which is exactly the preferable weather condition needed by the people who like to camp. Some of the most famous camping sites in Harbin are:
Harbin Stalin Park
Zhaolin Park
Jinhe Park
How to Get There
The tourists need to carry their visas which mostly required for every country, must also bring passports, credit cards. Harbin is close to the north end side of china, about 1230 km to Beijing, and 550 km to Shenyang. Harbin has one airport, three railway stations, and several bus stations. The most preferable time to visit Harbin should be in winter. If you plan to visit Harbin plan a two-day trip or a three-day trip. Also, don't forget to take your medicines with yourself.
Air
Harbin Taiping International Airport, is on the southwestern side of Harbin, about 40 km downtown. Harbin is a very big city such that the flights are direct to here from most of the big cities. From Beijing, it takes up to 7 hours to Harbin, 2 hours from Shenyang, and 12.5 hours to Shanghai. There are shuttle buses and taxis available from the airport. It takes about 45 minutes from the airport.
Bus
Over 100 buses are available in Harbin, the system of public transport is well-developed. Which connects almost every route of the city. It makes you feel like a local to travel through public transport and helps you discover many beautiful sights of the city.
Train
Harbin is a major railway transportation hub in all of China, it is majorly connected by trains with most of China. Harbin has four major railway stations out of which the most important ones are: Harbin West Railway Station and Harbin Railway Station.
Hitchhiking
China is a very fruitful place for hitchhiking people who would pick you up for hitchhiking are very friendly and would treat you as their guest. It's said that your hitchhiking trip starts only after your ride so you'll need to make several stops to actually enjoy hitchhiking.
Others
Harbin has a vast number of options when it comes to transportation. The Songhua Cable Car that also a great means of traveling. The cable car only costs 50 yuan per person. It gives you a great view of the city from the sky. Ferries are also available in Harbin but visitors can use them only when the river is not frozen.
Moving Around
Moving around in Harbin requires buses, and other means of transportations like cabs, ferries, cable cars, and long-distance planes and taxis also are a great means of moving around.
Walk
The city of Harbin is a safe place to walk and has a couple of places that you would want to take a walk and see each and every detail that catches your eyes.
Bicycle
Harbin offers a pre-packaged bicycle tour to the tourists that include a 15 days trip from Zhidong- Daqing- Aron qi-Dashiki- Bugt-Yakeshi-Hulun Buir-Ergun-Genhe-Mangui Town-Mohe-Beiji Village.
Electronic Vehicles
If you want to travel green you need to look for electronic vehicles in the city. And some of those electronic buses and trams also active in Harbin. These are a great medium of green traveling and also causes no pollution which is good for the city and the people, as we know that the air conditions are very unhealthy in china so this might help the atmosphere a lot.
Public Bus
The most convenient way of traveling through Harbin is through public buses. The extensive network of buses in Harbin feels like it is meant for tourists as you can experience the local life of the people, over more than 100 buses run in this city. Usually, the buses get in the action at about 5:00 in the morning or 6:00, and in addition to that two more tourists are being carried for the tourists at around 7:00 or 7:30. Here most of the buses are self-service buses so you will need to carry small change for the bus fare. One bus departs from the Flood control monument and runs to Sun Island, the other one passes through the downtown area.
Tram, Train and Subway
Harbin has many tram facilities since 1927. It has had 8 lines and about 40 trams that are currently running in the city. The trams connect a few famous places and if you travel through trams you will be able to capture the beauty and frequent running at the streets of Harbin.
Harbin has two lines of the subway that are currently running in the place, the first line runs between East Railway Station and South Railway Station, which exceeds a distance of 18 km which connects Yidaeryuan and Chengxianglu. These also are a great medium of green travel.
Sustainable Shopping
In the countries that are developing day to day most of the things available are designed for tourists to take back home as something that would be a sign of a great city that they visited. The shopping sites are Toulon Shopping City, the clothes and souvenirs are extremely nice here. And the Hongbo Century Square here all the men and women clothing can be purchased at a good price. Which includes a large number of sunglasses and handbags. Also, you can find a place to eat there.
Food Markets
As we know Chinese are popular in this section because of their large variety of dishes that they like to eat, so you might want to visit these places that offer quality food here: The Harbin South Pole Food Wholesale Market, 93rd Green Oil, and Grain Food Shop, etc.
Flea Markets
The flea and street markets are a great place to discover tasty food and dishes that you have never tasted in your life and might find startling. Some of those places are:
Correction Of Electronic Big World Market
Cage Light Industry Wholesale Market
Second Hand Stores
If you are someone who likes to wear a pair of clothes not for the quality but for the close resemblance of the piece to other higher quality clothes you probably should visit these stores:
Harbin Xinyu Materials Shoushou Company
Huashan Second-Hand Vehicle Store
Student Second-Hand Wupin Dadaimai Store
Eco-Fashion
Eco-fashion is a movement and process of rapid changes in the fashion system and products the system of clothing in Harbin has so popular that many countries participate in their fashion extravaganza.
Recycling
Recycling has been up for improving incentives for recycling solid waste accumulation.
Waste
There are five garbage harmless treatment plants in. Harbin, of which are four in the main city disposing the city garbage.
Work and Study Abroad
If you want to pursue a career abroad and that should be Harbin then there are some of best universities, like U-Multiranks helps you to compare among good universities and allows you to choose according to your liking.
Exchange Student
Harbin university of science and technology offers a great deal about education and if you know or would like to know about Harbin's language or are interesting in studying here this is a very good opportunity for you.
Au Pair
Au Pair jobs are the ones that are accessed by a nanny and private tutors which are handed out for a limited time period so people who are interested in doing part-time work this is a good platform for them.
Volunteering
Volunteering means when people voluntarily accept a particular job and volunteer for it.
See Also