Luang Prabang
From Eco Friendly Travels
Eco-friendly travel guide to Luang Prabang advises how to be a responsible tourist. Learn how to explore the attractions in a sustainable way and how to respect the local people and culture. Make your trip green by supporting locally owned hotels, organic restaurants and other businesses. Read more on how to protect the environment by making conscientious choices and how to travel green in Luang Prabang, Laos.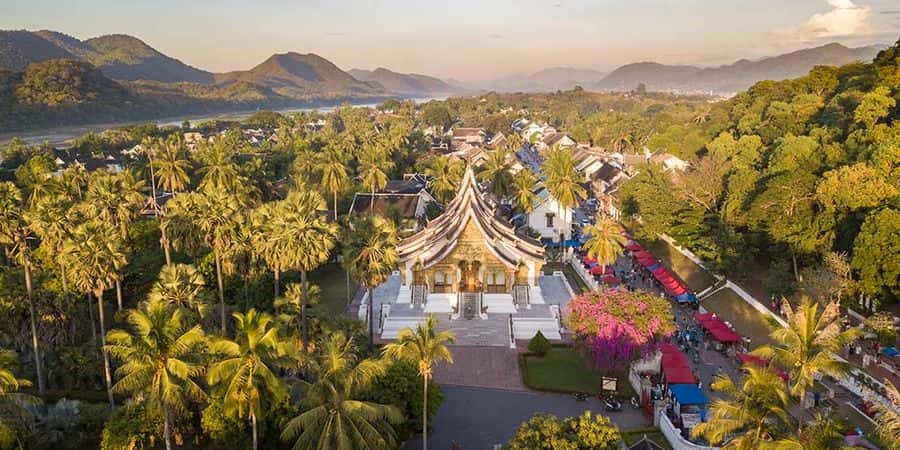 Exploring by bicycle: 4 / 5
Public transportation: 4/ 5
Outdoor activities: 5 / 5
Locals' English level: 3 / 5
Accommodation: US$30 - $150
Budget per day: US$10 - $100
Responsible Travel
Luang Prabang which means, "Royal Buddha Image", is a city in North Central Laos. Out of 58 adjacent villages, 33 comprise the UNESCO world heritage site. It was listed in 1995 for unique and "remarkably" well preserved architectural, religious and cultural heritage, a blend of the rural and urban developments over several centuries, including the French colonial influences during the 19th and 20th centuries. 
To play your part as a responsible tourist,
Open your mind to other cultures and traditions: Be tolerant and respect diversity — observe social and cultural traditions and practices.
Help preserve the natural environment: Protect wildlife and habitats and do not purchase products made from endangered plants or animals.
Shop local:Purchase local handicrafts and products to support the local economy using the principles of fair trade.
Eco friendly accommodation: You can book an eco-friendly hotel or resort at a very reasonable price as there are plenty of green hotels.
Walk and bike around the city: Whether you are a local or a tourist to get to know the area even better while on foot or cycle with the local guides or the multiple tours conducted by the hotel you are staying in or you can book such tours on different online sites. Not using a car or a bus will reduce your carbon footprint.
Air Quality and Pollution
In accordance with the World Health Organization's guidelines, the air quality in Laos as well as in Luang Prabang is considered moderately unsafe, the most recent data indicates the country's annual mean concentration of PM2.5 is 25 µg/m3, which exceeds the recommended maximum of 10 µg/m3. 
Respect the Culture
Luang Prabang's culture is a mélange of traditional, religious, tribal, royal, and colonial influences, united by a healthy dose of laid-back Lao attitude. While the Laotian monarch was overthrown by Communist Pathet Lao in 1975, you can still find remnants of Luang Prabang's royal past in every nook and cranny of the city.
Language and culture are intertwined. You cannot understand one's culture without accessing its language directly. The Lao language is the official language of Laos, also spoken in northeastern Thailand. As a former French protectorate, French is still well-liked and appreciated by high-profile individuals, such as diplomats. English is also very common with younger generations. So knowing the basic greetings in Lao would be very helpful. It is advised that you should neither make fun nor mock any cultural tradition nor disrespect the local people in any way. This would make your trip pleasant as well as successful since people in the city are friendly towards visitors who are curious and respectful of their culture. Food also operates as an expression of cultural identity. To understand their culture better, make sure to taste their traditional food made by the locals.
Top 10 Places to Visit
Pak Ou Caves – In numerous small and damaged wooden Buddhist Figures and sculptures, these limestone caves are highly popular in Luang Prabang. Situated near River Mekong, these caves have been known as a place of worship over a thousand years.
Mekong River boat trip – River Mekong is the longest river in SouthEast Asia. Whether you get on a boat for 10 minutes on your way from Luang Prabang to the Botanical gardens, or 11 days travelling up the Mekong from Luang Prabang to the Golden Triangle with Mekong River Cruises, you are bound to be amazed by the scenic beauty of this river and its surroundings.
Mount Phousi – The word Phousi means "sacred mountain". It is located in the middle of Luang Prabang. At the peak of this mountain, you will find a temple, a giant footprint of Buddha and a golden stupa.
Wat Xieng - Built in the mid-16th century between the Nam Khan and Mekong rivers, Wat Xieng Thong, or Temple of the Golden City, was the place where centuries of Laotian kings were crowned. It's considered the most important monastery in Laos today.
Kuang Si Falls – Located 30 kilometers south of Luang Prabang, Kuang Si Falls makes a good day trip to explore nature in the countryside. The falls, the biggest in the Luang Prabang area, is three-tiered, with the biggest fall 60 meters (200 feet) high.
Luang Prabang Night Market – The night market is open from 5 pm to 10 pm every night, where you will find delicious yet inexpensive food. This is the best place if you want to buy souvenirs, though bargaining is must as the vendors do quote higher prices than original.
Royal Palace Museum - The palace was built in 1904 for the Lao royal family during French colonial days. The communists overthrew the monarchy in 1975 and converted the palace into a museum. The palace is a mixture of Lao and French architectural styles. One room contains gifts presented to the king by foreign countries; a 2,000-year-old 71-meter (232-foot) high Buddha is located here.
Bamboo Bridge - Visit Luang Prabang in the rainy season and you'll notice a suspicious lack of a bridge crossing the Nam Khan, but come the dry season, workers rebuild the footpath from Kingkitsarath Road across the river. At night the bridge is illuminated with strings of lights.
Butterfly Park - The Kuang Si Butterfly Park is a delightful, well-manicured place to spend a few hours.  Many species of butterflies live in the enclosed portion of the butterfly gardens. Visitors can also see caterpillars and chrysalises on display.
Tak Bat - Every morning beginning about 5:30, meditating Buddhist monks walk the streets of Luang Prabang seeking alms. As the robed monks walk in silence, people place bits of food, particularly sticky rice, flowers or other offerings in their bowls. Since there are 80 temples in the city, early-rising visitors can see this procession almost anywhere, though the most popular viewing locations are Th Kamal and Th Sakkarin.
Explore
The UNESCO-listed town Luang Prabang's natural and manmade attractions often attract tourists from all around the world. Often described as the 'Jewel in Laos Crown', Luang Prabang has managed to preserve its longstanding tradition and charm, exuding a missed-out-on-modernization vibe. So you can take your time taking in the surroundings and observe the way of the Lao people and monks. 
City Parks
Following is the list of a few parks in the city:
Pha Tad Ke Botanical Gardens – this garden is both a teaching centre for the public and a research centre for botanists. Check out their artist-in-residence program where creators from all over the world create art and lead workshops for visitors.
Elephant Village - Elephant Village is basically an elephant sanctuary and a popular tourist destination in Luang Prabang, Laos operated by a team of caring individuals for the rehabilitation and protection and of elephants. The area around Elephant Village offers approximately 4 hectares of lush green nature and a sandbank at the camp allowing visitors to watch Elephants during their daily bath.
Riverview Park – Want to enjoy calm sunsets or the sunrises, then this is the place for you. This is the place where Mekong River meets Nam Khan River. The bamboo bridge over the Nam Khan River is truly a sight to see.
Green Jungle Park – A nice place to spend time enjoying the jungle, garden, restaurant, waterfall and even swimming. For those who like to experience something else, there are rope challenges quite expensive though. For authentic resting, there is a bungalow where you can take a nap.
National Parks
Nahm Dong Park - Nam Dong Nature Park is a tranquil and well-planned area that offers up a range of activities – from zip lining to fish feeding – and many shady places to sit and enjoy the view. To reach the centerpiece of the park, Nam Dong Falls, you walk past a field of roses and an organic vegetable garden. There's a wooden balcony over the gushing water where you can feast on Lao food from the nature park restaurant as you take in the inspiring scenery. There are several safe spots to swim. There's also a treehouse spa where you can treat yourself to a massage – as well as a bee farm on-site, which means you can take home some freshly potted honey.
Beaches
Laos is landlocked with no coastline or beaches unless sitting on a sandbank by the Mekong is your idea of a beach holiday. However, don't despair because a tour of Laos can easily be combined with a beach resort in Cambodia, Vietnam or Thailand.
Landmarks
Morning Market - Vientiane Talaat Sao, the morning market is widely known for offering a wonderful selection of the local offerings, mostly of fabric-based stuff. The stalls and shops stay open from early morning. The indoor market, older and newer malls have been fused to make Talaat Sao the favoured shopping centre for both the locals and the visitors.
Wat Wisunarat - Wat Wisounarath is one of the oldest temples in Luang Prabang, built in the year 1512, during the era of King Visounarath. The temple has a Tai Leu style two-level split roof unlike many other temples in the city. In front of the sanctuary is the famous Pathum (lotus flower) stupa. Locals refer to it as the "watermelon stupa" as looks like a watermelon sliced in half. It was built by the wife of King Wisounarath in a Sri Lankan style. This ancient temple is also a repository for ancient art and objects. Displayed inside are gold, wooden, and sandstone Buddhas over 400 years old, and carved inscription stones from the 15th century.
Wat May Souvannapoumaram - This is one of the grandest and most impressive temples in Luang Prabang. Built-in 1788 having taken 70 years to complete, it housed the golden Pra Bang Buddha palladium of Luang Prabang between 1894 and 1947. Wat Mai means "New Monastery" and it was here that the Pra Sangkharat, the highest Buddhist dignitary in Laos, resided from 1894. The restoration took place in 1821 during the reign of King Manthatourat (1817-36). During New Year celebrations the Pra Bang Buddha statue is brought from the Royal Palace (National Museum) to Wat Mai for its annual three-day ritual cleansing.
Haw Pha Bang – A beautiful traditional Laos architecture, this building is located at the entrance of Luang Prabang Royal Palace. There is a statue of 83 centimeter high standing Phra Bang Buddha with palms facing forward, cast using a thong, an alloy of bronze, gold, and silver. According to local lore, it was cast in Ceylon (now Sri Lanka) sometime between the 1st and 9th century. However, the features of the image suggest a much later Khmer origin. Each year, on the third day of "Pimai" or Lao New Year, the Phra Bang is taken in procession to Wat Mai. There it is exhibited at a shrine where the Buddha image is ritually bathed by devout laypeople during Lao New Year festivities.
Wat Manoram - Wat Manorom is a major Buddhist temple and monastery in Luang Prabang, Laos. There are several theories as to the date of its founding; it may have been founded in 1372 or 1375 by Samsenthai, but it may also date from the reign of Laasaenthai Bouvanaat around 1492. The great bronze Buddha, 6 meters high, in the nave dates from the 1370s.
Wat Phon Phao -  a Buddhist temple situated on a hill in the southeast of Luang Prabang, Laos, across the Nam Khan River from Luang Prabang Airport. The temple, a golden stupa, is used as a forest meditation retreat and was once headed by the abbot Ajahn Saisamut, a noted Lao Buddhist teacher. The temple has a fine collection of murals, some of them gruesome.
Wat Sene - Wat Sen, Luang Prabang is also known as Wat Sene Souk Haram is a Buddhist temple (wat), located in Luang Phrabang, Laos. It was built in 1718 by King Kitsarath with 100,000 stones from the Mekong River. It means "Temple of 100,000 treasures". It was restored in 1957 commemorating the Buddha's birth 2500 years earlier.
Monument to President Souphanouvong - The Monument to President Souphanouvong is the statute of the First President of the post-1975 regime in Laos, who prior to the abolition of the Laotian monarchy was known as Prince Souphanouvong. Prince Souphanouvong was born in Luang Prabang and that is why his commemoration statue is in Luang Prabang rather than the capital city Vientiane. The Monument to President Souphanouvong is open all day, every day, and admission to the park where the statue is located is free.
Museums
Traditional Arts and Ethnology Center - An exceptionally fine, if small museum providing an overview of Laos' rich ethnic mix of cultures. For those who are interested in instruments and music, as well as weaving and bakery, the information provided here is fascinating. There are numerous interactive displays and opportunities for hands-on participation. Highly recommended for anyone wanting a more in-depth insight into Lao culture than that provided than most touristic tours.
Heuan Chan Heritage Site - A beautiful, well-preserved heritage house hidden in the middle of the town. They sometimes offer workshops and they have a nice herb garden where you can relax and order some drinks and snacks. It's a good place to spend an hour or two.
UXO - UXO Laos Visitor Center is basically a permanent but small exhibition in Luang Prabang, which depicts the problems of UXO affecting Laos and efforts to clean affected areas.UXO Laos Luang Prabang visitor center is situated within a government building on Bounkhong Road. 
Eat
Laos food is one of the best-kept secrets of Southeast Asia. Luang Prabang, regarded as the country's culinary capital, offers a great window into Laos food with widely available street food and restaurants.
Traditional Local Restaurants
The food in Luang Prabang combines Laos food staples such as sticky rice and jaew and Luang Prabang specialities. You find unique Luang Prabang food such as Or Lam, Luang Prabang Salad and Mekong River Seaweed.
Here are the names of a few restaurants which are highly recommended:
Tamarind – Tamarind offers travellers a true taste of Lao cuisine and stands out in Luang Prabang's culinary scene as one of the finest establishments to do so. For those unfamiliar with the unique flavours and textures of Lao food. Tamarind also runs a cooking school, held in a picturesque lakeside pavilion, which includes an informative market tour.
The balcony by Lanith – The Lao National Institute of Tourism and Hospitality (Lanith), backed by the Lao-Luxembourg Development Cooperation, is the country's leading hospitality training supplier. To that end, the Lanith centre at Luang Prabang unveiled the balcony bar and restaurant to rave reviews. 
Tangor - Located on the main strip of Rue Sisavangvong, one of the French fine dining places, it is a wonderful place to relax and watch the world go by. Tangor has a diverse but well-considered menu of classic French and international cuisine, with their signature dish being ceviche.
Popolo - This is the ideal spot to eat if you are craving a change from the typical Asian food and looking to mix it up a little. They also have delicious wines, cocktails and serve many tapa style dishes.

●Dyen Sabai Restaurant - Dyen Sabai is a must-visit for any foodie wondering where to eat in Luang Prabang. Here, you will be able to try the famous Laos's fondue, or what is commonly known as a hot pot in Southeast Asia. 
Vegetarian and Vegan
If you are a vegetarian or a vegan you may have a harder time. But there are a bunch of restaurants that offer vegetarian/vegan dishes as well with their typical non-vegetarian dishes.
Hmong Night Market – Located near Wat Mai corner, this place has a veg-buffet. Pick out what you want and the owner will heat it for you.
Amigo's Mexican Restaurant – This restaurant serves mostly meat-oriented dishes, but many don't know that vegan options are available.
Bamboo Tree Lao Cooking School and Restaurant – Another place that serves meat but there are vegan and veg options for the non-meat eaters. They offer a vegetarian sample platter consisting of tofu soup, fried spring rolls, fresh spring rolls, fried tofu curry, fried bamboo with ginger, stuffed bamboo sprouts, sticky rice and a dessert. Other dishes on the menu can be veganised
Khaipaen – This is a restaurant with a gift shop. With non-veg dishes, they serve vegan and vegetarian dishes.
Bouang – This restaurant offers a plethora of non-vegetarian, vegetarian and vegan dishes. A very popular spot for the locals. Don't forget to reserve a table before..
Street Food
To know about a place and its culture, street food is the best way one can possibly take. Seating in an air-conditioned restaurant one might get prim and proper dishes made by educated chefs. But street food is the one that comes up from the origin of people and their day to day lives. These are some of the favourite street food dishes in Luang Prabang:
Barbecued meats - There are many stalls selling barbecued meats. But unlike elsewhere in Laos, the street food in Luang Prabang has been adapted for foreigners. The meat at the night market is by far the best street food in Luang Prabang. It's proper meat and tasty as well.
Barbecued fish - As well as barbecued meats, fish is one of the very popular street foods in Luang Prabang. There is a selection of different sized fish, which have been marinated, salted and are then barbecued in front of you to make a very tasty meal.
Grilled Eggs - A series of three grilled eggs or "ping kai" on a skewer is a filling and easy street food snack. The eggs are washed and a hole is carefully punctured at the top preserving the shell. The yolk and whites are whisked and seasoned with pepper, fish sauce, spring onions and other flavour enhancing ingredients. The mixture is then poured back into the eggshell to be grilled to the consistency of a hardboiled egg.
Cassava and Black Rice - Cassava is used to make tapioca and is a staple in Lao. Called "man ton," farms throughout the country produce the plant and process it into starch. It's used in the production of kopiak noodles for soups and to make jellies found in desserts and bubble tea drinks. Black rice is also used in Lao desserts like mango sticky rice where it's mixed with coconut milk and served with fresh mango.
Barbecued Bananas - Grilled bananas are sold by the bag full off the streets in Luang Prabang. The bananas in Laos are small and sweet and while they can, of course, be eaten raw, they are especially delicious when heated over coals. Especially popular as an early morning breakfast food or mid-morning snack, the bananas are often prepared alongside grilled sweet potatoes and corn.
Coconut Pancakes – Coconut pancakes or Kanom Krok are small pancakes like desserts made from coconut milk, sugar, sticky rice and flour. They are cooked in the kanom krok cast iron pans.  A bundle of ka nom kok is served up in a bag or wrapped in banana leaves and eaten by hand or with a toothpick.
Durian - The sticky-sweet durian is a favourite in southeast Asia and Laos is no exception. Durian's milky yellow meat is loved by some and loathed by others. The smell and taste are not the same. Find durian in its spiky skin sold whole or opt for a prepared tray wrapped in plastic. Because of its strong smell, durian is banned from many indoor locations, so enjoy it on the street.
Drink
Fruit shakes – Tropical fruits such as dragon fruit, limes, mangoes and melons can be found in abundance in Laos
Cafe paksong - Café paksong means coffee grown in Bolaven Plateau in the town of Paksong. This area has made Laos become one of the biggest coffee exporters in the world. Both Robusta and Arabica are the two main types of coffee that are grown in this area. The weather here has tropical characteristics, cooler temperatures because of high geography and rich soil, which makes up the tasty, strong flavour of Laos coffee.
Saa – Tea - Known as one of the countries in Asia, Laotian drinks tea daily in their life. There are two kinds of teas in Laos: Black Tea referring to Indian Styles and Green Tea (or semi-cured) referring to Chinese or Vietnamese style.
Sugar cane juice - Sugar Canes is the most suitable to be grown in tropical weather and especially in Southeast Asia. Therefore, it has been the most popular in this area and can be found in Laos, Vietnam, and Cambodia. A glass of sugar canes can immediately get rid of the lassitude because it contains glucose and fructose, which instantly refill your energy and strength just after a sip.
Coconut juice - The heat always covers Laos all the time, in the winter, it can be a little bit cooler but most of the time, Laotian faces the heat. In this situation, the same as other countries in Southeast Asia, coconut juice is an ideal drink for everyone from the elder to children.
Lao Lao - "Lao Lao" seems to be interesting from its name. They are two different words with the same pronunciation, one means alcohol, and the other means Laotian. The meaning of "Lao Lao" is Laotian Alcohol, and it is also called as Laotian Rice Whisky.
Lao Hai - It can be considered as a homemade distilled rice wine, but the difference is that it is a traditional drink in Khomu, an ethnic group in Laos. Instead of normal distillation, the liquid is fermented in communal earthenware pots called "hai".
Beerlaos - Beerlaos is a brand name of Lao Brewery Company. Nowadays, it is the most popular beer in Laos, defeating all other famous beer companies in the world. The drink is made from Jasmine rice which is locally grown in Laos and combined with hop and yeast imported from Germany.
Tap-water
No, tap water is not drinkable. There is no general information available in WHO data about safely managed drinking water in Laos. You may check the rate of travellers and residents of Luang Prabang for water quality. But it's better to be careful. You can always carry a water bottle and refill it with filtered water at the eateries you stop to eat.
Organic Cafés
If you are a vegetarian or a vegan, there are multiple cafés in Luang Prabang that serve non-vegetarian as well as veg and vegan meals. Most hosts of these cafés speak English or French, non-veg dishes can be 'veganised' too. Here are the names of some famous cafés where you can visit-
KK Coffeehouse Pha Kha Lao
Breweries
Nightlife in Luang Prabang can be rather enjoyable if you know where to go. While the town lacks loud and packed nightclubs that would often stay open until 3 am, there are decent bars and night-time activities you can enjoy during your stay in this town in northern Laos. Laos also has a rather strict curfew, which means most places close down by midnight. That applies to Luang Prabang. If you're planning to stay out after hours, Luang Prabang has plenty of restaurants with outdoor patios where you can enjoy a beer with river views overlooking the Mekong or Nam Khan. 
Here are the names of some famous breweries –
Luang Prabang Bowling alley
Activities
Here are our favourite things to do in Luang Prabang, the city of ultimate zen. 
Exploring the glorious temples of Luang Prabang
Enjoy the colours of the Luang Prabang Night Market
Eat to your heart's content in Buffet Street
Watch the Luang Prabang Alms giving ceremony
Yoga, cycle or wander through the city
Take a cooking class in Luang Prabang
Yoga and Retreats
Laos is a country deeply steeped in Buddhist culture. Several temples offer meditation opportunities with the monks. While the tourism infrastructure is not yet offering many all-inclusive yoga retreats, there are still many great teachers and organizations ready to help you tune in and relax in Luang Prabang.
Luang Prabang Nature and Meditation Tour
Accommodation
There are plenty of hotels, hostels, guest houses in prime locations in Luang Prabang. Nowadays, most opt for online bookings; don't forget to read the reviews on them.
Green Hotels
Here are the names of famous green hotels in Luang Prabang –
The Belle River Boutique Hotel - This designer boutique hotel - situated at the shore of the Mekong River and in the historical center of the peninsula - offers luxury accommodation and tranquillity for independent travellers with high standards.
Namkhan Ecolodge -  Nam Khan Ecolodge is a green sanctuary along the Namkhan river located in Luang Prabang, Unesco World Heritage city, where travellers can reconnect with nature, discover the Lao traditional culture and immerse yourselves in tropical food, forest, eco-farming and enjoy our animals stable as well as our outdoor activities and different workshops.
Mekong Riverview Hotel - a beautiful boutique hotel with a personal touch, located on the tip of the peninsula, The Hotel is quiet and peaceful with the beautiful former Royal temple Wat Xiengthong as its neighbour.
Pullman Luang Prabang - Pullman Luang Prabang is a 16-hectare resort overlooking lush greenery with a backdrop of beautiful mountain views and paddy fields along meandering streams and ponds in the rustic countryside.
Kiridara - Kiridara is an elegant, contemporary and luxurious boutique hotel located in the mystical city of Luang Prabang. Their 24 room contemporary boutique hotel scaled on a hillside and surrounded by native teak forests, offers panoramic views of Mount Phou Si, with easy access to central Luang Prabang and Luang Prabang International Airport.
Sofitel Hotel - Once the French Governor's Fort, the "all-suite" Sofitel Luang Prabang now oozes colonial style and splendour fused with contemporary elegance in one of the finest resorts in the region. Situated on a heritage site in the former royal capital of Laos, the hotel is close to the major tourist attractions.
Burasari Heritage - Burasari Heritage is Imagine a wildly romantic elegant, traditional colonial house located in the mystical city of Luang Prabang right across from the River Khan, the ideal setting for romantic strolls
Maison Souvannaphoum Hotel - Maison Souvannaphoum Hotel by Angsana is a boutique luxury hotel in the heart of Luang Prabang, Laos. It's the perfect retreat for the modern traveller seeking style and authenticity. Once the residence of the late Prince Souvanna Phouma, the mansion is an elegant blend of French colonial architecture and Lao motifs with the addition of all the modern comforts.
Avani+ - This Hotel is a modern boutique hideaway with a storied history. Formerly the site of French officer quarters, then home to a landmark local hotel, these peak-position grounds in the heart of the old town now welcome you with classic-contemporary style – a design that's a breath of fresh air while remaining true to the town's colonial architectural heritage.
Hostels and Guest Houses
Hostels and guest houses come with a lesser budget as well as it helps the locals to earn extra. Luang Prabang offers a plethora of budget-friendly hostels and guest houses –
Khoum Xieng Thong Boutique Villa
Friendly Backpackers Hostel
Smile Luang Prabang Hostel
Apartments
If you want to stay longer and want your privacy, renting apartments can be a good option for you. You may come across many tourists with whom you can enjoy the daily lives of Luang Prabang. You can book them online sites such as www.agoda.com etc. On such sites, locals advertise their apartment, location and the connectivity with the transport modes. Read the reviews on them before renting one. To name a few apartments where tourists can stay –
Villa Phasouk Luang Prabang
Couchsurfing
Couchsurfers share their homes, cities and lives in profound, meaningful ways, making travel anywhere in the world a truly social experience. You will find many hosts if you want to couch-surf in Luang Prabang. There are multiple online sites such as couchsurfing.com which help tourists to take this option of staying. Still, if you want to opt for this option, extra precaution is necessary, especially for the females. Do not hesitate to ask for the details and the references of the host. Never interfere with their beliefs and lives.
Camping
Camping makes it easier to come closer to nature and enjoy the warmth and beauty. You can book online for the camping and hiking tours, or most of the hotels have their guides who help the tourists with the tours. Here are the best camping sites in Luang Prabang which are highly recommended:
Elephant Village Sanctuary & resort
How to Get There
The best ways to reach Luang Prabang are by flight, bus and boat.
Air
The airport is located just 5 km north-east of the city and has scheduled flights from/to Bangkok, Chiang Mai, Hanoi, Jinghong, Pakse, Siem Reap, Kuala Lumpur and Vientiane. Visa-on-Arrival is available at the airport. The price is variable based upon your nationality, with USD35 being typical, with an additional USD as "overtime charge".
Bus
The overland route to Luang Prabang from Vientiane's Northern bus terminal takes about 10 hours by public bus, assuming there are no difficulties (breakdowns are common). There are international warnings about travel on this stretch, and though it has been quiet in recent years, you should ask around before hitting the road. The bus costs 150,000 kips and has a few morning departures from Vientiane's Northern Bus Station. Go early to get a seat. Luang Prabang's Naluang (Southern) Bus Station is a 10,000 kip per person shared tuk-tuk ride from the town center. There are also daily connections to Phonsavan (90,000 kips) and the far north.
Train
As of 2018, construction of the six billion dollars high-speed railway from Southern China to Vientiane was well underway, expected to be completed in 2021. Construction includes a bridge across the Mekong upriver and a station on the outskirts of town near the Nam Khan River. This is part of a scheme to create a high-speed rail linking Bangkok to China.
Hitchhiking
Though a very pocket friendly way to travel the city, hitchhiking can be very tricky if you are not careful. It isn't the safest mode of transportation if you are not a local and don't know the city well. In Laos, the main problem with hitchhiking is, they find it very weird as most of the local people don't speak English.
Others
One of the nicest and most popular ways to get to Luang Prabang is to cross the border at Chiang Khong in Thailand to Huay Xai and take a boat up or down the Mekong through spectacular and scenic countryside.
Moving Around
Luang Prabang is a city where you can find history in it's every nooks and cranny. If you want to divulge the originality of the city, you have to leave the usual transportation mode and look for a slower mode of transportation.
So, here are some of the modes of transportation you can choose.
Walk
You will be amazed at how self-guided tours can help to know about Luang Prabang. If you are not confident to make it alone, you can always hire a local guide. Many tour guiding programmes are held by the hotel itself. There are multiple online sites to book walking tours.
Bicycle
An eco-friendly way to experience the city life, it's healthy and helps you to explore the city faster than your foot. You can book bicycle tours online too.
Electronic Vehicles
If you find walking and cycling a bit stressful, worry not. Public transport is cheap and generally reliable.
Public Bus
There aren't any local buses running in Luang Prabang. But they compensate it with Tuktuk and taxis. Short tuk-tuk rides around town will cost you around 20,000 LAK (USD 2.30) per trip. The only time you'll need a taxi to get around is if you're travelling to and from the airport. The standard rate for that journey is around 50,000 LAK (USD 5.75).
Tram, Train and Subway
Unfortunately, there aren't any local trams, trains or metros running in Luang Prabang.
Sustainable Shopping
The concept of sustainable shopping is new to the world. People are trying to change their lifestyles and adopting the eco-friendly practices that support the local community. As a responsible tourist, you must buy souvenirs and antiques from the local markets of Luang Prabang.
Food Markets
To get a real taste of Lao food, sample some of the lip-smacking street food available at these great street food markets in Luang Prabang. To name a few:
Flea Markets
Some of the best flea markets are –
Second Hand Stores
To name a few –
Eco-Fashion
Apart from buying antiques and crafts, you can always go for sustainable fashion. Some of the shops are –
Recycling
In 2002, as part of the initiative to promote waste management and recycling in Vientiane, PADETC established the Lao Chalern Recycling Center. The project was initially funded by a UNDP grant to establish a small scale waste management project with a focus on awareness-raising and encouraging schools and villages to sort solid waste. The center collects plastic, metal scrap, waste paper and cardboard from waste collectors and itinerant waste buyers, community waste banks, and municipality waste collection crews.
Waste
Luang Prabang is a noticeably clean town. The only areas that seem to collect waste are the slanting hills leading down to the rivers. Recently, Luang Prabang was selected as one of the pilot Environmentally Sustainable Cities. As part of this, the government has taken many goals and initiatives to boost sustainability in the city.
Work and Study Abroad
If you want to work and study here in Luang Prabang, then it won't be a problem. Souphanouvong University, one of the best universities, with a very low cost, accepts exchange students. If you are okay with part-time jobs, you can upload your resume on job sites such as la.jora.com, laos-adventures.com etc. or you can ask the locals about any part-time job opening they know about.
Exchange Student
As mentioned above, exchange student programmes are very much available in Luang Prabang. All you have to do is, contact your home university if they have collaboration with the university here.
Au Pair
There are many Au Pair jobs available in Luang Prabang. To have a good salary or the likeable job you have to submit your resume to online portals. The jobs they provide like, child care, old age home jobs etc.
Volunteering
If you are here as a tourist, and you want to volunteer for the social causes here there are many online sites. They will help you to choose the place where you want to volunteer according to your likes and comfort. Some of the volunteer jobs include planting trees, teaching the locals English, Educating kids, Welfare for animals etc.
See Also